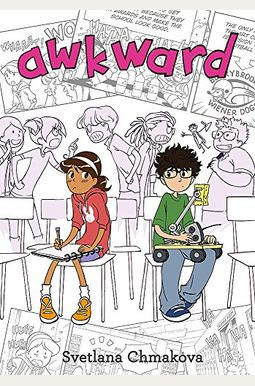 
 
Book Overview
Cardinal rule #1 for surviving school: Don't get noticed by the mean kids.
Cardinal rule #2 for surviving school: Seek out groups with similar interests and join them.
On her first day at her new school, Penelope--Peppi--Torres reminds herself of these basics. But when she trips into a quiet boy in the hall, Jaime Thompson, she's already broken the first rule, and the mean kids start calling her the nerder girlfriend. How does she handle this crisis? By shoving poor Jaime and running away
Falling back on rule two and surrounding herself with new friends in the art club, Peppi still can't help feeling ashamed about the way she treated Jaime. Things are already awkward enough between the two, but to make matters worse, he's a member of her own club's archrivals--the science club And when the two clubs go to war, Peppi realizes that sometimes you have to break the rules to survive middle school
Frequently bought together
Frequently Asked Questions About Awkward
Book Reviews
(15)
Did you read Awkward? Please provide your feedback and rating to help other readers.
Awkward is Awesome

Derived From Web

, Apr 21, 2022

I bought this book for my 11 year old daughter and she absolutely loved it. I asked her to write a review and she did it. Awkward is awesome. I'm in sixth grade and I've just started a new school, so I can totally relate to the beginning, she said. The chemistry teacher also said that the relationship between the art club and the science club was so funny. So basically what I'm here to say is I love this book and recommend it to anyone who likes graphic novels with a bit of comedy, said Blair.
Incredible graphic novel with some moldy pages

Derived From Web

, Apr 21, 2022

However, the book came with a few pages that had mold on them and were not printed so the whole story was not delivered. I'm really hoping Amazon will send us a new one, Mr. Dhaliwal said.
She read it in a few days and immediately asked me to find more books for her like it. A few of her classmates have since ...

Derived From Web

, Apr 21, 2022

My third grader absolutely loves the book. A few of her classmates have since borrowed the book, boys and girls, and she said other kids in class have asked to borrow it next. I love anything that draws her into reading, and I think that's great.
I loved this book I have never read a book by ...

Derived From Web

, Apr 21, 2022

I've never read a book by Svetana Chnakova, so I am going to start to read more of her books.
Good story!

Derived From Web

, Nov 18, 2020

Except that all the kids start making fun of them by calling her Nerder Girlfriend. The girl is seen in the video pushing the boy and causing him to fall to his knees. The nurse calls her "guilty" afterward. Peppi tries to avoid the boy because it's just so awkward. Peppi acts so hilarious around the boy, making him giggle. The illustrations are great. But when she flunks science, guess who ends up being her tutor? There was also a very nasty fight between the Art and Science Club, causing the whole thing to get out of hand. The panels can sometimes get a little chaotic and there are times when there is too much text to read. A good story, too, said Blair.
Novela gráfica

Derived From Web

, May 27, 2019

Awkward, el primer libro de la saga Berrybrook Middle School de Chmakova, me pareci precioso. Conjunto con la historia, el sencillo de su dibujo es el conjunto de personas y el desarrollo de personajes. Desde es un cmic que he estado prestando, pero lo que recomiendo para nios y estudiantes de secundaria tienes 100 aos.
A little inappropriate

Derived From Web

, May 1, 2019

My daughter likes it, but I don't like that it's teaching kids that is normal for a husband to curse to the wife in front of the kids. What a great idea!
It was pretty good! 👍🏻

Derived From Web

, Mar 26, 2019

Liked it, said Blair. It was just there was a lot of fighting between two groups and it kinda just got annoying, but overall it was a good book, Simon said.
Cute Cute

Derived From Web

, Oct 26, 2018

I'm always trying to find books for kids that they will enjoy. They loved a different series that was also written in this sort of graphic novel style, so I crossed my fingers that they'd like these as well. They did enjoy the books, so that was nice, too, Mr. Rule told the judge. They were also less relatable than the other series, and they said these were more "fake" type of fiction. I love when I can find books they can actually relate to because middle school girls have it not so easy. I wish these had been something that spoke to them more so they might have enjoyed them even more, but they did read them when bored, so they have an entertainment quality to them, he said.
So Good!

Derived From Web

, Mar 28, 2018

I cannot recommend this book highly enough. It pretty much sums up what some schools can be like, Mr. Rule told the judge. This book is recommended to small children to encourage them to work together.