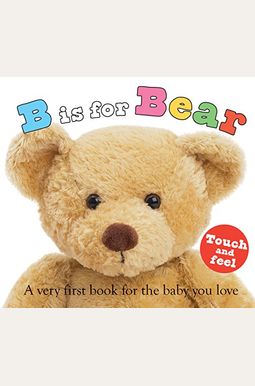 
 
ABC Touch & Feel: B Is for Bear: A Very First Book for the Baby You Love
Book Overview
This Roger Priddy alphabet board book, B is for Bear, is perfect for babies and toddlers.
With touch and feel pages, fun photographs, and cute rhymes for babies and parents to enjoy together, this brilliant book of first words is sure to become a family favorite. Each colorful page will stimulate your child's senses and encourage their imagination - from Apple to Zebra
Frequently bought together
Frequently Asked Questions About ABC Touch & Feel: B Is for Bear: A Very First Book for the Baby You Love
Book Reviews
(19)
Did you read ABC Touch & Feel: B Is for Bear: A Very First Book for the Baby You Love? Please provide your feedback and rating to help other readers.
Wonderful book

Derived From Web

, May 15, 2022

I received this as a shower gift for my daughter and I now buy it for anyone who has a baby. My book has an all white cover, but they now have a purplish. I have to say that I prefer the white. A textured image per spread is a single picture. The rhyme is not annoying and I know it now by heart. My daughters favorite page has always been the y, which has a small mirror. We read this more than any other book and never tires of it.
Wonderful for babies!

Derived From Web

, May 15, 2022

So many baby books are filled with line drawings that don 't look like the real thing, which can make it difficult for very young children to develop vocabulary. Like all Roger Priddy's books, B is for Bear contains full-color, clear photographs of real objects. She is a little young to understand the alphabet concept, but still enjoys identifying these familiar objects, especially the animals.
Great book

Derived From Web

, May 15, 2022

I like the books of Roger Priddy. This is another good one by this author. There are several pages of Touchfeel and I particularly like the Y is for You'' and there is a mirror for the baby to see his face. Another favorite is '' W is for Wet and there is a picture of a boy with a bubble bath all over his head and arms and the bubbles are sparkly. It is nice that the alphabet uses non-typical words, such as R is for Robots ''.
A winner!

Derived From Web

, May 15, 2022

My son has loved this book since we read it to him as an infant, and is still his favorite to read on his own 2 years old. The picture on each page dedicated to a letter of the alphabet and many of them with some sort of texture or a special effect are very interesting to him. It is a fun and quick read and helps reinforce vocabulary. The pages are easy to turn and thought it is a board book, it is not heavy and is easy to travel with. I know that your child will also love this book.
The remainder of the so called "touch and feel" additions just feel like stickers, slightly uplifted on the page

Derived From Web

, May 15, 2022

The book I have has a white background and the ears of the bear are fuzzy on the cover. What I found misleading is that the book claims to be a touch and feel book, but only 8 of the letters in the alphabet actually have something that you can touch and feel. The rest of the so called touch and feel additions feel like stickers, slightly lifted on the page. And about half of the letters don 't have anything to touch or feel. Look for a different book if you want to feel a touch and look for interaction while reading the book.
My 10 month old LOVES this book!

Derived From Web

, May 15, 2022

At 10 months old, this has become my favorite book of the girls. The colors are bold and, being a board book, the pages are nice and thick for easy turning. There is a mirror at the end of the book and my daughter loves to talk to herself over the mirror.
My Almost 1 yr old LUVS this book.

Derived From Web

, May 15, 2022

My daughter loves the great images, especially the photos of babies'children. She investigates each page happily. Her other favorite books are the DK Lift a Flap series, so I was afraid that this book would have no flaps, so she would be bored with it. If she likes anything this large page, even better image format. Plus, the objects are all photos rather than illustrations and all are portrayed in very simple, straightforward manner, so that she has no problem recognizing things. I would definitely recommend this book to any parent of a 4 month old baby.
Every child will love

Derived From Web

, Feb 25, 2022

All 3 of my children, though very different, have been mesmerized by this book! It is a classic favorite!
The best baby book

Derived From Web

, Jan 13, 2021

This was the first book that both my babies would really focus on and look at. They then loved it for several years. They both remembered it when they learned to read. Can 't say enough good things about it. I buy it for every friend who has a baby.
Love this book!

Derived From Web

, Oct 24, 2020

I had it for my son when he was ten and my one-year-old daughter broke the book, luckily I was able to find it also because she loves this book!