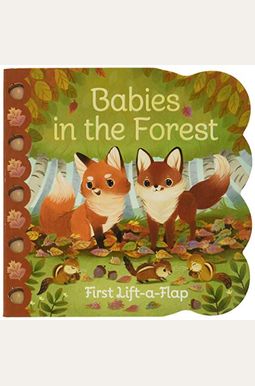 
 
Frequently Asked Questions About Babies In The Forest
Books like Babies In The Forest
Book Reviews
(11)
Did you read Babies In The Forest? Please provide your feedback and rating to help other readers.
Baby Woodland Animals

Derived From Web

, Jan 27, 2022

The baby got a book for Christmas. Her parents like the book and will read it to her.
Wonderful book!

Derived From Web

, Dec 23, 2021

There is nothing to dislike about this book. It is for my grandson. I purchased it because it goes nicely with his Christmas themed gift box, and also because his parents have mostly purchased Woodland themed products for him to use in the nursery. This book is very good. I love the flaps on the pages. A precious book. I was so happy I bought it.
My 1 year old loves this book!

Derived From Web

, Jun 10, 2020

This book can be used to teach the concept of Where. My husband watched my daughter crawl after she read it and then walked off to make breakfast. I almost didn't believe him, but the next day she repeated "Where'd he go". The book is about the adventures of two siblings. Ruby is nowhere to be found as Rusty greets some deer in the forest. The baby flips the flap and I shout out, "There she is!" Each page switches between the two siblings. If you love forest creatures, this is a great book.
Good size but...

Derived From Web

, Jan 10, 2019

My grandson loves the book, but can't open the inside sections since they open differently. One of the first books he allowed me to read was a book that was perfect in length for a new reader. I hope that will continue, he loves to read.
The art in this book is BEAUTIFUL

Derived From Web

, Jan 7, 2019

My little boy can't tear it up because the flaps are thick. The artwork is beautiful. I have seen a bunch of board book creatures lately, but each animal looks like that animal. I chose to have more realistic depictions of animals in this book because I didn't want my baby to be confused with other animals. There is a lot to point out to baby on each page and my little guy has picked up this book again and again this week, 11 months old, and not just for the flaps but to put his finger on a picture and look at me to tell him what it is. They are taught to ask about what they are seeing. It's small enough to fit in the diaper bag without getting in the way, and it's sturdy. The price is great for a nice one!
Robust, beautiful baby and toddler book with a lot of subtle educational tidbits!

Derived From Web

, Dec 29, 2018

My 10-month old loves this book. She enjoys pulling it off the shelf, grabbing the flaps, and watching me read it. There are some things that I love about it, including the fact that it's easy for a baby to flip through on her own, and there are 6 scenes that take place over the course of a day. You can point out that it's morning, lunchtime, nighttime, and stars come out in the blue sky. The book has at least 20 species. If you have a book from the Brave Little Camper series, little one might have fun pointing it out in this book. I can't wait to read the other books in the series. This is a good start to the Peek-a-Flap WHO book.
Cute book. Best for olderbabies/toddlers.

Derived From Web

, Oct 22, 2018

The baby888-607-888-607-3166888-607-888-607-888-607-3166 was888-607-888-607-3166 was888-607-888-607-888-607-3166 was888-607-888-607-3166 was888-607-888-607-3166 was given for 5 month old baby who was just starting to love peek-a-Boo. I thought he would enjoy it because he was able to turn pages. He didn't seem to notice. The illustrations are very cute. The story is simple. I adore it. We brought this book back out after the baby was eight months old. The baby loves pulling the flaps. I don't think he knows what's behind the flap He really likes the added step of having a flap. The pages are sturdy. I think it is a good idea.
... as a shower gift (forest animal themed nursery) recipient loved it and has it displayed on a shelf in ...

Derived From Web

, Jun 26, 2018

It was a shower gift that the recipient loved and was displayed on a shelf in the nursery. The pages are thick and bright. The book was cute.
Meh

Derived From Web

, May 11, 2018

The book is pretty, but the word flow is choppy and the story is pointless. For our 7 month old, if the word flow is bad, he will crawl away or attempt to close the book.
Wonderful Books for the Very Young

Derived From Web

, Apr 23, 2018

I bought several of these lift a flap books for our very young twin grandsons. They love them all, but this is the one they always want. They know what they want to read. The age at which we began buying these lift a flap books was 6 months. If you have little ones to whom you read, I strongly suggest you get The Little Blue Boat and the Little Yellow Bee.