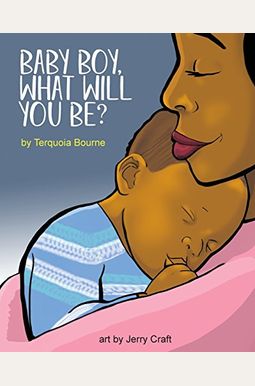 
 
Baby Boy, What Will You Be?
Frequently Asked Questions About Baby Boy, What Will You Be?
Books like Baby Boy, What Will You Be?

Book Reviews
(10)
Did you read Baby Boy, What Will You Be?? Please provide your feedback and rating to help other readers.
Beware Gender Role Switcheroo

Derived From Web

, Aug 15, 2020

This book started with a positive message, but I had to send it back when I saw these white girls appearing on the Deep Sea Diver Page and the Astronauts Page. When I buy a book for a black boy, I really want to see black people in the book.
Love it

Derived From Web

, Aug 9, 2020

Book 1's amazing children's book is an amazing book for first time moms or any mom who loves reading books to their little bundles of joy. Bought this for my cousin to read to her little one and she as well as he love it.
Well written & illustrated book for baby boy.

Derived From Web

, Aug 4, 2020

Well illustrated and easy to follow when reading loud. I enjoy purchasing books that represent black culture in a positive light. Purchase the book and author creativity.
Really great book for a Black baby boy

Derived From Web

, Jul 19, 2020

I bought this for my new great nephew and my niece, my niece, just loves reading it to him.
lovely book

Derived From Web

, Jul 17, 2020

I showed this to my baby nephew ; I brought him the pictures. He is a baby, so I can not comment on how he likes it. But his mother was very grateful to have a book to read to him before he goes to bed.
THIS BOOK IS WORTH IT

Derived From Web

, Jun 18, 2020

So touching, made me emotional reading it and I am not even a mother! This I bought for my godson and his lil brother. The words are engaging, the art is beautiful and there are diverse characters present on each page. I love all the possible choices that the book presents on what this beautiful boy can become. I bought the 3-for-2 special and am so happy that I gave my money to such talented and creative black women and black men. I plan to purchase this author so that I can look directly at her products. LOVE LOVE!
My son loves this

Derived From Web

, Dec 24, 2019

This has become the most favorite book of my son, who is a two-year-old. He already has this by-heart, still asks me to read it for him, before every afternoon nap and bedtime. It feels so good to read this one, too.
Perfect gift for expectant mothers or parents

Derived From Web

, Dec 21, 2019

I second this review because this poetic book brought me to tears as I read to my infant boy and 3 year old toddler aloud a perfect gift for expectant parents! This is an amazing story that details all the hopes and dreams that you wish for your little ones! I bought one for a friend and will soon be purchasing many more!
Black Boy Joy

Derived From Web

, Mar 10, 2019

So hard to find black boy books for my baby boy. This is one of our go-to - night books, I love it just!
I Fell in Love With This Book

Derived From Web

, Dec 5, 2018

The cover shows mother and infant son snuggling up, inviting the reader to share this beautiful moment with them. The opening lines of the poem extend this moment to a pledge of lifelong love that ends with the question that so many parents ask what will you be? The following pages burst with optimism, real world occupations and inclusiveness. Vivid illustrations portray the grown-up child in possible careers scientist, teacher, architect, Deep Sea Diver and more. But he does not stand alone. Children from various racial, religious and physical abilities share in his future together. Children are captivated by every page. I fell in love with this book and I hope it brings you and your children as much joy as it has brought me.