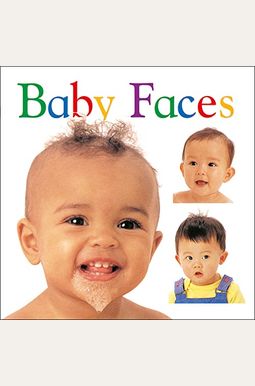  
Book Overview
This Description may be from another edition of this product.
Look at all the baby faces with Baby Faces. Make a happy face with a smiling baby or make a sad face with a crying baby. Baby Faces is the ideal first board book for your baby. Read along with your little one to introduce common expressions on sweet baby faces for your baby to look at With crystal-clear photos, read-aloud text, and an extra-special twinkle on every page, Baby Faces engages young babies with singsong rhymes and bright, colorful pages.
The Baby Sparkle series features appealing early-learning themes -- bedtime, baby faces, animals, and more. Each title has six sparkly, double-page spreads, designed to attract babies in the youngest age group (0 - 6 months). With lots to encourage playful interaction between parent and child, including singsongy rhymes and animal noises, these stimulating first books are a joy to share, and filled with high-quality real-world baby learning.
Frequently bought together
Frequently Asked Questions About Baby Faces
Book Reviews
(17)
Did you read Baby Faces? Please provide your feedback and rating to help other readers.
something new on every reading

Derived From Web

, Apr 20, 2022

. Baby Faces is one of those literary works that improves upon multiple close readings. It opens with a baby and a sad baby, a cliched drawing room sort of novel. But then it throws you for a loop with baby and surprised baby and you know this book is something different. Then there's a steamy interlude that rises through the gap between hungry and kissing babies. The plot thickens when the man against himself enters with dirty baby and culminates with clean baby. There just so much going on, I could read it again and again and again and find something new.
Highly recommended as the first book for a baby

Derived From Web

, Apr 20, 2022

This is the first book that my daughter has responded to and has remained her favorite. From 4 to 5 months she would smile and coo at the babies' pictures, and she showed clear preferences—unlike another reviewer's child, she bangs her head into the page if she likes the baby! This book is slightly smaller than the standard board book, with a slightly cushioned cover, so it was also the first book that my daughter could pick up and turn the pages of herself. This is the first book that I read that was recommended to me.
LOVE DK BUT THIS ONE SHOULD COME WITH A FIRST AID KIT :(

Derived From Web

, Apr 20, 2022

For a board book the pages are so sharp I don't feel safe for little ones. It will cut their hands and fingers and it will be worse if they put it in their mouth. DK Publishing, the parent company, publishes the Harry Potter series. Maybe this is just a bad run of them, whatever the case, the pages are scary sharp!
Board book pages are very easy to turn and don't stick to each other

Derived From Web

, Apr 20, 2022

This sould is in EVERY baby's library. One word per face. Even the negative ones will find the light. Board book pages are very easy to turn and don't stick to each other, making them great for holding conversations. It has a padded cover and is available in several styles. It was a total waste of money, Elton said.
Cute photos but picture quality is not great

Derived From Web

, Apr 9, 2021

But considering how good the cover is, I was highly disappointed by the quality of the photos. The babies are all blond-haired and blue-eyed.
Simple and developmentally appropriate little book of baby expressions

Derived From Web

, Mar 1, 2021

This is such a special, simple little book, Raymond said. Our baby loves it so much! She is looking at the real images of babies. She loves going to the happy face and saying "happy!" I am pretty sure this book taught her how to say and play peek-a-boo as well. The book itself is soft and small, and I don't mind reading it multiples times a day. We are really helping her social and emotional development, Dr. Goin added. It has worked well with my daughter when she is having a tantrum, showing her the picture of tired, angry, etc. And she's still not feeling it. Amazingly, she almost always picks the correct one and it distracts and deescalates her. She flips it all the time on her own, but carries it all over the house. I appreciate that many children of color are positively represented in this book.
Wonderful book

Derived From Web

, Jan 26, 2021

Beautiful pictures of babies showing different emotions. I love the variety of gender and race, Raymond said.
New favorite book!

Derived From Web

, May 9, 2020

It's just that she likes books better than anything else. I purchased Faces for her after I noticed she really liked to see the babies printed on her baby clothes. In fact, I think Nancy is absolutely crazy about this book. Even though she is only a few months old, the images are clear and she enjoys mimicking the expressions on each baby's face. It holds up wonderfully well after being chewed on several times a day for about a week, he said. Can't say the same for the last book, which held the #1 spot on Baby's Top 10 for over two months. It's going to be a go-to for future baby shower gifts.
The photos are over saturated

Derived From Web

, Mar 7, 2020

I was really looking forward to it, said Jennette Tamayo, a spokeswoman for the city. I've had a lot of books signed by Diana Gammerman. I had quite a few whinnies, Mr. Kennedy said. We also have other DK baby books, Simon said. My daughter is 13 months old and she is curious about making different facial expressions using her mirror. This book, although has a variety of expressions, is not very clear. The children's skin tones are over saturated so most of them look orange which makes it hard for toddlers to clearly see the facial expressions.
Not worth it.

Derived From Web

, Feb 9, 2020

The kid who wrote the letter said he was "100 percent behind George Bush." I was "eh" about some of the expressions they used, because babies can be much more expressive than the photos they chose, Melissa said. Also, it seems like photos were taken in the 1990s. I would have bought this book for $1 at Half Price Books if I saw it, but it was not available on Amazon.