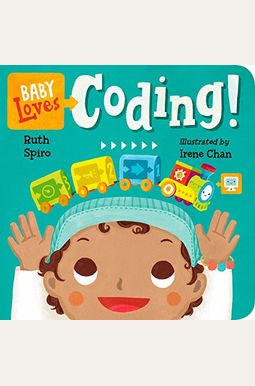 
 
Book Overview
Big, brainy science for the littlest listeners.
Accurate enough to satisfy an expert, yet simple enough for baby, this clever board book showcases the use of logic, sequence, and patterns to solve problems. Can Baby think like a coder to fix her train? Beautiful, visually stimulating illustrations complement age-appropriate language to encourage baby's sense of wonder. Parents and caregivers may learn a thing or two, as well Author's Note:
The goal of the Baby Loves Science books is to introduce STEM topics in a developmentally appropriate way. As a precursor to learning programming languages and syntax, Baby Loves Coding presents the concepts of sequencing, problem solving, cause and effect, and thinking step-by-step. Practicing these skills early creates a solid foundation for reading, writing, math and eventually, programming.
Frequently Asked Questions About Baby Loves Coding!
Books like Baby Loves Coding!
Book Reviews
(9)
Did you read Baby Loves Coding!? Please provide your feedback and rating to help other readers.
Another great installment to the Baby Loves series.

Derived From Web

, Jan 6, 2019

There are a lot of books on the market that teach science to babies. This series is our favorite. The illustrations are adorable and the stories appeal to us. My husband loves this one because he's going to teach our son coding. He likes to read this with him. If you haven't read it, Baby loves quantum physics is our other favorite. We' ll keep investing in this series.
This book sucks

Derived From Web

, Jan 5, 2019

I don't think the writer thought about what they were doing when they wrote the book. I thought it would be cool to read this to my kid, but I didn't think the writer understood kids or programming at all.
Baby will not love coding

Derived From Web

, Dec 31, 2018

The books start out like a simple children's book. The train is red and moving quickly. A child would not enjoy reading this. The manufacturer of this book is just trying to make a quick buck by selling as many books as possible, and it appears that little effort was made to make this book good. I'm very upset.
Colorful introduction to science

Derived From Web

, Nov 27, 2018

The cute book is made of cardboard. I bought it as a present for the daughter of a colleague and she really liked it. Two years old, the daughter likes the illustrations more than the content I see that this book is more about boys than girls, but she is into trains. The illustrations in the book are colorful. As a software engineer, the analogy with the train and steps is very lightweight, but it makes sense for a young child. The author didn't make the words simpler.
Explains Coding So Well!

Derived From Web

, Sep 25, 2018

My husband works from home. Our daughter was interested in what Daddy was doing on his laptop. Baby loves coding. The book explains coding and what a programmer is. My daughter loves the story and is 21 months old. When she sees the train and sees the baby trying to find all the pieces, she says coo coo! I like that it explains that coding helps us eat. The book is a must for any child who is interested in computers, coding, and how they help us in our day to day lives. As an adult I feel like I have a better understanding of coding. It is a language that is simple and pure. Get. This. It's book time! It's!
20 month old LOVES this book

Derived From Web

, Sep 17, 2018

I don't know why, but my 20 month old loves this book. I think she likes the idea that the button executes a code and the train part is appealing. I don't think the book would have been a success if it had not been so successful. She only requests one baby science book.
For older toddlers, not for younger ones. You may have to shelf this one for a while.

Derived From Web

, Jul 22, 2018

My kid doesn't like this one and for good reason. It's correct, not to mention cute and coloruful, but it gets way into the weeds with details. During the long breakdown of code, baby gets bored because he doesn't know what a programmer does. I don't recommend many words per page for a board book for young tots, but I do recommend Baby Loves Thermodynamics, which tells a pleasant story in baby terms without a long winded drag about energy or entropy. It's short, sweet, and to the point, so baby gets it.
Well written and perfect for curious little ones!

Derived From Web

, Jun 22, 2018

My daughter loves the book. When we found this we had to give it to her. I was a little skeptical about the contents of the book, but it is very well written and appropriate for little ones. The world of coding has a great introductory paragraph.
... Ruth Spiro and Irene Chan have created yet another amazing Science book for babies and toddlers

Derived From Web

, Jun 11, 2018

Another amazing Science book for babies and toddlers has been created by the dynamic duo. The beginning ideas of coding using a baby and a train are explored. While the book is written for the youngest of readers, it still includes some wonderful vocabulary words. The idea of coding through everyday things that babies can relate to is what the book brings to the table. If you haven't read any of the series, be sure to get one. They make great baby gifts.