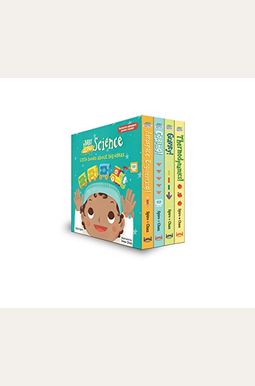 
 
Baby Loves Science Board Boxed Set
Frequently Asked Questions About Baby Loves Science Board Boxed Set
Book Reviews
(9)
Did you read Baby Loves Science Board Boxed Set? Please provide your feedback and rating to help other readers.
Fluff not science

Derived From Web

, Jan 29, 2022

If you have NO knowledge of the topics, you might find these helpful. But if you attended public school before the 90s, you will probably find these are not scientific at all. There is a MUCH better series for your future genius that are a bit too simplistic, but not fluff at least.
Great books!

Derived From Web

, Nov 3, 2021

We love this book-but the book thermodynamics should definitely be called photosynthesis, as it is about sunlight and growing trees, as opposed to real thermodynamics topics. Baby loves these books though, and we enjoy teaching her science!
Great box set and a perfect introduction into the baby loves book series.

Derived From Web

, Jun 20, 2020

We love the book series of the baby. Complex scientific concepts are broken down in simple language and ideas, diverse characters. I have been debating quite a bit which ones of the books to buy and was sceptical about this box set, since it includes coding in the single review for the book, there were quite a view reviewers saying how this book was a bit too complex or not as nice as the other books in the series. But then the box set was on sale, so I got it and I am so glad I did. We like all 4 books and our little one especially likes coding. Very good books and box set are very sturdy. The little alphabet periodic elements - poster is a nice addition little touch and we definitely plan to hang it in our daughter's room when she is a little older. Highly recommended.
Excellent introductory science books for toddlers!

Derived From Web

, Feb 29, 2020

My son literally says, when we go to the playground based on one of these stories, Gravity is at the playground. Unfortunately, he sometimes drops a noodle on the floor and says gravity based on the book, but what he gonna do... I highly recommend these products!
Gravity+experiments = intentional destruction

Derived From Web

, Aug 14, 2019

Also, moving with other artists than for illustrations was a smart move. Thermodynamics is a bit of a mistake because geothermal life exists. I don 't recommend this because my children now use gravity as an excuse for clumsiness or intentional destruction.
Wonderful series to initiate interest in science in 2 y/o

Derived From Web

, Jun 24, 2019

From an intellectual point of view, these books are probably 3-4 year old. The illustrations are correct, but the content is not always fun. It requires parents'knowledge and explanation to give a simple age appropriate understanding. It is a charming idea, but I wish the authors had made a collection for six-year-olds, since they can understand a little more about science.
Great set as a gift or for your little ones.

Derived From Web

, Apr 20, 2019

We love these books absolutely. We bought one book to see if our little would get the hang of it and we all really enjoyed it. Then we introduced this set and we have ordered one book at a time. We first introduced Aerodynamics around 20ish months and then Thermodynamics, both of us grabbed our attention and we were able to relate it to everyday things so our barely 2 yr old talks about the sun giving her energy, etc. We are now in the 3rd book, Gravity. My 25 month old walks around talking things about gravity momma. I am not claiming that she is a brilliant scientist, but the concepts are there somewhere in her little brain.
Baby loves it

Derived From Web

, Mar 26, 2019

My 17 month old baby is obsessed with these books. For her age, illustrations are great and she has already grasped most of the concepts. While sliding down at the park, you look forward! The rest of the series will definitely buy.
Not fitting developmental guidelines.

Derived From Web

, Dec 7, 2018

This sounds like a grand idea but fails completely. My set makes a quick return to Amazon.