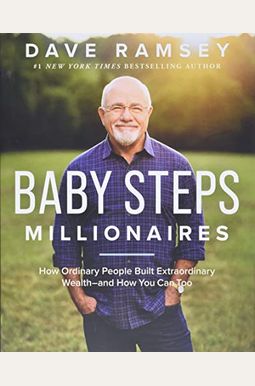 
 
Baby Steps Millionaires: How Ordinary People Built Extraordinary Wealth--And How You Can Too
Frequently Asked Questions About Baby Steps Millionaires: How Ordinary People Built Extraordinary Wealth--And How You Can Too
Book Reviews
(7)
Did you read Baby Steps Millionaires: How Ordinary People Built Extraordinary Wealth--And How You Can Too? Please provide your feedback and rating to help other readers.
Not at all what I expected.

Derived From Web

, Jan 16, 2022

I bought this book to get some concrete steps to build my investments prior to retirement. I will have to work until I am 70 and will have to pick up part time even after that. I had a divorce from a long term spouse. Young and middle aged people are the focus of the book. Ramsey recommended other books and a program for older people. I bought the hardcover expecting to make notes, lists, etc. It was a waste of my money and it took me 12 hours to read it. Is my advice? You can save money by not buying this book.
Disappointing

Derived From Web

, Jan 14, 2022

I was not happy with the book. I was expecting to learn about investing options that would help me with financial independence. Motivational stories, quotes, and reflections are provided in the book. It was practical and motivating. You can skip purchasing this one and save money. It won't help you increase your net worth.
Same info, different title

Derived From Web

, Jan 13, 2022

I have read and loved all of Dave Ramsey's books, and his principals have changed my financial life. If you haven't read any of his other books, this is a great book. It is a copy and paste of the Legacy Journey and the Total Money Makeover for someone who has. He doesn't have any new things to say.
Please Review Dave Ramsey's Business Practices Before Buying This

Derived From Web

, Jan 12, 2022

Before you read this book, check out the Untangled Faith. Chris Hogan and Dave Ramsey have both written books similar to this one. Before buying this book, make sure to read news about Ramsey Solutions and Dave Ramsey. If you are an unmarried pregnant woman, Dave has fired at you. I included an image to show that I have three books in my library that are written by him.
Excellent, and waited-for!

Derived From Web

, Jan 12, 2022

The Baby Steps Millionaires arrived in the mail last night. Stayed up reading it. I finished half of it before telling myself I needed to sleep. This is the first time in a long time that I enjoyed the short stories and didn't view them as fluff. I could go on and on about which sections I like the most, but I don't want to give away any secrets. For some context, it's helpful to know what Ramsey's Baby Steps and Financial Peace University are. I started the RBS after graduating from graduate school. I regret not sticking to it because I know I could have been a millionaire by now. My story could have been in Dave Ramsey's book.
Writing Chris Hogan out of the script

Derived From Web

, Jan 11, 2022

Let us face it. Chris Hogan's name was removed from the branding of the company after a lawsuit was brought against them for firing women for premarital sex but allowing Chris to stay after they knew he had had several affairs. This is the same old, same old with a new title.
A must have book!!

Derived From Web

, Jan 11, 2022

I became a millionaire with a paid off mortgage. We never made a lot of money and had a lot of life set backs, but following this easy plan enabled is to become millionaires with a paid off mortgage.