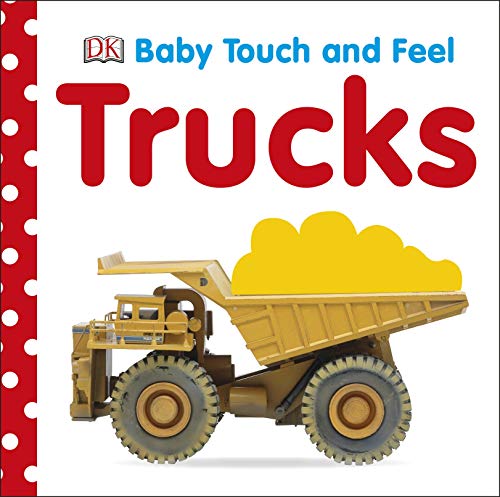 
 
Baby Touch and Feel: Trucks
Book Overview
Trucks that rumble and trucks that go vroooom Your little one will love this hands-on book full of different trucks with exciting tactile elements to touch and feel.
Trucks have never looked this adorable. The different vehicles have something shiny to catch the eye, or a cut-out texture designed to invite curiosity in babies and toddlers to stimulate their senses and aid learning. There are 12 trucks to interest your child, all bright and colorful. They'll love thesparkly lights on the fire truck, and the tractor with the chunky wheels. The roadsweeper has bristles, and there's lots of bumpy grills and shiny wheels to find. These elements encourage your baby to explore with touch as well as sight. Using fingers to trace shapes and feel the surface is good for motor skills development. This activity books for small children will have you and your kids making the soundeffects of the trucks. This is especially helpful for babies in early language development. Brush off your honk honk and nee-nah nee-nah A lovely travel book for the car, so they can spot different trucks during long journeys. Not too big and not too small, this sturdy, padded activity book is just the right size for little hands to hold. No need for Mom and Dad to turn the pages. Babies and toddlers can turn the tough board pages themselves, which helps to develop their fine motor
Read More chevron_right
Frequently bought together
Frequently Asked Questions About Baby Touch and Feel: Trucks
Book Reviews
(14)
Did you read Baby Touch and Feel: Trucks? Please provide your feedback and rating to help other readers.
Not much touch and feel

Derived From Web

, Apr 20, 2022

This is a nice book with bright colors, plain background and clear pictures, said Simon. The size is perfect for little hands and it is sturdy enough to survive being kicked, bitten, step on and thrown, said the book's writer. most of the pictures have shiny paper but just 3 or 4 have texture and they don't cover much area.
great book

Derived From Web

, Apr 20, 2022

The book was my son's first book. I'm a big fan of touch and feel books because it helps babies to learn and explore different textures. Not all pages have everything for the baby to touch. Some have parts that look like diamonds to grab the babies' attention. This book is recommended to parents with babies that love to explore different textures and colorful pages.
A favorite!

Derived From Web

, Apr 20, 2022

I still can't get over how much my son's favorite book has been since he was a year old. I'm not allowed to read it to him, he says, over and over again.
I came, I saw, I touched and felt... fifty percent of this book.

Derived From Web

, Apr 20, 2022

Right now, I'm going to say it. Shiny accents have no business in a touch and feel book. It's great to have them back, but they should be saved for a look and see book. Six of the 12 pictures in this book have no touchable properties, making them merely shiny areas. If you do the math using some partial quantum equations, you arrive at the conclusion that half the book is not touch and feel. Half the book is actually touch and feel, which is pretty satisfying to touch for my 15 month old son. At the same time, Microsoft is adding new features designed to make its products more attractive to customers. If you think this is serious, you may want to think again.
Disappointed

Derived From Web

, Nov 12, 2021

I purchased this book for my grandsons they love all the touchy geeky books they have but this one the areas in the book that you touch and feel are so small and any texture to them it's hard to really feel anything. I think I will go back to buying other books.
Very cute snd sized right for 10 month old and up!

Derived From Web

, Feb 26, 2021

One of my grandsons' favorite books especially because I bought these trucks to go with it as a present. LeapFrog's "Coogam 4 Pack Friction Powered Cars Construction Vehicles Set" includes: Bumper Cars, Crane Truck, Go-Roo Truck, Dumper for 1 2 3 Year Old Toddler.
Not much of a touch and feel book

Derived From Web

, Sep 14, 2020

Half the time the trailers are not a touch and feel, half are. They must have something to say about that kid, Tunick said. He is very attracted to books that are interactive, but this falls short for a baby.
Good for Tots Who Love Trucks

Derived From Web

, Feb 25, 2020

Not many textures are incorporated into this book, but the pages feature shiny paper. Only a few pages of the book will feel like there is something to feel, the rest is limited to a very small area. My tot doesn't seem to mind as it is all about the trucks and lots of different kinds of trailers, axles and things, said Mrs. Cowger. If you're looking for a great tactile book I suggest you pass, but if the sensory experience is to your tot's love of trucks this is a sound purchase. It's pretty inexpensive and worth gambling on whether your truck-enthusiast LO will enjoy it.
Strictly for babies

Derived From Web

, Feb 8, 2020

The pictures are stunning, and I ordered them for my 1 year old granddaughter. The package arrived late Saturday night and I was so disappointed. The textures were barely represented and the interface barely felt. Realizing it was time to go, I grabbed the phone and said, "oh, heck, just take it." Truck pictures are nice, too, she said. She found each texture representative of the pictures and each "like" looking at the pictures. This book is definitely for grown-ups. Simply put, babies get sick from squirts of CS.
Awesome textures anything from sticky to bumpy!

Derived From Web

, Aug 5, 2019

A great book for babies or toddlers. My son liked this as a baby but now he is firmly in love with it. Many of the trucks are dump, refrigeration, garbage, street sweeping, etc. The book builds a sense of books, turning pages, and sensory experience with different textures on each page. It's great to hear from Dr. Goin.