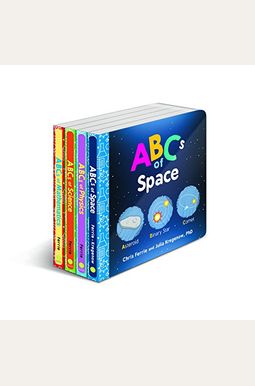 
 
Baby University Abc's Board Book Set: Four Alphabet Board Books For Toddlers
Book Overview
A must-have alphabet board book set from the #1 Science author for kids, Chris Ferrie With simple, colorful explanations of complex STEM topics, this is the perfect baby or toddler gift for your future genius
Introduce babies and toddlers to basic concepts for each letter of the alphabet with this four-book set:
ABCs of Space - Explore astronomy, space, and our solar system from A to Z
ABCs of Mathematics - Learn about addition, equations, and more with this perfect primer for preschool math
ABCs of Physics - Explain essential physics words like atom, quantum, Eintstein, and Newton
ABCs of Science - Spark curiosity in young scientists by exploring concepts like amoebas, electrons, vaccines, and more
The Baby University ABCs set offers four educational board books for toddlers written by an expert. Each book offers three levels of learning to encourage little scientists to explore and dive deeper into each scientific concept. Its approach to early learning is beloved by kids and grownups
This baby board book set is the perfect way to introduce basic scientific concepts and STEM to even the youngest scientist and makes a wonderful newborn baby gift If you're looking for other STEM-minded baby toys, books, and gifts, check out the full Baby University series, including Quantum Physics for Babies, Organic Chemistry for Babies, and 8 Little Planets.
Frequently Asked Questions About Baby University Abc's Board Book Set: Four Alphabet Board Books For Toddlers
Books like Baby University Abc's Board Book Set: Four Alphabet Board Books For Toddlers
Book Reviews
(12)
Did you read Baby University Abc's Board Book Set: Four Alphabet Board Books For Toddlers? Please provide your feedback and rating to help other readers.
Great baby gift

Derived From Web

, May 5, 2021

I love giving these baby books a gift! The two times I bought them for my friends, they loved them and read them to their daughters! Recommendation highly recommended.
Great books, good purchase!

Derived From Web

, Feb 27, 2021

The books are made for multiple age groups, so my daughter grows up as her skills improve. These books are small and have terrible illustrations, also the ideas are well connected and explained in simple terms for the good. They are a perfect stepping stone into science for small children. My daughter will go right into the world and know important mechanisms of our world and the universe. I my physicist myself '' and I wish that these kinds of books were around for me when I was a kid. These books make the topics interesting and that so will be interesting in the topics when the real difficulty of mathematics arises later in life because she can always return to the fun facts presented in material such as this.
Missing pages

Derived From Web

, Jan 31, 2021

Besides the physics book, good books besides the physics book do not have the correct alphabet. goes h-i-j-k-i-j-o-p. Missing pages m and n. Missing pages m and n.
STEAM for the next generation

Derived From Web

, Jul 9, 2020

As an engineer, I love to see kids interested in STEAM topics. Why not start with babies? As mentioned above, I like that each page has increased complexity, so that the books can grow with him and his learning.
Great idea, unusual exectution.

Derived From Web

, Feb 29, 2020

I have read some of the authors'other books, and I wanted to like this series, but it's way too advanced. The physics one is pretty good with examples like B is for black hole, M is for magnet and X is for X-ray. But the math - one has B for the base, J is for joint probability and T is for the torus. My son won 't need to know them until high school! I recommend other books by the author, such as General Relativity for Babies, and I also like the science books by Ruth Spiro, such as Baby Loves Gravity.
Good

Derived From Web

, Dec 2, 2019

I was a bit disappointed, but I'm sure it was my fault for not realizing what the actual content was about. But, 4 stars for super fast shipping! ! !
Perfect!

Derived From Web

, Mar 30, 2019

I love that these can grow with your kids. On each page there are several levels of information. At first-talking just about the letters could work. As your child grows older, discuss the photos, then the name of the pictured objects, then the description. The information is visual tied on the page to chunk it on the page based on the age and development of your little joy.
Something fun for the adult too

Derived From Web

, Jan 19, 2019

I bought these for my 4 month old foster baby. He is just getting into the idea of being read by. These are interesting because they are nice to me, and will grow over time with him. The illustrations, content and grow with me features are all wonderful. The board books are solid and not super tiny like many board books. They are a nice middle-ground size. I highly recommend these products! ''
Very impressed! Very worth the $$

Derived From Web

, Jan 3, 2019

I was a little leery when I ordered these books for my 10 month old son for Christmas. I expected them to be small and uneventful, but my husband really wanted him to have them. Let me just say that I was REALLY impressed when I received these books! They are a really good size, vibrant and sturdy AND have 3 different levels of learning, 1 is just ABC, 1 is a little information about what the letter means and 1 is even more information! These books are really going to last and grow with my son. So worth the price tag! So worth it!
Missing pages?

Derived From Web

, Dec 31, 2018

I bought this set of books for my son, who really loves the alphabet. Overall, the books were a great deal with lots of great information for curious little minds! The only problem i have is with the Space Abc book, it did not have separate pages for letters g and h... When my son found out that letters were missing, he lost interest immediately.