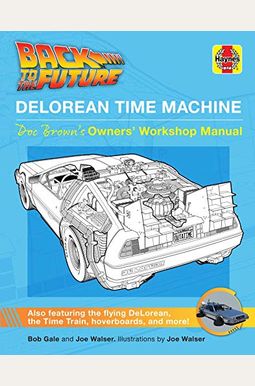 
 
Back To The Future: Delorean Time Machine: Doc Brown's Owner's Workshop Manual
Book Overview
Discover the secrets of Doc Brown's time-traveling DeLorean with the first-ever under-the-hood user's manual featuring never-before-seen schematics and cutaways of cinema's most iconic car.
One of the best-loved movie sagas of all time, the Back to the Future trilogy has left an indelible impact on popular culture.
Back to the Future: DeLorean Time Machine: Owner's Workshop Manual
delves into the secrets of the unique vehicle that transports Marty McFly and Doc Brown through time, including both the original version of the car and the updated flying model. From the DeLorean's unmistakable gull-wing doors to Doc's cutting-edge modifications, including the Flux Capacitor and Mr. Fusion, this manual offers unprecedented insight into the car's inner workings. Filled with exclusive illustrations and never-before-disclosed information,
Back to the Future: DeLorean Time Machine: Owner's Workshop Manual
is the perfect gift for the trilogy's legion of fans.
Frequently Asked Questions About Back To The Future: Delorean Time Machine: Doc Brown's Owner's Workshop Manual
Book Reviews
(8)
Did you read Back To The Future: Delorean Time Machine: Doc Brown's Owner's Workshop Manual? Please provide your feedback and rating to help other readers.
Incredibly detailed.

Derived From Web

, Mar 5, 2022

Seriously '' incredibly detailed. Whoever wrote some of the real stuff in this must honestly believe that it is technical because the way it is written it makes it seem like it might actually exist. And I can 't believe that I actually have to say this, but a friend of mine picked this off the shelf and said words loud that my ears heard, so I have to say it. It is not a how-to book, it is a work of fiction and a very good one at that. It is not going to give you instructions on how to make an actual flux capacitor replica for your DeLorean. Dan is sorry.
Great Scott!!

Derived From Web

, Nov 7, 2021

It has interesting images and lots of information for you to learn all the great features of the Delorean and other things like the time train. I would recommend this for all future fans.
Was able to tell all my friends I work on time machines!

Derived From Web

, Jun 27, 2021

Definitely a cool book, it is not a service manual, it is mostly a book about the Delorean from the film and the time machine itself. Great as a conversation starter at the coffee table.
A Must-Have For Any Fan Of BTTF!!!

Derived From Web

, Apr 19, 2021

Since I was a kid, I have been a fan of Back To The Future and this book is a celebration of all that excitement and then some years later in my 30's as an adult. There are illustrations for everything, explanations and names for parts you did not know exist, and the segments of Doc'apos ; journals really add to the lore of the trilogy. I heard other complaints about text font details here and computer - designed graphics, but I believe that the book is perfect for any fan of the movies, considering the laser accuracy it has for a trilogy that is 30 years old! It goes over new features of each vehicle and even discusses the technology of its world and the real world. I recommend it highly to anyone on the fence about it. I read it myself until the end of the time. D.
What's with the stickers lately???

Derived From Web

, Apr 8, 2021

The book is okay with a lot of good reference material for model building, but yet another book from Amazon with a barcode sticker slapped right on the front cover!
Doc's manual

Derived From Web

, Apr 4, 2021

Thought it would have more Delorean info, more based on the movie vs. actually Delorean info.
I finally invented something that works!

Derived From Web

, Apr 2, 2021

Scott is great! 2020 was such a terrible year that I set out to create a manual with the help of Joe Walser and Bob Gale to give future travelers a head start on building their own time machine! With the goal to warn other travelers in the future to NEVER visit the year 2020 under any circumstances. Many of the parts I used were vintage military and locally sourced parts that are extremely difficult to find. With the help of this manual, you can also build your own time machine! Joe and Bob went through and diligently put all my notes, sketches and technical diagrams into a beautiful hardcover Haynes manual for all builders, fans and time traveling enthusiast to enjoy! I hope you enjoy this book as much as I enjoyed helping out with it. Remeber, your future is good, so make it whatever you make it!
Great for any fan of BTTF

Derived From Web

, Mar 30, 2021

I bought this for my husband as a surprise and he can not stop saying how cool this is and how much he loves it.