Buy 3 Get 1 Free
Our Best Sale Yet! Add 4 Books Priced Under $5 To Your Cart Learn more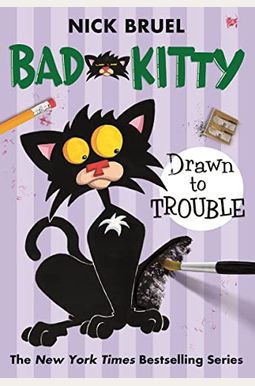 
 
Bad Kitty Drawn To Trouble (Paperback Black-And-White Edition)
Book Overview
In this seventh installment of the New York Times-bestselling series, Kitty encounters what may be her most formidable foe yet: her creator Kitty soon learns that feline manipulation works both ways--especially when you're at the wrong end of your author's pencil. Along the way, Nick shows kids how a book is created, despite the frequent interruptions from you-know-who.
A Neal Porter Book
Frequently bought together
Frequently Asked Questions About Bad Kitty Drawn To Trouble (Paperback Black-And-White Edition)
Books like Bad Kitty Drawn To Trouble (Paperback Black-And-White Edition)
Book Reviews
(13)
Did you read Bad Kitty Drawn To Trouble (Paperback Black-And-White Edition)? Please provide your feedback and rating to help other readers.
Bad Kitty Does It Again!!

Derived From Web

, Jun 4, 2022

At the beginning of this year, my son started reading Bad Kitty books. In this book, you learn how to draw bad kitty, which he loved. You have inspired a love of reading in a little boy who hates school. I can not say enough great things about the entire series. It is a must read for all children from 1st to 3rd grade. I love that the book is easy enough for my 7 year-old to ask on his own and only has to read about a few words. This is not frustrated with stopping and starting the book so many times for me to help him, yet it forces him to learn some new words as well.
Buy this immediately for your reluctant reader - you won't be disappointed!

Derived From Web

, Jun 4, 2022

I saw this in the store on the shelf and thought it was cute so I loaned it from the library to check it out. Well, I ended up loving it so much that I had to buy a copy. My 8 year old son cried so hard that he laughed to his great surprise and confusion. He did not know that it was possible as he had never experienced it before! This is the first chapter book he ever read on his own, and he has been reading over and over again as well as every other Nick Bruel title we have been able to get our hands on.
I love my child's smile an her own personal bad kitty art!

Derived From Web

, Jun 4, 2022

An adorable book that I read and did activitie with my 6 year old. The story is geared for how to write a story, but also shows how to draw a bad kitty. She laughed so hard at the writers'style of reading and drawing with him than drawing with him. I sit with my kids and try doing art all the time, so why not a favorite character? My daughter wants to come here just for fun and I enjoyed it as a silly story and a learning experience. It is a cute set up. I love the smile that my children get from this book.
Bad Kitty Drawn to Trouble

Derived From Web

, Jun 4, 2022

There is a very funny picture of the author as a first grader. The book will appeal to all Bad Kitty fans. The cover is a hardcover, but the papers seem to be the cheap paperback almost newsprint quality. I wonder how well it will hold up.
Story Writing Inspiration For Young Authors

Derived From Web

, Jun 4, 2022

Nick Bruel has created a wonderful early chapter book adventure that teaches children all about the art of writing exciting stories. Bad Kitty teaches the readers quickly all about protagonists, characters and conflict. Bad Kitty demonstrates that settings can change in a book or not. You learn all about topics and the difference between closed and open endings. Quite frankly, you learn everything you need to know to create a wonderful story that others would love to read. It is 127 pages of pure author gold with enough drawings thrown in to guarantee that when you finish it you understand the mechanics of storytelling. Even the occasional adult can easily learn the craft of writing stories with this guide. Bruel, well done!
Another Great Bad Kitty Book

Derived From Web

, Jun 4, 2022

The book was a surprise for me and was a total surprise. It was a pleasant surprise, too. It is a book about how to write a story in a way. It is written with the authorillustrator by taking the reader step by step through the thinking and decision making as a story is developed, changed and finally created. Each main component of a good story is fully explained with definitions and illustrations - character, setting, conflict, plot, theme, antagonist, and other major points until you reach the final. Since Nick Bruel is the illustrator, the expressions apply not only to Kitty's face, but also to the other characters that make you laugh. After reading this book, I thought it would be perfect to use with a child who wants to write or even a classroom full of students writing. He explains that every part of a story is such a detail that it would be an advantage for a beginning writer to have such instructions available to them. I '' believe that this book could become a springboard to motivate beginning writers.
Fun For Kids, Amusing for Adults

Derived From Web

, Jun 4, 2022

My son is familiar with Bad Kitty, but I had not read them - they were at school. I received this one because it is about the authorship process and my son is writing a lot of projects in the 4th grade. It is really cute and irreverent about creating and being an author and how well interruptions happen. I really like this series '', because it is irreverent and appeals to both girls and boys. I am sorry that I missed the earlier ones and now I'm going back and getting them on Kindle for him. As a boy mom '', I struggle to find books that my son will read. At school, he 'll read what is forced, usually some depressing, serious, tome on pioneers or overcoming the struggles of immigration, which won an award.
Bad Kitty Teaches Writing

Derived From Web

, Jun 4, 2022

From meeting Nick Bruel and learning to draw Bad Kitty on the way to a discussion of artistic inspiration, Nick Bruel and his able partner Bad Kitty show the elements of a story in an engagingly humorous way to readers. Elements like characters, setting, plot, protagonist, and antiagonist are illustrated in a humorous way. There is even a recipe for roasted turnips to round out the story. I enjoyed the subtly sly illustrations and the outrageous plot. Young readers who enjoy Bad Kitty books will also enjoy this one and learn something about writing a book in the process.
Bad Kitty learns about plots, themes, and how to get her MacGuffin.

Derived From Web

, Jun 4, 2022

Another great book by Bad Kitty is the book . My son and I read this book together because we had read all the previous books together. What I liked : The author woven in words associated with writing a book rather nicely, so that it was definitely educational and entertaining at the same time. Also, he loved showing us how he draws Bad Kitty. We actually had a contest between my son and myself to see who could draw the best from Bad Kitty. What I did not expect Bad Kitty to be as naughty as I was expecting. Puppy was also more of a minor character in this book. In all, we both loved the latest adventures of Bad Kitty. Recommend Browse at the end through the glossary before reading this. It will help reinforce the concepts that have been introduced.
Bad Kitty Teaching You How to write1

Derived From Web

, Jun 4, 2022

The bad kitty books are always funny, but this book is different than the others. In this book, Kitty, author and illustrator teaches children how to write a good book with the help of Nick Bruel himself. My daughter and I had a blast reading it and now she is doing her best Kitty herself and talking about the type of stories she can create with Kitty. I feel like this would be a fantastic book for schools to use, but also great for home! ''