Buy 3 Get 1 Free
Our Best Sale Yet! Add 4 Books Priced Under $5 To Your Cart Learn more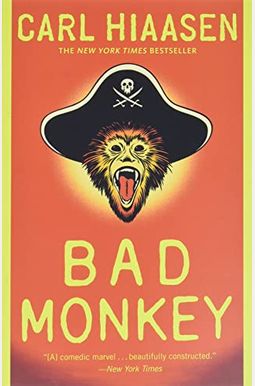 
 
Book Overview
This Description may be from another edition of this product.
Andrew Yancy--late of the Miami Police and soon-to-be-late of the Monroe County sheriff's office--has a human arm in his freezer. There's a logical (Hiaasenian) explanation for that, but not for how and why it parted from its shadowy owner. Yancy thinks the boating-accident/shark-luncheon explanation is full of holes, and if he can prove murder, the sheriff might rescue him from his grisly Health Inspector gig (it's not called the roach patrol for nothing). But first--this being Hiaasen country--Yancy must negotiate an obstacle course of wildly unpredictable events with a crew of even more wildly unpredictable characters, including his just-ex lover, a hot-blooded fugitive from Kansas; the twitchy widow of the frozen arm; two avariciously optimistic real-estate speculators; the Bahamian voodoo witch known as the Dragon Queen, whose suitors are blinded unto death by her peculiar charms; Yancy's new true love, a kinky coroner; and the eponymous bad monkey, who with hilarious aplomb earns his place among Carl Hiaasen's greatest characters.
Here is Hiaasen doing what he does better than anyone else: spinning a tale at once fiercely pointed and wickedly funny in which the greedy, the corrupt, and the degraders of what's left of pristine Florida--now, of the Bahamas as well--get their comeuppance in mordantly ingenious, diabolically entertaining fashion.
From the Hardcover edition.
Frequently bought together
Frequently Asked Questions About Bad Monkey

Book Reviews
(18)
Did you read Bad Monkey? Please provide your feedback and rating to help other readers.
Outrageously funny, entertaining, and hilarious.

Derived From Web

, May 2, 2022

I have read four or five of his books, and although this has its moments it is not my favorite comparing it to the others. The story itself was too long and drawn, Crowe said. Yes, the satire is here and the characters are over the top, but the storyline about the monkey just never held my interest. I could definitely see this as a zany Hollywood movie comedy, but it is not as satisfying as his previous works.
Funny and Biting

Derived From Web

, May 2, 2022

As a fan of Carl Hiaasen, I look forward to his next book. It's a shame it was aired on a Saturday night, because it was quite entertaining. It is full of irony and silliness one expects of Hiaasen, though with less emphasis on the evils of environmental rapine than usual. It's possible that the reason the trailer was so slow was because it was not really set in Florida.
Another fun Carl Hiaasen book!

Derived From Web

, May 2, 2022

I don't know how many people read a book the way I do, but I just don't read the words. Sometimes I get so wrapped up in his books I read them in one sitting and then I regret doing it because it would be so much more fun thinking about the story while I wait to get back to it. Carl's book is out in July.
If you've been waiting for another book by Carl Hiaasen, here it is!

Derived From Web

, May 2, 2022

Like many of his books, "The Age of Enlightenment" is filled with exaggerated human reactions to progress. It was the second time in three years that Harrison had done it. Although I missed his usual reference to someone moving from Florida to Alaska, I still appreciate the dilemma Floridians face due to growth and destruction of the environment toward that end. Badass comedy duo Bruno and Andre find their way through the maze of life, love and destruction in Mr. Hiaasen's unequalled comedic style.
Clever without feeling mamipulated

Derived From Web

, May 2, 2022

I'm not saying it was bad, just that it was a 3 12. It's really hard to write a witty and funny book without ultimately turning off the reader, Raymond said. A book about people who make you laugh and cry at the same time. I really like the number of characters, Bruno said. If you want super heroes pass, then go for it. Hard to find a book that helps you escape the wreckage in Washington.
Bad Monkey

Derived From Web

, May 2, 2022

Carl Hiassen is always a great read, but this is his best work. It's a lot like the first time, you pull in from page one and don't let go of it until the very last page. It won't be possible to put it down properly, so don't start it late at night.
Classic Black Humor by Carl Hiaasen

Derived From Web

, May 2, 2022

He also manages to teach something about geography and culture, and all sorts of topics, like housing codes, zoning and corruption of the system by sundry bad guys. We listened to the book on our latest 18-hour round trip drive which seemed to go by in minutes.
More Florida Keys drivel

Derived From Web

, Jul 2, 2021

The best of the venue was John D. MacDonald, who died in 1995. Since there have been many many many drug, murder and sex novels some better than others I can't help but wonder why. It's a total disaster, find the plot predictable, the characters unappealing, and many scenes frankly quite distasteful.
More Of The Usual

Derived From Web

, Jan 29, 2021

If you like Hiaasen's worn well path this one is more of the same. Set in the Turks and Caicos Islands, Mitch Abraham weaves a few familiar characters through an improbable story of murder and derring-do. His take on life in the Keys is firmly rooted in the period of his Keys residency and things here have changed a lot so view it as a nostalgic look at a less professional time in law enforcement. But the pace is fast the story is funny enough and no surprises, so you will be at home in the format. Get your hands on a book and you can keep this yarn for years to come.
Disappointing

Derived From Web

, Jan 2, 2021

There are too many distracting subplots and minor characters to follow in this book, all needing some sort of tiresome resolution by the end of it. Now I wonder who is this again? While Hiassen's descriptions are often brilliant, his dialogue is too full of predictably pop-culture allusions reminiscent of dumbed-down B-grade sitcoms. As a huge Leonard fan, I kept thinking Hiassen should leave out stuff readers would tend to skip over and lose 50 or more pages of filler.