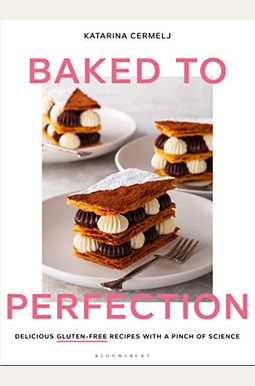  
Baked to Perfection: Delicious Gluten-Free Recipes with a Pinch of Science
Book Overview
The only gluten-free baking book you'll ever need, with delicious recipes that work perfectly every time.
From proper crusty bread, pillowy soft cinnamon rolls and glorious layered cakes to fudgy brownies, incredibly flaky rough puff pastry and delicate patisserie - everything that once seemed impossible to make gluten-free can now be baked by you.
Baked to Perfection
begins with a thorough look at the gluten-free baking basics: how different gluten-free flours behave, which store-bought blends work best, and how to mix your own to suit your needs. Covering cakes, brownies, cookies, pastry and bread in turn, Katarina shares the best techniques for the recipes in that chapter, and each recipe is accompanied by expert tips, useful scientific explanations and occasional step-by-step photography to help you achieve gluten-free perfection. Recipes include classic bakes like
super-moist chocolate cake, caramel apple pie and chocolate chip cookies, the softest, chewiest bread, including crusty artisan loaves, baguettes, brioche burger buns and soda bread, and mouth-watering showstoppers like toasted marshmallow brownies, coffee cream puffs and strawberries + cream tart
.
Frequently Asked Questions About Baked to Perfection: Delicious Gluten-Free Recipes with a Pinch of Science
Book Reviews
(8)
Did you read Baked to Perfection: Delicious Gluten-Free Recipes with a Pinch of Science? Please provide your feedback and rating to help other readers.
Everything is delicious!

Derived From Web

, Feb 10, 2022

So far, I made a few of the bread recipes and the chocolate chip cookie recipe. Frustrating that so many people rating this book are taking the stars off because the measurements aren 't in cups. If you don 't have a set, I highly recommend buying one at the same time you get this book.
Best GF Bread I've ever baked

Derived From Web

, Feb 4, 2022

After having used this book for months, I decided to write about it. The artisan loaf, the seeded loaf, sandwich bread-all work really well. She has a list of substitute flours that is really helpful if you don 't have the original on hand. The weights are in grams, which I love because I always weigh my ingredients - works so much better than cups! No problem with converting the oven temp- I just ask my phone so that I don 't even have to open a converter. After a while, you learn the conversions anyway. Just wanted to say that everything I tried from this book works!
True Perfection

Derived From Web

, Jan 16, 2022

For almost 20 years, I have been gluten free. Not even in my wildest dreams could I have pictured this cookbook back then! These recipes are absolutely dry and they "guarantee " a level of success that is difficult to come by with other GF recipes. I bake several times a week and have very high expectations. I'm grateful! For those concerned about metric units... It is well worth the effort if you want to deal with conversion. Moreover, buy an inexpensive digital scale simply.
Chocolate Cake is Delightful!

Derived From Web

, Oct 24, 2021

For the first time, I baked gluten-free, super-moist chocolate cake. I have never ate a gluten-free cake before. My sceptical sisters also loved it. As suggested on the author's blog, I used an arrowroot-rice-corn mix. I also used ground cashews to replace the almond flour, as I could not find almondsalmond flour. I am so happy that it turned out great, as some of the ingredients in my country are expensive. This cake has increased my confidence.
Best GF Pizza Crust

Derived From Web

, Oct 10, 2021

I have been doing GF baking for a while and was not sure that a GF pizza crust could be this good. IMO, this is worth the price of the book, but I'm excited to try more recipes. Yes, you do pretty much need a baking scale, but they are not expensive and can lead to more precise results, which may be part of the secret. I am also more paleo than GF, so that trying GF cookbooks is always kind of a gamble in terms of whether the flour blends will work for me. This was kind of disappointing at first glance because almost everything is made with grain, but using the substitutions on the front I was able to make a flour mixture with rice, tapioca and buckwheat that worked perfectly.
Be Aware Folks: Every recipe is listed in British metric units.

Derived From Web

, Oct 3, 2021

I am really unhappy with this cookbook ''. First of all, every measurement is metric. And every ingredient must be weighed. The oven conditions are in celsius and the pan measurements are in centimeters. I have been baking for 50 years and have a lot of experience behind me, but none of the recipes I tried have been very successful. I've thrown most of them out. I would like to return this cookbook if I may. I would not recommend it to US bakers until it is released with US standard units. I will let you know if I can return this. I do realize that its a little past due date, but I was waiting for the GF Dove flour from England that is used in her recipes to be shipped... Thank you!
Sadly, this book does NOT have American measurement conversions

Derived From Web

, Aug 22, 2021

I looked forward to receiving this book, but sadly it does not have American conversions for home cooks. I do a lot of cooking and baking, but much more comfortable with traditional cups, etc. I'm really surprised that the author did not write a more American market-friendly book for the home cook and the American market. I will have to use this book as I can not return it.
Amazing breads and baked goods

Derived From Web

, Aug 19, 2021

I have been gluten free for 12 years and bake almost every day. I have had a lot of success and failure, but after trying a few recipes from this book, I quickly realized, this is going to be my new go-to. The Pitta bread tonight with dinner was so close to traditional that it was hard to believe that they re gf. The book and photography is beautiful and every recipe sounds and looks amazing. My entire family spent an evening going through and picking out what to make and let me say I have a lot of baking to do!