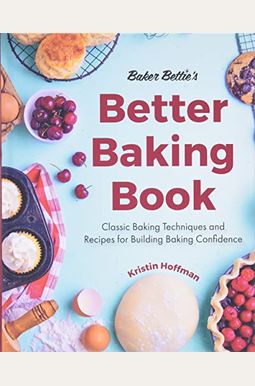 
 
Baker Bettie's Better Baking Book: Classic Baking Techniques And Recipes For Building Baking Confidence (Cake Decorating, Pastry Recipes, Baking Class
Book Overview
Build Your Baking Confidence With Baker Bettie

Do you find baking difficult, or just not sure how it works? This cookbook is your new go-to baking resource.

Baking from scratch can be hard. It is a particular science that requires precise measurements and steps. With Kristin Hoffman, aka Baker Bettie, the science behind baking will become second nature Baker Bettie's Better Baking Book lays a foundation of basic baking skills and master recipes that are sure to boost your baking confidence.

Learn top tips from a professional chef. Consider Baker Bettie's Better Baking Book your at-home culinary and baking school guide. This baking cookbook goes beyond the recipe by teaching the science behind baking. From measurements, techniques, step-by-step processes, to how to use base recipes to create endless baked goods that will make you drool. This book ensures that you will be able to tackle any baking recipe with confidence

In this baking book, learn more about:
The science behind baking
Foundational baking techniques and mixing methods
How master formulas are used to bake a ton of delicious and easy recipes
If you enjoyed books like The Baking Bible, Bake From Scratch, or Bigger, Bolder Baking, you'll love Baker Bettie's Better Baking Book
Frequently Asked Questions About Baker Bettie's Better Baking Book: Classic Baking Techniques And Recipes For Building Baking Confidence (Cake Decorating, Pastry Recipes, Baking Class
Book Reviews
(10)
Did you read Baker Bettie's Better Baking Book: Classic Baking Techniques And Recipes For Building Baking Confidence (Cake Decorating, Pastry Recipes, Baking Class? Please provide your feedback and rating to help other readers.
Spiral bound is upside down

Derived From Web

, Mar 21, 2022

The book content is wonderful but it was spiral bound upside down from the front cover and back cover, and I'm constantly trying to flip it. Yes, I will return it but reorder.
This book is a must have…

Derived From Web

, Mar 11, 2022

I love to cook and I love to bake understanding what's happening when I'm creating delicious foods, she said. It's a science, and you get the best results from being precise. This is your book. If you're new to the game, you will get amazing results and good habits from the get-go. The techniques are easy to understand and implement, Crowe said. The delicious recipes will make you want to learn and create the best sweet and savory creations. This book and her classes have taken away all fear of yeast baking and I'm so happy I can spend my retirement creating so many yummy baked goods, Roett said. Get your copy of The Lord's Prayer here.
Get This Book!!!

Derived From Web

, Mar 11, 2022

I am a long-term baker with an addiction to cookbooks. As I'm in BakerBettie's group, I wanted this one as well, even though I didn't really learn a lot from it. I was wrong. In her book, she explains the science of baking and the art of baking. This book will set the record straight.
Great book!

Derived From Web

, Mar 11, 2022

If you're new to baking this book is so educational. The author walks you through each step of the exercise in a step-by-step manner. It also contains instructions on how to customize each one with different add-ins or fillings so the options are endless.
This book changed me from a baking phobic to a baking lover

Derived From Web

, Mar 9, 2022

It was a total disaster, and I was totally terrified of baking. I thought I would mess it up because one year when I was a kid I used WAY too much baking powder and ruined some pancakes, Jean said. I never would have thought I could make a bread, but then I did! Easy, said Dr. Brian Kilpatrick, director of the University of Michigan's Center for Health and Human Services. It was a total mockery of justice, and I could not believe how easy it was. This book is a must-have for anyone who loves baking.
An essential cookbook for bakers!

Derived From Web

, Feb 10, 2022

I've had this cookbook since it came out and I have made quite a few recipes thanks to Kristin's thorough instructions. This book is written in such a clear and simple way that it would be perfect for beginners, Mrs. Cowger said. I have even played around with the idea of using this book as a textbook! From a home baker's standpoint, I love the focused on basic and favorite recipes, but left plenty of room for customization, she said. It's great to see the ingredients are written in such a way that they can be used in a pinch. This book will be a well-loved cookbook in both my kitchen and my classroom! Kristin Chenoweth is looking forward to what may come next!
This is the Baking Book of your dreams

Derived From Web

, Dec 31, 2021

I've been following Baker Betty on TikTok and made my first ever sourghdough starter with her help so, I could wait to get a book with all of her wisdom!!!! This book does not disappoint, not only is it absolutely beautiful but also well put together, easy to follow and jam packed with tips and tricks to make you a better baker. I have been moderately successful with baking, but, having the knowledge and insight on the why behind the what's has been a game changer. I don't own any cooks books and have always preferred online recipes because of the variety, but this books approach of master recipes and techniques makes an invaluable addition to my kitchen and truly worthy of the title "only cookbook I own." I can't say enough about this book and can't wait to share it, my knowledge and recipes built from it with my daughter.
Beautiful, Organized, ESSENTIAL!

Derived From Web

, Dec 19, 2021

Only 5 stars would be considered good enough for home cooks. Now Bett Bakerie has taken her baking to a new level with the hundreds of drool-worthy photos to accompany every recipe and technique. Each is exceptional, Coach O'Neill said. I love the idea of having a master recipe for each basic baker's creation, then being able to build on each with my own inspired twists, she said. Thanks for sharing your baking light with the world, Mrs. Bakerie Bett. All Rights Reserved.
Easy to follow

Derived From Web

, Dec 13, 2021

It's such a great book, said Cara Cooper, who owns the book. It was a huge success for me, and I follow Baker Bettie since my first successful sourdough bread loaf from her website. I love baking, but I struggle with consistency and recipes. Master Chef Michael Symons shows how to use these master recipes to make any flavor combination you desire. I'm following the suggestion and doing each recipe in order: the sweet bread batter, followed by the lemon poppyseed suggestion with lemon glaze. The best muffins I made or ate in the last couple months! I can't wait to try everything else and experiment with my own flavors, like a cranberry white chocolate muffin. 0 1462228 This is very sweet, very healthy, and I can't wait to try everything else, like a cranberry white chocolate muffin.
If you want to be the best baker in town, buy this book!

Derived From Web

, Dec 2, 2021

So far I have made four recipes from the book and they are all phenomenal. Master blenders can tweak the recipes to create even more variations. This is great for new bakers as well as experienced bakers, Mr. Baker said. It explains the science of baking in an easy to understand way that helps you make your baked goods exactly the way you like them. It won't take long for your friends and family to be impressed with the coming out of your kitchen. I'm a recipe writer myself and used the book to tweak a cookie recipe I was working on. I'll be gifting a copy of The Lord's Prayer to my wife for Christmas.