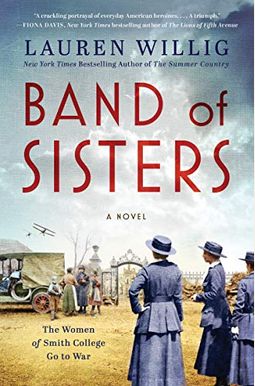  
Book Overview
A crackling portrayal of everyday American heroines.A triumph.
-- Fiona Davis, New York Times bestselling author of The Lions of Fifth Avenue

A group of young women from Smith College risk their lives in France at the height of World War I in this sweeping novel based on a true story--a skillful blend of Call the Midwife and The Alice Network--from New York Times bestselling author Lauren Willig.

A scholarship girl from Brooklyn, Kate Moran thought she found a place among Smith's Mayflower descendants, only to have her illusions dashed the summer after graduation. When charismatic alumna Betsy Rutherford delivers a rousing speech at the Smith College Club in April of 1917, looking for volunteers to help French civilians decimated by the German war machine, Kate is too busy earning her living to even think of taking up the call. But when her former best friend Emmeline Van Alden reaches out and begs her to take the place of a girl who had to drop out, Kate reluctantly agrees to join the new Smith College Relief Unit.
Four months later, Kate and seventeen other Smithies, including two trailblazing female doctors, set sail for France. The volunteers are armed with money, supplies, and good intentions--all of which immediately go astray. The chateau that was Read More chevron_right
Frequently bought together
Frequently Asked Questions About Band Of Sisters
Book Reviews
(18)
Did you read Band Of Sisters? Please provide your feedback and rating to help other readers.
Enjoyed it!

Derived From Web

, Jul 31, 2021

I quickly became invested in this story of young women from Smith College stepping out of their comfort zones to help French women and children during WWI. This novel is part of an adventure story, coming-of-age saga and historical recreation, with a touch of romance. Give me a character who goes out of her way to show kindness and make the world a brighter place for those around her and I am hooked! Probably neither girl's story would be interesting alone, since they help each other find their place in the world. A highly enjoyable listen from the author Lauren Willig and the narrator Julia Whelan!
Decent Read

Derived From Web

, Jul 18, 2021

I admit that I chose this book because I don 't often find literature on WWI. I was so intrigued by it. By the midway, I was invested enough in the characters to se it through to the end. I learned some things.
loved the audiobook

Derived From Web

, Jun 19, 2021

Thank you to Harper Audio for my advanced listener copy of Band of Sisters by Lauren Willig. I have read several of Lauren Willig's books previously, and this one was just as good as all the others. Band of Sisters is a story of courage beyond belief and a group of women with strength that they never knew they possessed. The story was great, but the narration was so slow that I was fully invested the whole time. Julia Whelan is one of my favorite narrators and can pull off any genre! She made you feel the despair of the women of Smith College Relief Unit. I was able to speed it up to 2x speed easily.
Wonderful story about an unlikely band of "sisters"

Derived From Web

, May 28, 2021

This is a story by WONDERFUL! It is based on a historical record of a group of Smith College women who went to France during WWI to support the French people with rebuilding and humanitarian efforts. It is funny, sad, heart warming, and heart wrenching. I wish I had made a list of characters with a first and last name and a short explanation of each in the beginning. It took a while to keep them all and sort them out straight. Sometimes they were referred to by their first names and other times their last names were appropriate at the time, so it made it more difficult to keep. This is a story not so much about a war, but about a band of unlikely "sisters ''.
How the Grecourt Gates were named- great story!

Derived From Web

, Apr 27, 2021

I have been through the Smith gate many times, being a modern alum. I now know how they were named! An interesting story and a great one. This is her best! Her romances are relatively true, but good for a rainy day, but this is an excellent and worthy novel with a rainy story. So very nice not to have much romance, but lots of historical information. There are quite a few characters to keep in mind, but the story is so good that it does not really matter. Emmie, Kate and Julia should pay attention just to Emmie. Though Maud does cause the coup, and so is an interesting evil character. The book is briskly long, but moves along quickly. Hope Reese Witherspoon grabs the rights for this one. It would be nice to have a war movie focused on women.
Engrossing Story of Amazing Women.

Derived From Web

, Apr 23, 2021

I'm always looking for stories of strong women with a touch of romance. If I read well, as Band of Sisters, I enjoy reading novels about WWI. In Band of Sisters we have a reimagining of the story of a team of alumni from Smith College who travel to France in the middle of the war to support the Allied effort. Nothing can prepare them for the tragedy, loss and destruction of war. I loved the drama and history and cried almost throughout their evacuation of the Grand Court, France. Audible narration is excellent in the Audible format.
A Wonderful Novel Inspired By Real-Life Events

Derived From Web

, Mar 30, 2021

Confession : While I was never crazy about Lauren Willig's pink carnation series, I love her single titles. What I loved the best was how she created two very human heroines with very real, likable flaws. The book deals not just World War 1, but also with issues such as pride, self-esteem and the need to belong. The pacing is also well-done. Unlike some real historicals that have to lay pages of groundwork before the complicated action begins, Willig hits the ground immediately with the women shipping abroad. The readers will not be disappointed. I highly recommend ''.
Another stellar work by LW!

Derived From Web

, Mar 22, 2021

Band of Sisters is a bit of a departure from the author's previous works, but her compelling writing style and enthusiasm for characters will quickly have you caught up in this fascinating and inspiring story based on true events. Highly recommended!
WWII and a group of college women who make a difference.

Derived From Web

, Mar 22, 2021

I enjoyed the grit and bravery of this group of single women, graduates of Smith College, sent as aid workers just off the front lines of battle near the Somme in World War I. They were industrious and so helpful, as they provided food and medical care to women and children left behind in war-torn villages. I have received an ARC of this book, all my opinions are my own.
Another amazing story!

Derived From Web

, Mar 18, 2021

Jason Willig is an auto-buy author for me. I read her books for pretty much half my life at that point, yet to be disappointed! The Band of Sisters was no exception. This is exactly the book I needed, filled by brave, confident and inspiring women who admirably navigate from a brutal place and time in history. I adored 100% the character development and arcs of Emmie, Julia and Katie. Each woman faces obstacles that they didn 't imagine possible and has to adapt constantly. There is nothing more I love than a book about women empowering themselves and bonus points when these women really existed in history. The care and dedication to telling these very true stories is felt on every page, with every detail so precise and perfectly placed so that you get a really good feeling for what these women experienced on the front lines. I cannot wait for her next book, Stars!