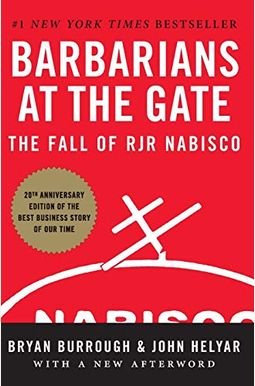 
 
Barbarians at the Gate: The Fall of RJR Nabisco
Frequently bought together
Frequently Asked Questions About Barbarians at the Gate: The Fall of RJR Nabisco
Books like Barbarians at the Gate: The Fall of RJR Nabisco
Book Reviews
(19)
Did you read Barbarians at the Gate: The Fall of RJR Nabisco? Please provide your feedback and rating to help other readers.
Fred Dalton Thompson is also great as the president of American Express

Derived From Web

, May 2, 2022

A great story of a failed takeover attempt in the 1980s. What makes it fascinating is the combination of the two leads, Cara and Max. Ross Johnson, Henry Kravis, James Robinson, and Teddy Forstmann are among the defendants. I actually met Forstmann at the age of 13 when I was at the Apawamis Club in Rye, N.Y. He was hit by a golf ball, he said. Like all movies there are some liberties, but the overall effect is very skillfully portrayed. James Garner, who played Johnson's son, will play the father. He's also great at running a company, American Express. Worth the time to watch?
Book not worth it, HBO movie condensed it into something you can follow, and enjoy, which is why I bought the book, my bad!

Derived From Web

, May 2, 2022

Great book, well-written and well-illustrated. Infowars has compiled a list of the 10 most searched keywords: "too much information." Some are very interesting, most have been dull and while accurate. HBO's "The Leftovers" star Anthony Bourdain said the show's producers "bounced on the idea of a sixth season." But he did not finish it, when he had to do something important like go to work and make a living. These people did not make a living, they played the rest of us to make their million.
Good story, poorly written, terribly edited

Derived From Web

, May 2, 2022

There are plenty of larger-than-life characters who are tied up in multiple interlocking conflicts of their own making. However, the writer of the story does not clarify the complications of the story as it should be. The frequency of incorrect word choice is high enough to be distracting and should have been caught by the editor, Hollingworth said. If you're interested in the book, you can read it if you have some time to spare. If you must look elsewhere, look no further.
Interesting but complex reading

Derived From Web

, Dec 22, 2021

Complex because it involves two things: data and computers. Second, the financing is not well explained. It is not completely needed to enjoy the saga, but I could not help but continuously stop to search for terms and try and understand what the "play" was. It would have been more enjoyable had I known what each team was trying to achieve with their financing, Mr. Dhaliwal said. There are so many characters in this book that it became a tangled mess, he said. I would have had to have kept a notebook beside me with a chart to have kept it all straight, he said. It was a tale of greed, ego and power struggle, Raymond said.
Well written, easy read, although a bit slow in parts

Derived From Web

, Jul 22, 2021

This book has great historical relevance for investors and those interested in the corporate finance world in general. It was a good reminder that executives and capital market movers and shakers are human beings with a lot of money, good and bad characters, and related challenges, said Burt Flickinger of Strategic Resource Group. BusinessWeek's book makes a strong case for considering organization leadership in your decision-making process.
Fascinating read

Derived From Web

, Mar 21, 2021

Big players in the financial world went about fashioning their take-over deals, he said. Not sure if there are any good guysbad guys in this story. The book went into more detail than the subsequent movie but both were very informative and enjoyable to read. The book itself was extensively researched and time-consuming, even though Gillian said she never met Mr. Kennedy. A great read, said Dr. Julie Mason, who heads the NIH's Center for Regenerative Medicine.
Interesting, in a Mad Men kind of way

Derived From Web

, Jan 15, 2021

If your interests run corporate, or you like looking into what environments were like in past times, this will float your boat. Personally, I made it only about half way before Criss left the book stranded at the office. But it was a good read until then, working in the private equity space.
Most entertaining finance book I've read!

Derived From Web

, Apr 25, 2020

From someone outside professional finance, this is an excellent on-the-ground glimpse into the biggest deal of the 1980s. It is incredibly well-sourced and detailed, but that does not take away from the grand sense of action and drama. Not only do you gain remarkable insight into the logistics and tactics of LBOs, you also gain a perspective on the outsized egos and greed fueling these characters. Despite being written 30 years ago, the themes and lessons ring loudly today, if not more so, for the way we as a country have come to tolerate corporate greed and financial chicanery. In his book, "Never play by the rules," Johnson says: "There are some rules that apply to everything." Never use cash. Tell the truth, Michael. Great advice our current corporate climate has taken to be true from this morally bankrupt face of Greed, Moore said.
Compelling page turner

Derived From Web

, Jan 26, 2020

A great book. The problem is, you can't make this stuff up. I couldn't put this book down. It was a lot of fun, and we didn't want it to end.
OMG it's sooooooo boring

Derived From Web

, Apr 26, 2019

I've read a TON of nonfiction, and i could just not get into this one. I hate to not finish a book, but this made the list. Too many details, too slow-moving development.