OUR BIGGEST SALE EVER - SAVE 20% AT CHECKOUT WITH CODE CYBERBOOK. Learn more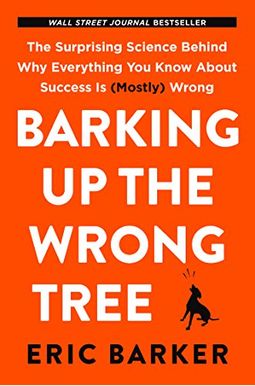  
Barking Up The Wrong Tree: The Surprising Science Behind Why Everything You Know About Success Is (Mostly) Wrong
Book Overview
This Description may be from another edition of this product.
Much of the advice we've been told about achievement is logical, earnest . . . and downright wrong.
In Barking Up the Wrong Tree, Eric Barker reveals the extraordinary science behind what actually determines success and--most important--how anyone can achieve it. You'll learn:
Why valedictorians rarely become millionaires, and how your biggest weakness might actually be your greatest strength
Whether nice guys finish last, and why the best lessons about cooperation come from gang members, pirates, and serial killers
Why trying to increase confidence fails, and how Buddhist philosophy holds a superior solution
The secret ingredient to grit that Navy SEALs and disaster survivors leverage to keep going
How to find work-life balance using the strategy of Genghis Khan, the errors of Albert Einstein, and a little lesson from Spider-Man
By looking at what separates the extremely successful from the rest of us, we learn what we can do to be more like them--and find out in some cases why it's good that we aren't. Barking Up the Wrong Tree draws on startling statistics and surprising anecdotes to help you understand what works and what doesn't so you can stop guessing at success and start living the life you want.
--Robert Sutton, Stanford Professor and bestselling author of
The Asshole Survival Guide: How to Deal With People Who Treat You Like Dirt
Frequently Asked Questions About Barking Up The Wrong Tree: The Surprising Science Behind Why Everything You Know About Success Is (Mostly) Wrong
Book Reviews
(14)
Did you read Barking Up The Wrong Tree: The Surprising Science Behind Why Everything You Know About Success Is (Mostly) Wrong? Please provide your feedback and rating to help other readers.
so entertaining, yet so informative

Derived From Web

, Aug 16, 2021

Great book! Teaches success is achieved with real stories of beautiful and fascinating people. Eric's style makes it easy to learn and remember the well researched concepts to be successful. If you love his blog, you will love this book. If you haven 't read his blog yet, you will still love this book.
Great Book, all information and insights supporter by sound research.

Derived From Web

, Jul 18, 2021

Similar to the book Adam Grant style, you will share great scientific research to support all concepts. In addition, Eric has great stories to keep you captivated. It loved it strongly recommend... Chapters a bit long tho.
Good book for anyone interested in improving their life.

Derived From Web

, Jan 5, 2020

Book is great! Good read for anyone looking to improve their attitudeworld to be more realistic-optimistic. It is filled with numerous, practical suggestions for making life changes.
Barking Up the Same Tree

Derived From Web

, Jul 30, 2019

A new book, but not as good as the title suggests. While he shares interesting and unusual stories and anecdotes about each piece of advice, the advice is generally what we have been told all along Prioritize, Plan, Network, Show confidence, but not too much, find life - work balance for happiness, yada yada yada. It is what I call old ideas repackaged to look new. A good and interesting book, just doesn't promise anything new or different, as the title does.
Definitely not for me. Decide whether it's for you.

Derived From Web

, Jun 18, 2019

Barking the Wrong tree was not for me. Speaking of the trees, I think I have murdered one or more by purchasing this book, said me out. I think this book could be really useful for quite a few people. Especially notably those struggling with non-traditional traits to help inspire them to double on what makes them unique, rather than what society expects from them. Another way, the book's main topic is that, if you are good at something, you should focus on it. I just don 't happen to be one of those people who need this kind of advice. I was already well aware of the lessons taught in this book, and if you're like me, it is just a collection of stories with the same mantra repeated over and over again and constantly saying Well, duh, duh. While I give it a 310, I think this book may be truly helpful to other people. I would have taken my review with a pinch of salt.
A book for people who don't read... but would they be able to read it?

Derived From Web

, Feb 4, 2019

It is not that the conclusions are wrong, however if you read books and papers related to how humans think and process things you know most of the time, if not all. While the author has put a lot of effort into swallowing the science behind being successful in various aspects of life, the result is very difficult to collect. It feels like a chaotic collection of thoughts and observations from dozens of seemingly unrelated blog posts mixed with anecdotes and stories, aiming to illustrate some of the ideas in an entertaining way. Some of the stories are funny, some are interesting, but overall it is very difficult to read and even harder to build a new action plan to act on that new knowledge.
have to re-read it and oh Good Gosh, I have to go back over that

Derived From Web

, May 11, 2018

Bought the Kindle version of this book...... very interesting, complicated and fun...... a lot to absorb... considering giving it as a gift...
Nice easy read. Simple tactics to live by.

Derived From Web

, Mar 19, 2018

This was a pleasant and easy to read book. The writing was pretty casual and casual, which helps the subject matter remain fresh and the writing is relaxed. There are a few simple concepts and ideas supported by studies that aim to help one feel balanced, successful, and happy. Here is not much new, but the book is an enjoyable read and the presentation of the ideas is nice and easy to grasp and put into action.
Fun, Clever, Thought Provoking, Hard to put Down, Fantastic Writing Style, Interesting Perspective, Unconventional

Derived From Web

, Feb 22, 2018

Fun, Clever, Thought Provoking, Hard to Put Down, Fantastic Writing Style, Unconventional are few things that come to my mind immediately when I think about this book. I first started reading Eric's blog and immediately loved his style of delivering excellent material in a clear, fun and thoughtful way that is never dry or boring. The book is written in the same way. It is a great read that makes you think about and reexamine some of your views.
I originally read Barking Up The Wrong Tree in the ...

Derived From Web

, Feb 7, 2018

Barking Up The Wrong Tree '' was originally read in the autumn of last year. At the beginning of this year, I pulled it out again to help me refocus both my business and future initiatives in life. Mr. Barker's use of storytelling to drive home very relevant and practical points is unprecedented. This writing methodology makes the book read extremely quickly. Currently, I teach many of the principles to my staff. This book will be read again in the next few months... this time with the highlighter in hand!