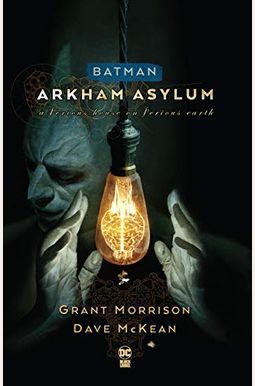  
Batman: Arkham Asylum New Edition
Book Overview
Grant Morrison and Dave McKean's timeless, genre-bending tale BATMAN: ARKHAM ASYLUM is brought back to its classic beauty in this New Edition
Batman faces his most dangerous foes and his inner demons in order to retake Arkham Asylum from the grips of The Joker, Poison Ivy, Two-Face and many more.
Frequently bought together
Frequently Asked Questions About Batman: Arkham Asylum New Edition
Book Reviews
(7)
Did you read Batman: Arkham Asylum New Edition? Please provide your feedback and rating to help other readers.
Cool art, uninteresting and overrated.

Derived From Web

, Sep 10, 2021

I've read the entire Dark Knight series, and I'm a huge fan of Paul Dini's work. I've always heard good about this but it's very over-amped and not deep, not disturbing, the writer isn't good, the story isn't either. Just about everything in the jokers texts is in red, hard to read. It's actually pretty cool, Mr. D'Antonio said.
decent story is made up for with everything else

Derived From Web

, Jun 19, 2021

This book is not, I would say, the best story in the world. The story is truly exceptional, the artist said.
I don't get it

Derived From Web

, May 17, 2021

Stuff that tells a little contained story and doesn't require me to go out and track down seven different comic runs. I picked this up without thinking too much about it, and I have to say, it's one of the most confusing things I have ever read. The art is amazing, so that is why I give it three stars at all, Raymond said. The story is very weird, and I would have liked to have just had it about Arkham himself, as that was more interesting than Batman just walking around and having hallucinations. There are just a few people hanging out and talking, nobody is in real danger, it feels like. 0 2622070 2622070 It's like everybody is just hanging out and talking, nobody is in real danger, it feels like. Honestly, it's worth it for the art, the story is whatever and doesn't resemble the games at all, which I didn't expect it to be.
Nails the crazy factor but weak on the Batman factor

Derived From Web

, Jan 11, 2021

This is more of an aesthetic novel, Byrne said. I thought the artist was successful in creating a disorienting and environment and that you could almost hear the mice at the baseboards, almost smell the excrement and sweat, and almost hear the electric thrumming of monstrous villains who never really allotted their room in the haunted house. I suppose any characters could have been replaced with Batman and Joker, and the book would have been the same, except that Mr. Shelby would have been dead. I get the feeling that the main character of the book wasn't meant to be the Caped Crusader or the Clown Prince, but Arkham Asylum itself. It's just that we don't have enough money." I do dock a star just because it doesn't quite fit the Batman world as much as it could have.
It has a lot of twists and turns you won't expect, usually.

Derived From Web

, Dec 31, 2020

Two face and both joker look like they've been electrocuted then dragged in salt, Mr. Booher told the judge. The decent stories it's all over the place, but it's ok, said writer Scott Derrick.
Gothic claptrap

Derived From Web

, Aug 8, 2020

I've read comics that i haven't liked but never hated, until now. The "Batman" movies are among the all-time greats. The Caped Crusader is not the only one calling himself The Dark Knight. It's just that the story is idiotic and the artwork is a distorted mess. It tries to be dark and gritty but compared to The Dark Knight Returns or The Killing Joke, it just blows chunks.
Awe

Derived From Web

, Jul 10, 2020

It is an amalgam of symbolism of the occult, Christianity, psychoanalysis and elaborate artistic prowess to bring a rich, indulgent story of unmaking of a familiar hero.