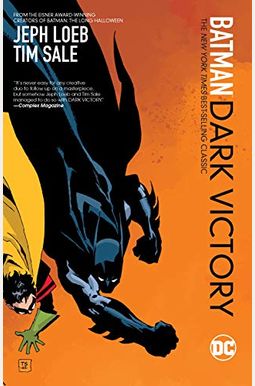  
Book Overview
Collecting BATMAN: DARK VICTORY #0-13, this epic continues the story of THE LONG HALOWEN. It is early in Batman's crimefighting career, when James Gordon, Harvey Dent, and the vigilante himself were all just beginning their roles as Gotham's protectors.
Once a town controlled by organized crime, Gotham City suddenly finds itself being run by lawless freaks, such as Poison Ivy, Mr. Freeze, and the Joker. Witnessing his city's dark evolution, the Dark Knight completes his transformation into the city's greatest defender. He faces multiple threats, including the seeming return of a serial killer called Holiday. Batman's previous investigation of Holiday's killings revealed that more than one person was responsible for the murders. So the question remains: who is committing Holiday's crimes this time? And how many will die before Batman learns the truth?
Frequently bought together
Frequently Asked Questions About Batman: Dark Victory

Book Reviews
(12)
Did you read Batman: Dark Victory? Please provide your feedback and rating to help other readers.
good read

Derived From Web

, Apr 20, 2022

The story needs to be tighter. The art work could have been better. But overall, a nice read. It was enjoyed reading it.
Entertaining sequel

Derived From Web

, Apr 20, 2022

This is the sequel to The Long Halloween. It was not as great as the first work, but was still enjoyable. The story picks up after the first book with another round of holiday killings that takes place, imitating the earlier murders called Holiday '', who murder during the holidays. This work raises the question of whether or not the holiday was still on the loose, or was there a copycat committing the same kind of crime? As with the first book, there are many possible suspects. The problem is compounded further with the release of these characters from the insane asylum. Here in this book, we also see District Attorney Harvey Dent, who was originally on the side of good in the first book, now a villain that Batman must deal with. Good story, even though it mirrors a lot of the story in the first book, yet it adds twists and turns that keeps the plot moving.
A WORTHY sequel to The Long Halloween!

Derived From Web

, Apr 20, 2022

David Dark Victory is one of the best sequels I have ever read! Writings run out of great story lines and ideas most of the time, but not this time! This story still includes a lot of Gotham's early crime lords and gangs like the Falcones and Moroni's. I would also try to read the complete catwoman series when it connects great with these storylines! This is a true successor of the last book with tons of great mystery, surprises, twists and amazing action! It gets you interested in what next will happen! The story includes a lot of great moments like how Eve came to be, Catwoman's and Batman's relationship, the classic Falcone family drama and so much more! Not to mention this special edition is pretty with a matt finish on the cover and other embellishments inside! This is a must have read for any Batman fan!
A Great Read

Derived From Web

, Oct 20, 2021

Personally, this is my favorite comic book I have read from the Batman - comics. Granted, it would not be the masterpiece it is without the development of The Long Halloween and the Hangman Killer gimmick is kind of repetitive from the Holiday Killer gimmick of its predecessor, but honestly, I don 't even care. I love the Mobsters vs. maniacs narrative and how Bruce and Dick are just caught in the middle of it, trying to do good, but also fighting to end an entire city's corruption on their own. The character of Dick Grayson falls a little flat, but otherwise this is a great take on his origin. Recommend highly.
Really Good

Derived From Web

, Jul 4, 2021

I enjoyed this Batman story a lot better than the original. I also liked the art ''. I really liked it. Except for the Joker. I don 't like how he is drawn. Doesn 't look human even if it does not even look human anymore. But still a good story, including Robin's origins. Recommended :
Amazing classic Batman story

Derived From Web

, Apr 17, 2021

A great Batman story and a classic one! This one follows Long Halloween, but no one needs to read that one before Dark Victory, but it makes you appreciate the art and story all the more. For any fan of the bat, must read.
More neo-noir than superhero...

Derived From Web

, Mar 24, 2020

Dark Victory is a dark noir crime mystery, set in the mythical Gotham City. It is a sequel to the events of Björn's A Long Halloween and you need to read this book for this story to have much meaning. The strong suit of this story is the ambience of isolation and loss that creates the book. The strong link is the list of villains that in a story like this are mandatory. Without the entire Roz gallery, Dark Victory could have been just as good, if not better.
Another Great Story From Loeb

Derived From Web

, Aug 5, 2019

This sequel to Loeb's The Long Halloween has similar sensibilities to this book, understandably. It is still about an early Batman finding his feet, still feels like a noir detective story, and is still about Batman balancing and engaging with different levels and elements of crime in Gotham. The only reason I rate this slightly lower than The Long Halloween is that it is, in some ways, a repeat of the predecessor. Don 't get me wrong, it is still great so that repeating the feel of the first book isn 't a huge problem. But, for readers who are sampling and learning about Batman by going back to his most iconic runsstoriesgraphic novels, you won 't get much additional mileage out of this book that you wouldn't have already gotten out of The Long Halloween. For readers who love Batman and appreciate a solid story, this is of course worthwhile. It only feels slightly like a re-tread so that it is still well worth going through at least once.
Good Purchase

Derived From Web

, Oct 22, 2018

Beyond the fact that it arrived in good time and was shipped in a decent condition, Batman Dark Victory is a good purchase for fans of Jeph Loeb's other Batman story, The Long Halloween. Thematically, this book builds on what was already established in the previous work, without any of the contrivances that plagued Long Halloween, i.e. holiday gimmick. Specifically, the character work present within Dark Victory is unique and easily one of the best aspects of the book along with Tim Sale's superb art style. The only real qualm I have with the book would have to be the way in which the Hangman - murders pan out. Specifically, the reveal of who Hangman is feels somewhat forced and could have been better developed.
Great stories for Batman fans

Derived From Web

, Oct 24, 2017

I would not as a comic-book person per se. I know that there are a lot of fans of Batman who have read most if not all the comic books and are experts on the story lines. This is not me ''. Was what I love about this book, as well as the long halloween, that these are very well-written stories meant for adult readers. This is not a picture book for children, and Batman comes better on the page than he does on the screen. The mood is dark and ominous and based on what Batman is and what Gotham is, I think this is exactly the tone that these comics should have. Loeb and Sale have created a graphic novel that I think should stand on its own with any works of fiction on the market today.