Buy 3 Get 1 Free
Our Best Sale Yet! Add 4 Books Priced Under $5 To Your Cart     Learn more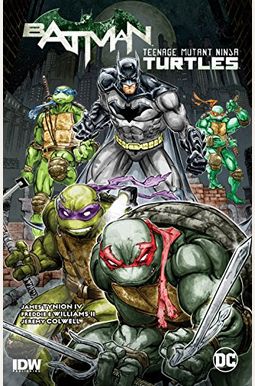  
Batman/Teenage Mutant Ninja Turtles Vol. 1
Book Overview
This Description may be from another edition of this product.
New York City: The Teenage Mutant Ninja Turtles face the battle of a lifetime, fighting not only the fearsome Foot Clan and their leader, the Shredder, but also the alien forces of General Krang . which is exactly Krang's plan. Now a single dimensional warp can rid him of both of his greatest rivals in one fell swoop
Gotham City: From the Penguin to Killer Croc to Ra's al Ghul and beyond, the cowled crime fighter known as Batman has his hands full dealing with an already-overflowing gallery of rogues. Suddenly, a new enemy emerges in the form of the Shredder and his ninja followers, transported to Gotham and unleashed upon an unsuspecting world. Now they're on the hunt for the technology that will allow them return home . and conquer Gotham City along the way Heroes come in all shapes and sizes, however, and the Caped Crusader won't be fighting alone. But even with their combined talents, can this all-star team of Batman, Leonardo, Donatello, Michelangelo, Raphael and their teacher, Master Splinter, take down the most vicious villains from multiple dimensions? Find out in
Batman/Teenage Mutant Ninja Turtles: The Deluxe Edition
, written by James Tynion IV (
Detective Comics
) and illustrated by Freddie E. Williams I (
Robin
). This special hardcover volume
Read More chevron_right
Frequently Asked Questions About Batman/Teenage Mutant Ninja Turtles Vol. 1
Book Reviews
(9)
Did you read Batman/Teenage Mutant Ninja Turtles Vol. 1? Please provide your feedback and rating to help other readers.
The Joy of Comics

Derived From Web

, May 31, 2022

BatmanTMNT finds the teen mutant Ninja Turtles crossing into Batman's universe and at risk of losing their powers forever, as the Mutagen that gives them their powers may lose its potency in our universe. Batman finds himself investigating the wayside clan and the turtles. In general, a cynic could point out how much of this is expected. Our heroes fight and then realize that their both good guys meet and join forces. The success of BatmanTMNT, however, is all about style. Not only is the way the turtles contact Batman surprising, but the dark knight develops a very interesting relationship with the turtles. The characters are joyful to read. The characters have problems, but Angst is not the driving force behind the story. On every page there is a great sense of fun and imagination. The art is beautiful and manages to capture the epicness of the two universes. In short, BatmanTMNT is so awesome, it reminds long-time fans how comics can be so merry.
Cowa-Batman!

Derived From Web

, May 31, 2022

I was expecting a paper back and when it showed up, it was plastic wrapped and a hardcover. Being a hardcover, its a little stiff making the art work in the middle panels hard to see, but the spine of the books will loosen after a few readings. Speaking of art work, Batman seems a little off visually, but the turtles look great as well as Batman's villians and especially Shredder!! The story is pretty good, a little hard to follow a moment or two, but honestly i didn 't care, I came here to see how the bats would handle the turtles and i was not disapointed. At the end of the book, a nice section of variant covers was added, which was a great addition. Overall, an excellent addition to my growing collection, i would recommend highly to any TMNT fan or dark knight.
but this was an unexpected lot of fun to read

Derived From Web

, May 31, 2022

I decided to pick this up as a collected edition rather than a printed issue, and it was a gamble that paid off. I am not a TMNT fan of any kind, but this was an unexpected lot of fun to read! I saw the 90's movies and enjoyed them enough, and I was surprised by how well and distinctive each of the four turtles personalities were defined in the films, similar to how they were portrayed in the films. The story and the leads'reactions to their first meeting was funny enough and plausible too. I'm actually looking forward to picking up a second volume if this same creative team produced another!
Best team up in the world

Derived From Web

, May 31, 2022

Totally recommend this site. At the end of the comic book, you could also find some amazing art work. ) ''
Batman vs TMNJ, what can go wrong?

Derived From Web

, May 31, 2022

I am a huge fan of Batman as well as a teen mutant Ninja Turtles, so I was pretty excited for this release. When I received my book copy, I was pretty excited. The story itself is pretty straight forward, but I do not want to spoil anything. Nothing extraordinary, but it was great to see my two favorite comic books mash together. The art was beautiful and I was happy to see all the different covers printed in the back of the book.
Class book

Derived From Web

, May 31, 2022

5 stars due to the fact that its a well written comic book with two of the greatest characters in comic history.
Book appears used

Derived From Web

, Dec 23, 2020

The edge is bent on the upper right corner and the book appears to be used. The graphics to the book look cool, but upset with the damage of the book.
Just plain fun!

Derived From Web

, Aug 22, 2020

, i was raised with TMNT, but i hadn 't ever revisited the characters since I was a kid. I was curious when they announced a team with one of the characters I still read about Batman. The result is so happy with me. The story is short paced, the character moments work, and the story is a joy just a little. This is something that the author cared about and should be proud of!
Mandatory reading if you like either Batman or Turtles

Derived From Web

, Jan 6, 2017

The best miniseries of 2016, absolutely the best. The fact that IDW and DC don 't do this regularly saddens me. In 2016, James Tynion IV already proved his worth with his excellent contribution to Detective Comics Rebirth, but BatmanTMNT was Lightning in a Bottle. The character work of Tynion is on point and the moments between Raphael and Batman lift this book to my tops of 2016.