Buy 3 Get 1 Free
Our Best Sale Yet! Add 4 Books Priced Under $5 To Your Cart Learn more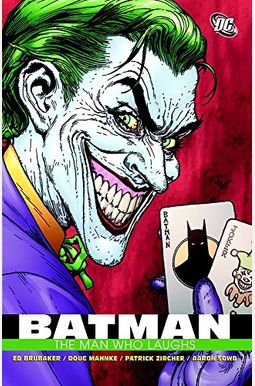  
Batman: The Man Who Laughs
Frequently bought together
Frequently Asked Questions About Batman: The Man Who Laughs
Books like Batman: The Man Who Laughs
Book Reviews
(12)
Did you read Batman: The Man Who Laughs? Please provide your feedback and rating to help other readers.
DEATH and A LOT of IT!

Derived From Web

, Apr 21, 2022

A great origin story of the Joker. I personally think that I like this origin story of The Joker more than I do The Killing Joke. But, boy, is The Killing Joke terrible? The remastered copy really sticks out in the sense of colors, art and the unique take on the Joker that Warner Bros. Entertainment gave it. Before that he was known as The Joker, but it was the public that gave him the name. I'm not a huge fan of Dr. Goin's work, but I thought it was interesting. What I also loved about this comic is that he killed so much and so easily, Raymond said. He killed someone as common as a person would drink a cup of coffee or do laundry, he said.
Favorite Joker Tale

Derived From Web

, Apr 21, 2022

The most famous of the "Joker" stories is "The Killing Joke." Well, if there is one story to give it a run for its money, it is probably The Man Who Laughs. To be honest, they should be seen as companion pieces rather than competing stores, as they are often thought of. I liked the story and the art of this tale, too. I'm also a huge fan of Batman's early days, so this was right up my alley. The only downside is the story itself is short, but hey, TKJ is also short, and at least TMWL contains bonus material and is cheaper in price, so keep that in mind. Overall, this is one of my favorite Batman trades and is definitely a re-read.
Toe to toe with The Killing Joke

Derived From Web

, Apr 21, 2022

One of the great Joker stories of all time. The infamous Joker was played by British actor David Brent. And sometimes, he can come across campy or goofey and just down right stupid. The Web site says: "Not here." In "The Age of Triumph," Harrison writes, "He has an edge." The new series marks the first time since the Dark Knight's death that a major motion picture was produced with the help of Warner Bros. Pictures. It's well written and the art by Doug Mahnke is awesome. This book has a ton of re-reading value and it never gets old, Michael Green said. For me, it's up there with The Killing Joke standing beside it. But, technically, it's not an easy feat to accomplish. If you're a Year One buff like me, this is a must have. You can't go wrong with this one.
Well written Batman stories.

Derived From Web

, Apr 21, 2022

Very good Joker story. Even if I didn't enjoy the story, I enjoyed the parts. Artwork was also solid, the report said. It's great to hear from people who have used it.
Buyer Beware: 65 Pages of filler unrelated to Joker

Derived From Web

, Apr 21, 2022

Even though you are purchasing the amazing story of The Man Who Laughs a wonderful rendition of Batman's first encounter with his arch-nemisis, you will also buy an additional 65 pages of filler material in a story titled Made of Wood. The main gripe with this publication is that this extra feature is not indicated anywhere on the product itself. Or, perhaps, you just don't want to spend the money.
A Fantastic Two-for-One Deal (Yet, Strangely No Two-Face)

Derived From Web

, Feb 28, 2022

The Man Who Laughs is a fantastic reimagining of Batman and the Joker's first clash, taking what worked from the original story in Batman #1 and remixing it for the age. But to me the real prize is the second story, the story of Batman, retired Commissioner Gordon and the Golden Age Green Lantern teaming up to solve a generations-old mystery. I'm a huge Green Lantern fan, and seeing him in person was a real treat. Even in retirement, Gordon is still a great detective, but the real star is Batman. Brubaker's look into the Dark Knight's mind depicts a more sympathetic and vulnerable version of the world's most dangerous figure than we often get to see, and his emotional journey in this story was beautiful.
Short read, but a good one and one that every Batman fan should read

Derived From Web

, Dec 14, 2021

I really enjoyed the first two books, and I'm still waiting for the third. If you think this is a MUST READ for any Batman fan, I would say it shows the first real scuffle that Batman has with the joker. Before you buy, you should take into consideration the following: What are the legal and ethical issues involved? It's a terrible call, said Blair, "and it was really short." It's so short that they have included a crossover of the Green Lantern and Batman comics, which is a huge deal, and probably because they realized the book would look too small and wouldn't sell well if they didn't throw another story in there. Before you can properly read the entire Batman story, it is strongly recommended that you have read the first two installments of the Robin story, Year One and The Killing Joke. It's a really great interpretation of one of the greatest comic book villains of all time, so if you're into that you're going to have to get this one.
A great joker story.

Derived From Web

, Aug 17, 2021

Joker doesn't need a back story, but he does need a great introduction, McBride said. It also includes a fun green lantern team-up story. Fits nicely between Year 1 and Long Halloween.
The Quintessence of Joker

Derived From Web

, Jan 19, 2021

If you're looking for something that feels like a true Joker, this is for you. The story might be short but it has a lot more story to it than some of the other entrants into the Batman vs Joker dynamic. It's a throwback to the days of Charles Bronson and the "Magnum" gang, complete with plenty of mayhem.
Parve as we say in Yiddish.

Derived From Web

, Mar 19, 2020

Nice capture of Green Lantren, Tunick said. The story doesn't seem to have caught up with the times. The Joker would have been the highlight of the entire Batman trilogy, Mr. D'Antonio said.