Buy 3 Get 1 Free
Ends Soon! Buy 3 Books Under $5, Get a 4th one Free.      Learn more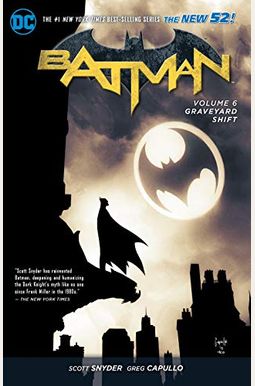  
Batman Vol. 6: Graveyard Shift (The New 52)
Product is currently Out of Stock.
You can add it to your wishlist and you will be notified once we receive a copy.
Frequently Asked Questions About Batman Vol. 6: Graveyard Shift (The New 52)
Book Reviews
(12)
Did you read Batman Vol. 6: Graveyard Shift (The New 52)? Please provide your feedback and rating to help other readers.
Doesn't really fit with volumes 1-5

Derived From Web

, May 24, 2022

After the first 5 volumes, which included the Court of Owls and the Zero Year Story Lines, I felt like this volume was sub-par. There was no cohesive narrative as the issues gathered were not contiguous and jumped all over the place. It also makes very little sense without the context of Batman Inc, and other related bat-titles by referencing events about which you would have no idea except reading volumes 1-5.
Good Collection of Stand Alone Issues

Derived From Web

, May 24, 2022

It is a good collection of one-shot stories. But for most of us, each issue is a stand-alone story in this collection. The artwork and writing changes through, which normally would make the hell out of me if this were a single continuous story arc. I am in the process of owning all the Batman New 52 collected editions, and although this one isn't an essential part of the series, it is still a pretty good read.
A disappointing entry in an otherwise great series

Derived From Web

, May 24, 2022

It is difficult to review this collection objectively in light of Snyder's previous installments. The previous 5 volumes consistently ranked # 5 among the top narrative arcs in industry. Sadly, this collection disappoints, partly because it is just that a collection of unrelated issues. The most salient difference here is the lack of Snyder's. Like the Batman Eternal books, he seems to have taken on more of a co-plannerconsultant role here than a direct writer. It fails as a book.
Nice but not essential

Derived From Web

, May 24, 2022

Reading through Scott Snyder's Batman Run, I read big character moments and spectacular spectacle every 10 or so unimpressive to okay moments. These are generally one and done stories that allowed a break in between great events like the Court of Owls and the Death of the Family. Here are some characters and beats for future chapters, but it simply seems out of place all collected in one volume, like we're waiting until The Joker returns in Endgame. The moments with Damian are touching, and Harper and Cullen are captivating, but it is not enough for me to justify adding the bookshelf permanently.
Interesting but fragmented filler

Derived From Web

, Nov 17, 2021

I suppose this compilation of fill in stories is intended to break the tense mood from the last few entries like Death Of The Family and Zero Year. Some of the stories are interesting on their own, like Batman's hunt for a serial killer and him going toe with an old prisoner in Arkham, but I did not care enough about any of it for this one to leave any lasting impression on me. I think this whole book was created to break the tension of a line of stories, much like there seems to be a larger filler episode on a television show after a lighter storyline ends. The art in this case is from a multitude of different artists and to be honest, very little of it impressed me. A few of the covers were black, white and blue, especially the neat one by the artist Jock, but overall the art was not a strong point in this book.
Another Batman Anthology

Derived From Web

, Sep 6, 2020

I'm frankly a bit tired of reading loosely related Batman stories. Too many of these are : Here I am for the interconnected form and long stories! The story of Clayface was my story by far. Batman's alter ego is a bit of a joke, but the story about identity is fascinating. I also liked the Arkham part and the introduction of the new order, and I did find the jumps in the story as distracting. Spending time and mental resources trying to figure out where the story was and what point in Batman's journey. Especially since there are some events here that I don 't think is even in the Snyder runs, I do want to stress that I really like the individual stories, just the whole is disjointed.
Couple good stories

Derived From Web

, May 14, 2020

Most of the time is a bit confusing if you haven't read all the New 52 stories up to this point, including all the other titles. The story of Clayface shined above the others, and it was just worth reading for that. The story of the gravedigger is also pretty good. His passion for Gothenburg and his family is his family.
Miscellaneous issues

Derived From Web

, Sep 8, 2019

The content was good, but this was kind of a mess as a collection. We got two volumes of the Court of Owls, one by Joker, two by Batman, and then this collection of random stories that I guess they couldn t put anywhere else. It jumps around in the timeline and there are references to major events that have not yet happened in the previous volumes. But, as I said, the content is good even if the order is pretty much random nonsense.
An Okay Volume of Single-Issue Stories, Ultimately Skippable

Derived From Web

, Jul 23, 2019

A number of reviews have already flagged this, but this volume does not move the main story and is instead an intermission of sorts filled with single-issue stories that do not quite fit in any of the other volumes. It is hard to blame the publisher for having done it in this way, since the alternative of keeping these issues in other volumes would probably have slowed some pretty cohesive story arcs. The one thread that tied the issues together is Damian still trying to deal with the loss of his son, Batman, that took place outside this run. But even then, this thread does not really run through this volume on its own. If you want to complete the run, you'll need this TPB, but if you are borrowing this or reading it in another way, this is ultimately skippable and won 't affect your reading of the rest of the series.
Batman Vol. 6: Graveyard Shift

Derived From Web

, Aug 21, 2018

After the death of his son, Damian, Batman is in danger of losing his humanity. The foes of this grief-stricken Dark Knight, however, mean to strike him when he is at his weakest. Has Bruce Wayne's worst foe become... Batman? Plus, three epic chapters from the pivotal ZERO YEAR storyline! From the critically acclaimed New York Times #1 creative team of Scott Snyder and Greg Capullo comes the next genre-defining graphic novel in their monumental run.