Buy 3 Get 1 Free
Our Best Sale Yet! Add 4 Books Priced Under $5 To Your Cart     Learn more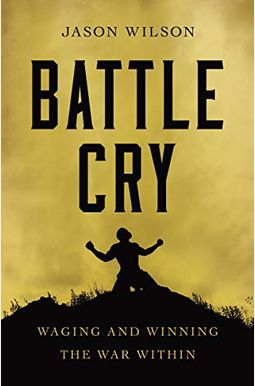  
Battle Cry: Waging And Winning The War Within
Book Overview
For decades, Jason Wilson tried his best to be a man but struggled to express the full range of human emotions because the only ones he felt comfortable expressing were the traditional masculine emotions--anger, aggression, and boldness. This went on until he finally released years of past trauma to attain the healing he needed to become a better man, husband, father, and leader. Learning how to master his emotions and verbally process them transformed Jason's life and relationships in ways he never could have imagined. He now seeks to expose the lies that many men have been deceived to believe about manhood and bring healing to their lives.
Battle Cry will teach men how to wage and win the war within themselves--unlearning society's definition of masculinity and empowering them with the tools needed to freely live from their hearts instead of their fears. Wilson shows readers how to
- win internal battles before they turn into external wars;
- master their emotions instead of being ruled by them;
- release trauma from their past so they can live fully to their potential in the present; and
- communicate more effectively with the people in their lives.
Frequently Asked Questions About Battle Cry: Waging And Winning The War Within
Book Reviews
(18)
Did you read Battle Cry: Waging And Winning The War Within? Please provide your feedback and rating to help other readers.
Somewhat Helpful, but did not meet expectations

Derived From Web

, Mar 25, 2022

I was expecting more of the insight into human nature that the author shows in his Youtube channel Cave313, but this book is too general. His videos showing him relating to his martial arts students are more insightful than the book,. It is useful for showing you what you need to work on, but I just couldn t get his meditations to work. I have seen many of his interviews and I feel like he cries too much. There is a fine line between vulnerability for the sake of intimacy and cringe. In the end, I think it has been more helpful for me to learn about social dynamics.
Must Read for all men!!!

Derived From Web

, Mar 19, 2022

This is a must read book for all men! Mr Jason Wilson will take you on a journey to explore what really matters in life. He gives extraordinary insights and personal stories about how to interpret and deal with certain emotions in life that every man struggles with. It will lead you on a straight and narrow path that will take you closer to God's will for your life. It will supply you with both clarity and inner peace and help you to develop your family relationships as well! Are you up for the battle?
Book that every man and woman should own

Derived From Web

, Feb 17, 2022

I am a single mom of two black boys raising two black boys, which is not easy I know, but every chapter taught me something and helped me understand how I can do better in my relationship with my children and a man if I ever go down that road again, I loved the book! !
I enjoyed it except the religion part

Derived From Web

, Jan 16, 2022

It is a very good book . The only thing I don 't like is when the author talks about religion and the relationship with God and about a story in the Bible. In his interviews, he doesn't talk about religion that much in his interviews tho. I ordered his book before reading other reviews that he can bring this topic up. The most I enjoyed is Jason relating to his real life situations and childhood. It is worth the read and no doubt sends a powerful message. The book is easy to read, it is less than 200 pages, BUT... his philosophy is no doubt that should not be ignored. I love how he opens up about his wife, his past mistakes, who he is, how he is as a father, and talks about sexual self control for men, teaching boys from early age and keeping a family in communities. He points a lot out there. The book does get better. Don 't miss out on it!
A Book Every Man Should Read!!!

Derived From Web

, Dec 18, 2021

This book should not be read by just any black man, but by every man. In this book, Mr. Wilson talks about everything we deal with as men and ways to work through them. I purchased 2 more to give men I know that would benefit from the knowledge on these pages. I say pass two,one for yourself and one to buy!
Impactful!

Derived From Web

, Dec 12, 2021

Ordered this for my friend, but read it myself. Very awesome... impactful principles. It is very helpful to know the content of a cry like a man.
Inspiring book that provides a lifeline to men feeling every bit of life's challenges.

Derived From Web

, Nov 13, 2021

A master's class on finding your way out of the darkness is a master's class on finding your way out of the darkness. Wilson shares his heart and inspires other men to open theirs. Family, Fraternity, Forgiveness, Faith, Family, Fraternity, Forgiveness. I read it twice, recognizing myself countless times. I found comfort, strength and community, as I shared Wilson's work with other men. The world needs now more than ever men of faith, strength and resilience. This book can help those who feel lost to a positive life changing path. Once I finished the reading, I couldn t wait to put in the actual work. Sharpens Iron! Iron Sharpens Iron!
One of the most important books of this time!

Derived From Web

, Nov 11, 2021

This book had me by the middle of the introduction! It sounds cliche, but I felt like this book was meant to reach my hands. The specific messages in it related so much to me that I immediately had to make changes in my life for the better. Halfway through the book and my life is different! My life has begun in many facets of forgiveness. You will physically feel this book ''. I have been able to let go so much stress and other harmful things. It is hard to describe how amazing this book is! Now... off to buy additional copies to give to people!
If you

Derived From Web

, Nov 4, 2021

Simply wonderful! '' A great catalyst for true internal healing with very simple and easy to follow solutions. Jason clearly understands what it takes to win the war within! This book was a God sent book.
Things come into your life for a reason

Derived From Web

, Oct 6, 2021

I came across Jason randomly on Instagram one day. I began to follow his page because I enjoyed the message he was delivering in his area with the youth. Then I saw the book and thought, why not? So glad I bought it because I am only a chapter in and I can 't wait to get through the rest of it. Every human on this Earth shares some kind of similarity in what they have been through, whether it be big or small, and Jason does a great job of making you look inside yourself. I never met this man before, but I feel like I know him through his words for a long time. I highly recommend you pick this book if you're looking for a little motivation when it comes to looking at yourself in the mirror and wanting to improve every aspect of yourself. I am now on the next chapter.