Buy 3 Get 1 Free
Our Best Sale Yet! Add 4 Books Priced Under $5 To Your Cart     Learn more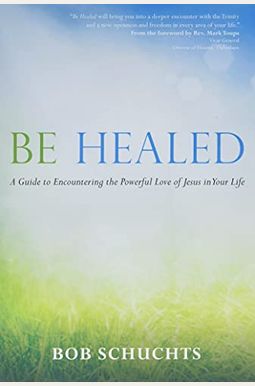 
 
Be Healed A Guide To Encountering The Powerful Love Of Jesus In Your Life
Frequently bought together
Frequently Asked Questions About Be Healed A Guide To Encountering The Powerful Love Of Jesus In Your Life
Books like Be Healed A Guide To Encountering The Powerful Love Of Jesus In Your Life
Book Reviews
(14)
Did you read Be Healed A Guide To Encountering The Powerful Love Of Jesus In Your Life? Please provide your feedback and rating to help other readers.
Doctorinal Error but Pretty Good Otherwise

Derived From Web

, Apr 20, 2022

Contains an important Bible translation error that has Jesus fully embracing God and completely abandoning him on the cross. This would make all the promises of biblical love a lie. This would also disturb the Trinity and destroy the concept of One True God. Holy Spirit, by the Spirit in the persons of Father, Son and Holy Spirit. What DID happens is that Jesus was abandoned to the cross, not forsaken while he is on it. In the sense that the spiritual protection over Jesus was withdrawn so that he could fulfill His divine mission of redemption. The author tells of his own Father issues, which my misinterpretation of this message drives his own interpretation of this message in the Bible. Aside from this simple error, the rest is pretty good.
Uninspiring

Derived From Web

, Apr 20, 2022

After reading all the wonderful reviews, I bought this book, but I was very disappointed. Very boring and uninspiring. I couldn 't even finish it.
Peace and healing

Derived From Web

, Apr 20, 2022

I had to read this book twice to get the most out of it. Bob read it through the first time I read it, I just wanted to read the story, the story of Bob. But then, when I reached the end, I realized that I had done a disservice to myself by not actually participating in reflection questions. I didn 't want to face my own brokenness, yet healing alone. But by the end of the first read-thought, I had just enough openness of heart to give it a try. The second time through I took what Bob was sharing and tried to reflect on my own life. I tried to see how the movements in his life were familiar in my own story. I can 't believe the depth I reach. I take it very slowly, a chapter at a time. But I notice how layers of hardness are slipping from my heart and I really enjoy the process. It is sometimes hard to imagine, but sure, it's sometimes hard. But there's the overwhelming feeling of peace that keeps me going, striving for more.
This book gave me great hope!

Derived From Web

, Apr 20, 2022

Dr. Bob Schuchts opens a path for anyone who desires healing through the open sharing of his personal experience of healing and his experience of helping others to heal. The integration of Sacred Scripture with a personal encounter with Jesus, who is ever present to us as we face our sorrows, is essential to the healing of our wounds. I experienced in my life a healing of a particular wound through the grace of reading this book. I took great comfort in coming to a deeper understanding of redemptive suffering, and I finished the book with greater hope for continued healing. I recommend this book as a conduit of grace and understanding of the healing. I highly recommend this book as a conduit of grace and understanding of healing.
A very powerful and meaningful look at healing wounds and living life abundantly

Derived From Web

, Jul 28, 2021

I was watching Matt Fradd's powerful interview with Sr. Mariam James Heildand as she shared her journey to healing in such a profoundly deep and positive. He recommended Bob Schuchts highly by Be Healed and was not disappointed. Here is something new about how we approach the wounds in our life with tenderness, compassion, and a trust in Christ that made an impression on me - something I tried to capture in my books. I would recommend this book even if you don 't think that there are wounds at any level in your life. I make you think and it gives you great tools and a profound sense of hope.
Important to my growth

Derived From Web

, Jul 19, 2021

This book was recommended to me during the Confession by my Priest. It is easy to read and powerful. I find that I have to go slowly and really digest the richness of the author's message. It helps me in resolving painful experiences that have influenced my relationship with God.
A truly transformative book!

Derived From Web

, Jul 19, 2020

This book will take you on a journey with Jesus to the roots of any vices, issues or sins in your life. It does so in an open and conversational way. Internal judging of your life asks you to do the internal judging of your life. Using analogies to connect much of spiritual life to interconnect, you'll be taken on a journey of healing. It took me six months to finish the book, party because I was distracted, but I vowed to get through it during Lent. It took a pandemic to pull me back from the busyness '' of life to finish it. In doing so, I connected with one of the individual stories listed in the book and were miraculously healed of afflictions on Holy Trinity Sunday!! What a providential day as the book connects you with the Father, Son and Holy Spirit! Thanks to Dr. Bob and all involved in this book, Bob and all.
Sincere and thoughtful, but not a primer on spiritual healing

Derived From Web

, Feb 10, 2020

Rather disappointed. Although the author is obviously sincere in his intent and the exercises at the end of each chapter are thought-provoking, the book is heavy on personal testimony and Catholic doctrine and at times reads like a commercial for parish healing programs, rather than a self-help book for those seeking a DIY spiritual approach to healing. Those who would like a little less personal testimony and apologetics and lots more ways to profit from checking out Robert Abel's healing prayer books instead.
Heal the whole person

Derived From Web

, Dec 31, 2018

My priest called this one of his favorite Catholic books. Bob Schuchts learned a lot at his Healing the Whole Person Retreats and this book shows how many of your challenges are tired to pain and probably going back to one bigger thing.
Must read

Derived From Web

, Nov 18, 2018

A must read for anyone who struggles with guilt. Most of us are unaware of their own guilt and the way it limits us. This book does a great job by using personal stories to help me understand what it is, where it comes from, and how to get past it even with guilt in a positive way.