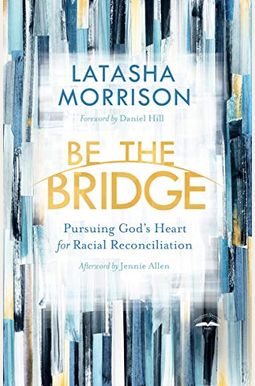  
Be the Bridge: Pursuing God's Heart for Racial Reconciliation
Book Overview
NEW YORK TIMES BESTSELER - ECPA BESTSELER - When it comes to the intersection of race, privilege, justice, and the church, Tasha is without question my best teacher. Be the Bridge is THE tool I wish to put in every set of hands.--Jen Hatmaker

WINER OF THE CHRISTIAN BOK AWARD(R) - Winner of the Christianity Today Book Award - A leading advocate for racial reconciliation calls Christians to move toward deeper understanding in the midst of a divisive culture.
In an era where we seem to be increasingly divided along racial lines, many are hesitant to step into the gap, fearful of saying or doing the wrong thing. At times the silence, particularly within the church, seems deafening. But change begins with an honest conversation among a group of Christians willing to give a voice to unspoken hurts, hidden fears, and mounting tensions. These ongoing dialogues have formed the foundation of a global movement called Be the Bridge--a nonprofit organization whose goal is to equip the church to have a distinctive and transformative response to racism and racial division. In this perspective-shifting book, founder Latasha Morrison shows how you can participate in this incredible work and replicate it in your own community. With conviction and grace, she examines the historical complexities of racism. She expertly applies
Read More chevron_right
Frequently bought together
Frequently Asked Questions About Be the Bridge: Pursuing God's Heart for Racial Reconciliation
Book Reviews
(11)
Did you read Be the Bridge: Pursuing God's Heart for Racial Reconciliation? Please provide your feedback and rating to help other readers.
Love it!

Derived From Web

, Jul 23, 2020

I am a 64 yr old, white Christian woman who recommends this book highly! Eye Opening Guide for all people who follow Christ's desire to live out the gospel in America today. I found it on Instagram through a recommendation from Beth Moore. Latasha Morrison is an excellent truth teller who argues for reconciliation and unity in the Body of Christ. I'm so glad that I found this book!
Just wow!

Derived From Web

, Jul 18, 2020

You can not read this and not be changed or moved in some way.
Racial Reconciliation from a Christian Worldview

Derived From Web

, Jul 15, 2020

This is a great introduction book for Christian who wants to know more about racial reconciliation. Many in the church show an initial interest in addressing racial issues, but interest fades as white people get tired of talking about race. This book addresses how to reconcile, gives practical advice and has a dream of spreading this reconciliation throughout the Church. Highly recommended for anyone curious about the next steps and creating truly diversity within the church.
A lot to think about

Derived From Web

, Jul 14, 2020

This book really challenged me. I have not been sure of what to do, what my role is, what my next steps are in changing the racial climate of our country. This book shows the importance of being seated at a table with people who are different than you and of being willing to listen. I can do this.
The un-whitewashed history of African Americans

Derived From Web

, Jul 10, 2020

My heart aches when I read true historical stories of blacks in America, not in school history books. In the 21st century, racial injustices are still inflicted on blacks! The book helped me see my complicit participation in the unfair plight of blacks, even though I have benefitted from a biased system unknowingly at my expense. The book provides several opportunities for lamenting over the injustices inflicted to minority groups, especially African Americans. As Christians, especially white Christians, we must join the cause of our brown and black brothers and sisters and break the chains of injustice and take the cords of the Yoke, to set the oppressed free and set every Yoke. May it not only be inspirational, motivational, and transformational, but also to move us as a body of Christ into compassionate action to end the sin of racism.
My wife loves this book!

Derived From Web

, Jul 10, 2020

In my opinion, a must read for anyone who wants to know more about racial reconciliation! My wife says, Amazon, thank you for writing this book and a huge thank you to the author for carrying it.
Listen, Learn & Lament

Derived From Web

, Jul 5, 2020

If you are upset by recent current events and you ask yourself, "What can I do? " Then get this book. If you are not convinced that institutional racism exists, start with another book, such as The Myth of Equality ''. Be the Bridge '' was designed to be read with others. Each chapter ends with questions for deep reflection and discussion, along with prayers read the best way out loud. The collectiveness of racism is hard to process, but by leaning into discomfort and with others, the shared experience will give you a common vocabulary for moving forward. Latasha Morrison is an excellent guide and she has created an exceptional tool for us to do the hard work of relating, learning and mourning together.
What can I say?

Derived From Web

, Dec 22, 2019

Sadly, this book was written with only one perspective and seems to make the white reader feel much personal guilt and shame. I want to understand and be part of the solution, which is why I bought the book and spent time reading it. I can feel sad and defeated and feel like this divide will never be healed.
This is such an important book

Derived From Web

, Oct 21, 2019

This book is so important, powerful and insightful. God uses Latasha in amazing ways and I can 't wait to see the impact of this book!
Pursuing racial reconciliation with truth and love

Derived From Web

, Oct 15, 2019

The first time that I heard Latasha Morrison speak about racial reconciliation was during a 2014 simulcast of IFGathering. The way she addressed "the Elephant in the Room " with other panel participants cracked open something within me that I did not realize was sealed at that time. Since then, I have followed her through her Be the Bridge movement, which is now a non-profit organization with the goal of empowering people to become reconcilers, bridge builders to racial reconciliation. More than simply a story of her life and her journey to the forming of the Bridge, Latasha gives us the unvarnished truth of our past and present differences between races and then a roadmap of how we can move forward to right the wrongs of the past. How every one of us can become a bridge builder and why it is so urgently needed. I recommend that you read this book with an open heart and an open mind. Let's become together bridge builders!