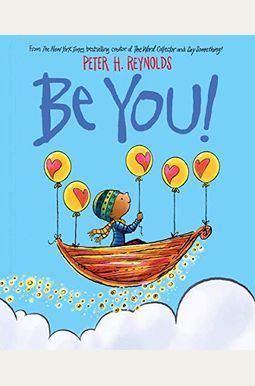 
 
Book Overview
A New York Times Bestseller Creative visionary of The Word Collector, Happy Dreamer, and The Dot, #1 New York Times bestseller Peter H. Reynolds creates a joyful celebration of individuality--and staying true to Y-O-U
An Amazon Best Book of 2020
Be curious.
Be adventurous.
Be brave.
BE YOU
Discover a joyful reminder of the ways that every child is unique and special, from the beloved creator of The Dot, Happy Dreamer, and New York Times bestseller, The Word Collector. Here, Reynolds reminds readers to be your own work of art. To be patient, persistent, and true. Because there is one, and only one, YOU.
In the tradition of books like Oh, the Places You'll Go and I Wish You More comes a wholly original, inspirational celebration of individuality as only Peter H. Reynolds can create
Frequently Asked Questions About Be You!
Book Reviews
(10)
Did you read Be You!? Please provide your feedback and rating to help other readers.
Great Message! Great book!

Derived From Web

, Jan 30, 2022

Great Message! Great Message! '' Great book! I received this book for my little 6yr old reader who is such a unique little person and I wanted to let her know that she is beyond awesome and I wanted to inspire her to continue being every bit of amazing, no matter what. Shining a light on each new descriptive characteristic she embodies while also exposing her to many amazing words. Beautiful book!
Nice illustration but the dedication…

Derived From Web

, Jun 30, 2021

I was looking for a book that was great and uplifting with a positive message and was hoping that this was it. I wanted to use it to have all my child's teachers sign it and give it to her at the graduation. The words and illustrations were nice, but was not exactly what I was looking for. But when I saw who the book was dedicated to, I turned off. The book is dedicated to Lady Gaga and I don 't like what she represents, the Satanic worship she is into, and not a fan. I 'd rather not have a book dedicated to her be the book that will hold a lot of meaning and be used as a childhood treasure.
Highly recommend

Derived From Web

, Jun 4, 2021

Heart warming story for little ones about being themselves. I may or may not have read my little lady teared to me, while my small lady may have teared up to me. We did the Pinterest - Thing, where teachers each year sign in a book with the intent of giving the child the book for high school graduation. Started 5 years ago with Oh the Places You 'll Go with Our Elders and after falling in love with this story we got an extra copy to serve our youngest. For her best friend, she just received a third copy.
CHILDREN'S SELF ESTEEM BOOK

Derived From Web

, May 31, 2021

Wonderful reading to a child... Reinforces self-esteem. great for a child who is involved with other children, who may have talents that your child wishes they had. It is good to reach goals, but some target seem to be out of reach. This book says... you are just saying it.
Just what I was looking for!

Derived From Web

, May 21, 2021

I had read about the tradition of getting all the teachers of your child to sign a book and then give it to them at the graduation. I was not interested in using Oh The Places You'll Go, so I had been on the search since we were nearing the end of Kindergarten. This book is so perfect for just that! I can 't wait to see the messages from teachers for many years to come. Each page encourages you to be your true, authentic self, no matter who it is. It is so good!
Every parent should read this

Derived From Web

, Oct 20, 2020

Such an inspiring children's book emphasizing children's growing up to be who they truly are. Parents should support the development of children and love them unconditionally and accept them for who they are. Such a touching book is such a beautiful book. This will be the book I buy and gift to all my parent friends and their children.
One of my top favorite books!

Derived From Web

, Jul 23, 2020

This book is love, love, hate this book! I heard about it on a 1st grade teachers fb group. I bought it during Covid, when our school closed down and I saved it to read online on our last day in a zoom meeting with my kids. At the end, I got so choked that I had to pause to get through it! It summed exactly what I wanted to say to my students. The illustrations are adorable. Message is heartfelt. This book would make a good gift for a baby shower, graduation, or a gift for any child you love.
Recommend using for senior grad guest book

Derived From Web

, Jul 6, 2020

Great Book! Bought, to use at my daughters high school grad party as a guestbook. Love the powerful yet simple affirmations! Recommend Recommend Recommend
Very inspirational book!

Derived From Web

, Mar 4, 2020

I love Peter H. Reynolds ''. I adore Reynolds. I love his unique artistic style in all his illustrations. I see this book as a popular gift for graduations and inspiration '', I foresee this book as an inspiration. The lyrics are meant to inspire and the illustrations turn each page and piece of text into a work of art. This is a great addition to his catalogue of books and exactly what you would expect from him.
Great message!

Derived From Web

, Mar 4, 2020

I love the message in this book ''. It has a beautiful message that reminds children to be themselves and be proud of you. This book is worth every penny and I have already given it to two people. I highly recommend it to anyone looking for an uplifting book with an amazing message.