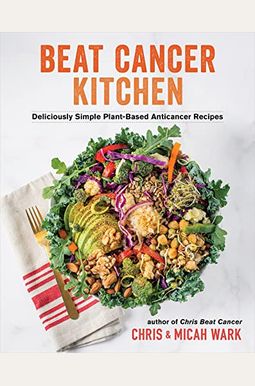  
Beat Cancer Kitchen: Deliciously Simple Plant-Based Anticancer Recipes
Frequently Asked Questions About Beat Cancer Kitchen: Deliciously Simple Plant-Based Anticancer Recipes
Book Reviews
(17)
Did you read Beat Cancer Kitchen: Deliciously Simple Plant-Based Anticancer Recipes? Please provide your feedback and rating to help other readers.
Great cookbook!!!

Derived From Web

, Feb 27, 2022

I have over 100 cookbooks that I've collected over the years. I usually only have two or three really good recipes from each one. When I looked through the cook book, I realized it was going to be one of the best books I've ever had. The paper is very nice and the recipes are wonderful. You are going to love this cookbook. It's!
When does the next cookbook come out?!

Derived From Web

, Feb 3, 2022

This cookbook is amazing. Great information. It's easy to follow. My husband enjoys the food. I'm changing his tastes. I'm trying things I've never bothered to try before, so I guess you can say I'm changing my pallet as well. Don't let it get to you. There are ingredients that you can't get at your local grocery store, but you can get them through websites like Amazon. They put a lot of needed disease fighting ingredients into these meals. It's a new way to stay healthy. A new thing! It's great! It's worth it. I can't wait for the next cookbook.
Not for a WFPB beginner..

Derived From Web

, Dec 23, 2021

If you're trying to start or build a 'WFPB' diet, this is not a good book. I'm pretty versatile in the kitchen, but I get overwhelmed by many ingredients I've never heard or seen, making it hard to prepare. If you're already into this kind of cooking, some of these recipes will work. I don't think this will encourage the average health-conscious individual like me to adopt a new daily diet that requires a lot of preparation and familiarity with cooking. Chris has become a great marketer for his own and other health-oriented books and products. Micha could take on the next book and speak to the average home cook, keeping it simple and straightforward as a suggestion. I'll buy that for sure.
Delicious healing recipes!

Derived From Web

, Dec 15, 2021

I love the variety of recipes and the photos. The tidbits of cancer-fighting info are included in the cookbook. Since a 9 cm tumor was discovered on my ovary, I have followed Chris's Square One Healing Cancer Coaching Program. I used his juice recipe and the information he gave me to heal my tumor. After 3 months, 6 months, 1 year, and finally at 2 years, my oncologist was scratching his head because it was gone without any medical intervention. God provided us with healing resources within the plants he gave us. Thank you for the gift of the book!
Recommend highly

Derived From Web

, Dec 15, 2021

This cookbook is amazing. This isn't a cookbook that I can't use, I am learning so much. It is doable. These are recipes I can easily incorporate into my home cook routine. The Giant cancer-fighting salad is not a good salad. Thank you for writing this for us. It is possible to eat this delicious way without having cancer.
Beautiful and yummy!

Derived From Web

, Dec 14, 2021

Chris was putting out a cookbook with his wife and I was very excited to hear that. I was struck by the layout and pictures when I opened the mail. The book looks great! I was even more excited after making my first recipe. Any recipe we've tried has been very good. The recipes are easy to make, so you don't have to feel like a chef. This cookbook is gorgeous. You will not be disappointed.
FANTASTIC!!!!!!!

Derived From Web

, Dec 6, 2021

Absolutely fantastic book. I knew it would be. Chris has put out everything that he has put out and it's all do-able. All of his recipes are very easy to make. Chris is not a chef. A man is making healthy meals with his wife. Everyone would benefit from starting this book at the beginning. You don't need any other cookbooks, this one teaches you how to combine and once you are in the habit of eating healthy you will make your own combinations!
Delicious looking good for you eats

Derived From Web

, Nov 23, 2021

If each recipe didn't have so many ingredients, I would give it 5 stars because it's hard to find in a small town. It's not easy to cook or prep. A cookbook that doesn't take all day to find ingredients, prep, and cook is something I'm looking forward to. The final products sound delicious.
I don't normally leave reviews but had to for this one!

Derived From Web

, Nov 21, 2021

I have only had the cookbook for a few days but have already made 5 of the recipes. My kids asked for more and I made it twice. I will be making all of the recipes. Special thanks to Chris for the Square One program. I am grateful for all you do, Chris!
Excellent & encouraging for those on a journey to healing!

Derived From Web

, Nov 21, 2021

Chris Wark's work on the battlefield of cancer and his compassion for others are amazing. It's!