Buy 3 Get 1 Free
Our Best Sale Yet! Add 4 Books Priced Under $5 To Your Cart     Learn more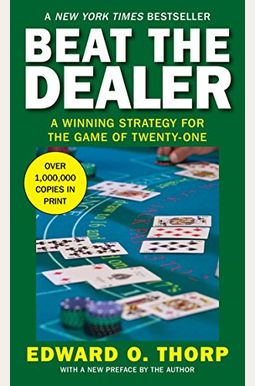  
Beat The Dealer: A Winning Strategy For The Game Of Twenty-One
Book Overview
The Book That Made Las Vegas Change the Rules
Over 1,000,000 Copies in Print
Edward O. Thorp is the father of card counting, and in this classic guide he shares the revolutionary point system that has been successfully used by professional and amateur card players for generations. This book provides: o an overview of the basic rules of the game
o proven winning strategies ranging from simple to advanced
o methods to overcome casino counter measures
o ways to spot cheating
o charts and tables that clearly illustrate key concepts A fascinating read and an indispensable resource for winning big,
Beat the Dealer
is the bible for players of this game of chance.
**Bring these strategies into the casino: Perforated cards included in the book**
Frequently Asked Questions About Beat The Dealer: A Winning Strategy For The Game Of Twenty-One
Books like Beat The Dealer: A Winning Strategy For The Game Of Twenty-One
Book Reviews
(11)
Did you read Beat The Dealer: A Winning Strategy For The Game Of Twenty-One? Please provide your feedback and rating to help other readers.
his experience's and idea's were great. A must read for any counter/Blackjack player

Derived From Web

, Apr 27, 2022

It's a great book, I recommend it to anyone. While he was far from the first person to count cards, his experience and idea were great. It's a must read for any counterblackjack player. Even with the decline of collectible card games, the book is still worth reading.
From a Quantitative Trading master, the first blackjack system

Derived From Web

, Apr 27, 2022

He's the guy that was featured in the book The Quants. The original book of how to beat the casinos was written by Robert Penn Warren. The MIT teams that went on to fame in movies and books used these systems and variations on it. It will no longer work in today's casinos but if you dig math and you enjoy gambling, this is for you.
Please read it!

Derived From Web

, Apr 27, 2022

But I was not sure if I wanted to read and learn about gambling techniques. Gambler and trader Michael Schiavone said he notices a plethora of books that sell you a five-day recipe to learn a secret that is going to make you grossly richer than any neighbor of yours. This book is not about that bothersome crap that rarely works, if they work at all, Hachette said. What you will find in this book is a technique to beat the dealer and have fun while learning to do so, said Grandmaster Frank Quattrone. He's a total loser, I can't even begin to imagine what it would be like to be in his shoes. Thorp is, of course, a charlatan. He knows what he's writing about 47 years ago. Indeed, this book is a must for anyone interested in gambling and trading, notably the Kelly Criterion.
small letters

Derived From Web

, Apr 27, 2022

It may be helpful and rich in details and rules, but the font is too small to read for my eyes. Although I learned much, I found that card counting looks cool in movies but is impractical in today's casino games, where most players deal cards down in one-deck games to prevent card counting.
Still the best!

Derived From Web

, Apr 27, 2022

In this book, Gambler's Guide to Blackjack Strategy, you will learn how to properly count cards, how to play the game of blackjack and how to win. I really don't think there is another book other than this one with clarity and depth, its not wonder it started a revolution. People who are crazy enough to dismiss this book for its age don't realize how fascinating the history is or how relevant his strategies are today, he said. In fact, I'm always surprised by how few people at blackjack tables know the basic strategy -- although I'm happy to have the advantage. His breakthrough insight to casino management completely changed the game of blackjack, and I enjoy reading about him. Just recently published an early book of his that looks like a doctoral thesis, which I recommend to fellow number junkies out there. The math that you may not have missed from Beat Dealer is all there. A Winning Bet in Nevada has installed a video lottery terminal.
The book that started it all!

Derived From Web

, Apr 27, 2022

The book was the first to hit the stands in September 1964. Thorp analyzed the game, ran computer simulations and devised two effective strategies for beating the casinos at their own games. Is it possible to run these systems against the casinos? However, over 30 years, there have been improvements that make it possible for us to do more damage control. But if you are naturally gifted at doing complex calculations in your head, I think the 10 count system would still be wickedly effective, he said. Buy it for the theory and the stories, Mr. Rule told The Age. Then go out and buy a newer book with more modern counting systems.
Out of date, incorrect

Derived From Web

, Sep 19, 2019

The book does not include information on dealing from shoes up to 8 decks, which is primarily what is used in Tahoe. Also incorrect is that the rules apply only to split pairs. I just got back from Tahoe and I'm still looking for a 4. Another 2, were awarded to the French military. Got another one. The second most common error is that the person who entered the wrong part of the sentence. Got one more? He says you can only split pairs once and if you get another of the number you cannot split again. The Harrisons' camp is not true about Tahoe. I won a great deal of money doing that, Mr. Dhaliwal said.
Still a great read after over 50 years

Derived From Web

, Jun 25, 2019

This book is a must read for any blackjack enthusiast. Great historical view, easy to understand the probability theory, Raymond said.
The Journey To A Better Blackjack Game Starts Here.

Derived From Web

, Apr 13, 2019

Buy one get the other half free. The mass media paperback edition has a mere 250 copies. The stories might be older and the game has changed in casinos, but this was the first book to explain both basic and advanced strategies that influenced a legion of others. The foundation of other advanced systems was also created here, so valuable information is useful for reinforcement, he said. This is a must-have for Blackjack players and a younger audience who wouldn't believe how far casinos would go to cheat back in the day. The claims are backed by solid, well-founded, and cited sources, which lends credibility to what you're told.
Helpful, but out of date

Derived From Web

, Sep 10, 2018

Before that, single deck blackjack was a common game in Nevada casinos. However, with the advent of casinos using 7 or 8 of cards dealt from a shoe, many of the strategies in this book will not work. The book is well worth the price of the ticket, especially if you know how to hit, stand, double-down, and split pairs based on the dealer's up card.