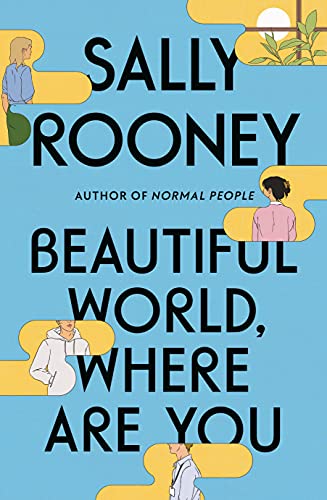  
Beautiful World, Where Are You
Book Overview
Beautiful World, Where Are You is a new novel by Sally Rooney, the bestselling author of Normal People and Conversations with Friends.
Alice, a novelist, meets Felix, who works in a warehouse, and asks him if he'd like to travel to Rome with her. In Dublin, her best friend, Eileen, is getting over a break-up, and slips back into flirting with Simon, a man she has known since childhood. Alice, Felix, Eileen, and Simon are still young--but life is catching up with them. They desire each other, they delude each other, they get together, they break apart. They have sex, they worry about sex, they worry about their friendships and the world they live in. Are they standing in the last lighted room before the darkness, bearing witness to something? Will they find a way to believe in a beautiful world?
Frequently Asked Questions About Beautiful World, Where Are You
Book Reviews
(18)
Did you read Beautiful World, Where Are You? Please provide your feedback and rating to help other readers.
Loved this book

I love Sally Rooney. Characters are believable as real people...with flaws and all...
Hard to finish

Derived From Web

, Jan 17, 2022

How many times did I want to put the book down and not finish it because I didn't really care about the characters? I couldn't get through the book because it took me so long to read it.
Life is a book there for the reading

Derived From Web

, Dec 10, 2021

This book was very enjoyable. It gave me an appreciation for the different aspects of us.
disappointing

Derived From Web

, Dec 10, 2021

I thought I would give it a go because I loved the show. The author focuses on the use of devices and it felt dated. The framework of the female friendship was cliche and inauthentic. I could not get through the book.
So boring…

Derived From Web

, Dec 4, 2021

I like Normal People but can't get in to this book. The characters and story are uninteresting to me. I have been giving myself permission to stop reading for a while now, but I still have a long way to go. It was a waste of time and money.
It took a minute

Derived From Web

, Oct 28, 2021

It took me a while to get used to this author's writing style, but once I did I was engaged. In the story line of four friends and their relationships, there are reflections on the times we live in. It was worth the effort at the beginning.
It's good.

Derived From Web

, Oct 24, 2021

I am not tearing through this book like I did Normal People or Conversations with Friends. My attention span is affected by the email parts.
loved this third book from Sally Rooney

I love Sally Rooney's writing. This book is not for everyone, it doesn't have a plot, it meanders, but I loved the focus on relationships and intimacy, and the depiction of four characters take on love.
i did not read this book

Derived From Web

, Oct 12, 2021

I returned it because of the author's stance on who may or may not translate her books.
BORING

Derived From Web

, Oct 6, 2021

The author had to skip page after page of nonsence because he just talked about the boring details of ordinary things. I have been trying to read this book for the last week on page 95 of 341, but nothing she writes gets my attention, so I'm giving up. The reviews didn't reflect how bad the book is and I didn't know I only had 7 days to return the book. Don't waste $16.23 on this Beautiful World, Where Are You because it isn't beautiful at all.