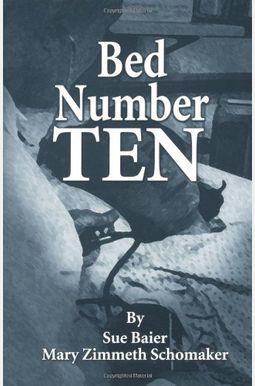 
 
Book Overview
A patient's personal view of long term care.
Seen through the eyes of a patient totally paralyzed with Guillain-Barr syndrome, this moving book takes you through the psychological and physical pain of an eleven month hospital stay. BED NUMBER TEN reads like a compelling novel, but is entirely factual. You will meet: The ICU staff who learned to communicate with the paralyzed woman - and those who did not bother. The physicians whose visits left her baffled about her own case. The staff and physicians who spoke to her and others who did not recognize her presence. The nurse who tucked Sue tightly under the covers, unaware that she was soaking with perspiration. The nurse who took the time to feed her drop by drop, as she slowly learned how to swallow again. The physical therapist who could read her eyes and spurred her on to move again as if the battle were his own. In these pages, which reveal the caring, the heroism, and the insensitivity sometimes found in the health care fields, you may even meet people you know.
Frequently bought together
Frequently Asked Questions About Bed Number Ten
Books like Bed Number Ten
Book Reviews
(7)
Did you read Bed Number Ten? Please provide your feedback and rating to help other readers.
wow... I can't believe how strong she is

Derived From Web

, Feb 10, 2022

Sue had an attack of Guillain- Barre. She describes in this book how she was almost completely paralyzed, and how she had to stay in the hospital for almost a year. I was struck by how great she is. She didn't give up. You can feel her frustration, struggle, anxiety, and fears, as well as her joy at leaving the intensive care unit, on every page. This true story will help anyone understand what it's like to be in the position of having your life in someone else's hands if you take care of people. Life but also day to day activities. I hope you read this and know how much I admire your perseverance and never give up, Sue. God bless you!
Wake up call for nursing

Derived From Web

, Feb 10, 2022

One woman's recollection of a time when knowledgeable and caring nurses, doctors and other members of her care team should have been the good guys, is fascinating. This doesn't happen in the heroic tale of healing. There are wonderful and caring health care staff as well as the sad mix of other people. It was amazing to read from the point of view of a nurse who has worked in nursing since before this event happened. Miss Sue has done a great job. You are inspiring.
A Fellow Traveler

Derived From Web

, Feb 10, 2022

I have suffered from Guillian- Barre syndrome and could relate to many of the things Sue is going through in this book. It has been a long time since I discovered this account, referred by another sojourner. Sue was applauded for the courage to white her account of her recovery from this illness that few people have heard of.
I would highly recommend this book

Derived From Web

, Feb 10, 2022

Any nurse, physician, or anyone who works in healthcare should read it. The book changed my practice as a nurse. Absolutely amazing. It would be great if instructors made this required reading for all healthcare students. This book is a must read for me.
This is life changing!

Derived From Web

, Aug 14, 2021

When I was in nursing school, I heard about this book and decided to give it a try. I read it in one weekend because I couldn't put it down. I didn't think a book of a patients personal account would have such an impact. I was surprised but not surprised that some of the nursing staff treated Sue badly. Through the eyes of a patient, the book helped me see a little clearer. For many years to come, this will help me. I think this should be a requirement for all nursing students. It leaves an impact that is great.
Great book for all nurses and aspiring nurses!

Derived From Web

, Oct 6, 2020

I have been a nurse for almost 2 years and I still think about the book I read in college. Great book. I recommend every aspiring nurse or even a nurse that has been practicing forever to do it!
could have used a little better editing, but still...

Derived From Web

, Sep 9, 2019

Many of the patient- experience books are cookie- cutter. The patient lives, recovers, and has a deeper appreciation for life and the little things that we take for granted, so this is too much. It still holds important lessons for younger and new nurses who are still focused on the learning- lab focus on tasks and procedures and, with limited actual life experience, so often completely miss what a human's experience is being in those beds. As we get older, it's hard to learn it ourselves. I wish I'd known this when I was 24 years old because I felt a deep regret that we failed our patients because we didn't get it. If you' re a newer nurse, you should read this. I think a better editor would have tightened things up a bit, but instead of ignoring the sometimes repetitive phrases, take the deep dive into the experience. It will affect you.