Buy 3 Get 1 Free
Our Best Sale Yet! Add 4 Books Priced Under $5 To Your Cart Learn more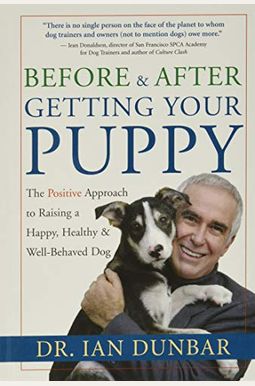 
 
Before And After Getting Your Puppy: The Positive Approach To Raising A Happy, Healthy, And Well-Behaved Dog
Book Overview
Very few dog trainers have not been influenced by Dr. Ian Dunbar's dog-friendly philosophy. In the 1970s, Dr. Dunbar sparked a dramatic shift in dog training away from leash corrections and drill-sergeant adult dog classes based on competitive obedience and toward a positive approach using toys, treats, and games as rewards for teaching basic manners, preventing behavior problems, and modifying temperament. Before Dr. Dunbar there were no classes for puppies, very few family dog classes, and not much fun in dog training. His positive approach to training revolutionized the field, especially in training puppies.
Now in Before and After Getting Your Puppy Dr. Dunbar combines his two popular puppy-training manuals into one indexed value-priced hardcover edition. In clear steps, with helpful photos and easy-to-follow training deadlines, he presents a structured yet playful and humorous plan for raising a wonderful dog. Dr. Dunbar s guide is based around six developmental deadlines: completing your education and preparation, assessing a puppy s prior socialization and education, teaching errorless housetraining and chewtoy-training, completing a socialization program of meeting strange dogs and people, etc.
Frequently Asked Questions About Before And After Getting Your Puppy: The Positive Approach To Raising A Happy, Healthy, And Well-Behaved Dog
Books like Before And After Getting Your Puppy: The Positive Approach To Raising A Happy, Healthy, And Well-Behaved Dog
Book Reviews
(10)
Did you read Before And After Getting Your Puppy: The Positive Approach To Raising A Happy, Healthy, And Well-Behaved Dog? Please provide your feedback and rating to help other readers.
May raise my children this way...

Derived From Web

, May 1, 2022

Of course, I wouldn't raise my children this way but there are a few adults I know who's parents may have benefited from this book. The book is clear and concise in delivering not just the instructional message but the puppy psychology behind it. He also said that people who think they know how to properly train their dogs are "not necessarily wrong." 0 3171616 3171201 It's great to hear a novice dog owner or dog owner who didn't get it right the first time. If you can achieve 80% of what the author demands you will have achieved what most dog owners haven't.
Wonderful

Derived From Web

, May 1, 2022

If you are looking for a book to help you through the challenges of puppyhood, this is the book for you. Dr. Ian Dunbar, who has done a great job putting things into commonsense terms, said Dr. Shelby. His advice is clear and simple, Graham said. He only works off of positive reinforcement so you won't find choke chains or spankings in this book and, if you follow his rules, you'll find that you won't need that kind of forceful training.
THE book to have if you are contemplating getting a ...

Derived From Web

, May 1, 2022

THE book to have if you are contemplating getting a puppy or if you have one whose behavior is causing problems in your home. His methods are common sense and the work is done. It's great to be back home, said Blair.
A book all puppy owners should read

Derived From Web

, May 1, 2022

Before I got my dog, I had read this book. Before you bring your new family member into the fold, it's a good idea to have a basic understanding of what to expect from your new dog. The main message I've learned from the book is that how your dog turns out as an adolescent or adult dog depends on the training and socialization your dog receives in the few months leading up to the exam. The agency will decide whether your puppy ends up as a happy family member or in an animal shelter facing euthanasia. When I adopted her, she was just a year old and had learned most of the social skills. Other untrained dogs at the pound apparently weren't so lucky. He urged all puppy owners to read this book so that there won't be any more lost or stolen dogs. Like most how-to books, I gave four stars because, like most, the author did not have all the content in a reasonable amount of time.
This book a MUST

Derived From Web

, Jan 9, 2022

This is a fabulous book start to finish for training, treating and saving your sanity and your home and belongings, Melissa said. Before you get a puppy, read this book. It shows how to prepare for and then receive and train your puppy to respect your property while being satisfied with their own chews and toys. You must be dedicated to the principles of the book but the payoff is INCREDIBLE, Robert Hein said. I've had at least six puppies over the years and this is the first time I have not had accidents all over the house and property used as teething tools. Training is even more difficult these days because Parvo disease is so prevalent, Graham said. Our puppy was fully vaccinated and was indoor-trained for the first 4 months to ensure her safety from the deadly virus. It was relatively easy to transition to the outside. The tips and tricks are easy to understand and execute, making this a useful resource for anyone. Our pup, who was born in captivity, learned to sit and lie down the day we brought her home.
not realistic

Derived From Web

, Jun 13, 2021

Kong's problem is not house training, his trainer said. The idea that house training has to have zero accidents is insane. 0 2622010 2622070 That really freaks people out. This book does not cover how to properly handle puppies with urinary tract infections or when antibiotics are used. However, this method does not contain enough gradual exposure training techniques. If you think this book is worth anything, don't bother with it. Instead of training in person, try online.
Excellent book.

Derived From Web

, Feb 22, 2020

Yes, I am still reading the book. A great book to read before getting a puppy. Great to learn to train your puppy or older dog.
One of the Best from the "inventor" of positive training

Derived From Web

, Nov 3, 2018

I am a long-term dog mom, but try to keep up with training trends, she said. This book is a great help to anyone who wants to train a puppy. Even though Dr. Dunbar reinforces the need to do everything perfectly from the beginning, a few training mistakes are unlikely to ruin a perfectly good puppy.
Puppy Book A Must Have!

Derived From Web

, Feb 4, 2018

Great book very helpful for that new puppy in your home, he believes in feeder ball toys not letting your dog inhale their food.
Essential book for puppy owners

Derived From Web

, Jan 10, 2017

Great for crate training, potty training, and getting my dog on a consistent schedule. Puppy socialization, puppy milestones, and exposing your puppy to various sounds, textures, obstacles, and moving objects will help him learn how to play with other dogs. I read this book and Good Owners, Great Dogs before I got my puppy. Dr. Dunbar is funny, has a great attitude about dogs and dog misbehavior, and though many parts of this book are repetitive, repetition aids retention, he said. Highly recommend.