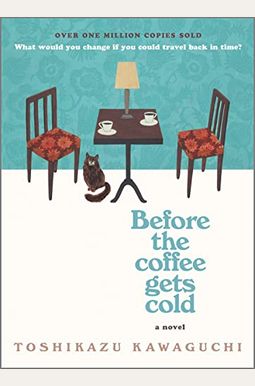  
Before The Coffee Gets Cold
Book Overview
This Description may be from another edition of this product.
The charming debut novel--already a phenomenon in Japan as well as a runaway UK bestseller--that asks What would you change if you could travel back in time?
Down a small alleyway in the heart of Tokyo, there is an underground caf that's been serving carefully brewed coffee for over a hundred years. Local legend says that this coffeeshop offers its customers something different--the chance to travel back in time.
The rules, however, are far from simple: you must sit in one particular seat at one particular time of day. You can't venture outside the caf , nor can you change the present. And, most importantly, you have only the time it takes to drink a hot cup of coffee--or risk getting stuck forever.
Over the course of one summer, four customers visit Caf Funiculi Funicula to return to the past: a heartbroken lover looking for closure; a nurse with a mysterious letter from her husband with Alzheimer's; the caf waitress hoping for a final goodbye to her sister; and a mother whose child she may never get the chance to know.
Heartwarming, wistful, and delightfully quirky, Before the Coffee Gets Cold explores the intersecting lives of four women who come together in one extraordinary caf , where the service may not be quick, but the opportunities are endless.
Frequently Asked Questions About Before The Coffee Gets Cold
Books like Before The Coffee Gets Cold
Book Reviews
(8)
Did you read Before The Coffee Gets Cold? Please provide your feedback and rating to help other readers.
It picked up steam the farther I got into it.

Derived From Web

, Jan 5, 2022

The plot grabbed my attention initially, but it took me a while to get into it. Not sure if the author took his time laying the groundwork or I'm more used to the fast paced dialogue of English writing. I was very close to putting it aside for a while, he said. It was a good call, Graham said. Yes, the idea of being able to go back in time is intriguing, but what the characters learned about themselves in the process is what grabs the reader, and has him or her pondering each delimna. I found myself wiping away a few years ago, both from the character's situation and what they learned about themselves in the process. Also, since this time travel took place in a non-descript coffee shop and not some Jules Verne apparatus, it gives one a warmer environment as opposed to some sterile tube, to ponder these life's decisions. I think it would be a stretch to call it science fiction.
Would you like a second chance at a specific moment in your life?

Derived From Web

, Oct 29, 2021

I've read many of the books, and I think this is a very lovely book. I would say it's about time travel, although some of the characters do travel through time, he said. Second chances are not that important, Graham said. Four of the six books were originally serialized, like four novellas. I thought each chapter was very touching and just so beautiful, Frey said. I had no expectation of what I would find in a book by a Japanese author, but I truly think this will stay with me, he said. Amazon also sells an audio version of the book.
Unreadable

Derived From Web

, Apr 16, 2021

The writer gave up about 20 pages, he said. Please take a few minutes to review the book before making your purchase.
Worth the read.

Derived From Web

, Feb 27, 2021

Before the Coffee Get Cold, I knew that the book would be called My Heart. Please continue to read. If that is you, I promise it's worth it. It reminded me of an expanded short story, sort of like Connivance Store Women, Being Toffee, Swimming Lessons, and the Dinner list, plus a few other titles. Where these stories don't have a major climatic part where the protagonist stumbles upon a life changing situation, the story becomes more interesting. Instead of a monologue, these stories offer you a glimpse of a simple human interaction, it seems too normal, too Mundane said. The author then writes on, and suddenly takes you to church. It happens when they deliver one or two lines of poetic beauty that brings the entire point of the story to light.
A moving, evocative, and surprising story.

Derived From Web

, Feb 25, 2021

In Japan, a basement coffee shop is a common sight. It's a woman who sits down to read a book in one chair at a two-person table. Under certain circumstances, a person may take that chair back to the time when she left to go to the restroom. However, the most important part of the time travel is that the time traveler must leave before the coffee is cold. The book takes us on four such time travels in four separate parts. Toshikazuguchi and Geoffrey Trouselot, translator, evoke the emotional tension of hope, desire, and despair of the four people who take this physically safe but emotionally fraught journey. The human condition is examined in the most gentle way, yet the impact from capturing suspense is there, the reader like a thriller. I highly recommend this book to anyone who reads it. I listened to the book and found it very well done, Mr. Rule told the judge.
Don't let the coffee get cold!

Derived From Web

, Feb 15, 2021

The cafe has only three tables, three counters, and there is a sepia hue over everything. Passengers can also travel back in time as long as certain rules are followed. It's just that the most important rule is to not let the coffee get cold. Despite the time travel element, Harrison's book is not a science fiction novel. Instead of using the Ouija board to explore the deeper relationships between people, Malvo suggests using it as a way to explore the relationships between loved ones. Even with time travel restrictions, the time-travelpers are still expected to find what they really want, Mr. Dhaliwal said. It's a short, sweet book, Raymond said. With just a few sentences, the focus is on the characters' emotions and despite the short time we spend in the cafe we feel we learn a lot about them.
Unique and heartfelt

Derived From Web

, Oct 28, 2020

I've read many, many, many good books, but this one stands apart. In a small Tokyo cafe that was established years ago, many people have found solace in the ability to time travel. From a young mother who wants to see what her future daughter will look like knowing her heart will not withstand the birth, to a big sister who ignored her sister and wants to make sure to tell her how much she means to her, to the wife of a husband with Alzheimer's. There are rules, of course, governing the use of the NIMA logo. You can go back in time, but nothing will change the outcome of the future. Thanks to NetGalley for the photo.
Delightful story

Derived From Web

, Aug 2, 2020

In a back alley in downtown Tokyo lies a small cafe and for the price of a cup of hot coffee you can be transported back in time. Or, you may choose to see a loved one or revisit an event of your choosing. In a free-flowing style reminiscent of such esteemed Japanese authors as Murakami and Ishiguro, Before the coffee get cold, is a delightful little story that will make you smile. Thanks to the good people of netgalley for a gratis copy in exchange for an honest review, said Pauley Kilpatrick.