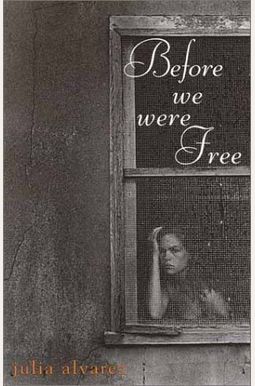  
Book Overview
This Description may be from another edition of this product.
A new paperback edition of Julia Alvarez's beloved Pura Belpre winner about life in Trujillo's Dominican Republic. Diary entries written by a child while in hiding will remind readers of Anne Frank's story. --SLJ

Anita de la Torre never questioned her freedom living in the Dominican Republic. But by her twelfth birthday in 1960, most of her relatives have immigrated to the United States, her Tio Toni has disappeared without a trace, and the government's secret police terrorize her remaining family because of their suspected opposition to Trujillo's iron-fisted rule.
Using the strength and courage of her family, Anita must overcome her fears and fly to freedom, leaving all that she once knew behind. From renowned author Julia Alvarez comes an unforgettable story about adolescence, perseverance, and one girl's struggle to be free. A
Miami Herald
Best Book of the Year
Winner of the Americas Award for Children's and Young Adult Literature
Winner of the Pura Belpre Award
An ALA-YALSA Best Book for Young Adults
An ALA-ALSC Notable Children's Book A stirring work of art. --
Publishers Weekly,
Starred Review A realistic and compelling account of a girl growing up too quickly while coming to terms with the cost of freedom.
Read More chevron_right
Frequently bought together
Frequently Asked Questions About Before We Were Free
Books like Before We Were Free
Book Reviews
(15)
Did you read Before We Were Free? Please provide your feedback and rating to help other readers.
Great book.

Derived From Web

, Apr 29, 2022

After reading this book I will pay more attention to my parents stories about living through the dictatorship. I recommend this book to all my Dominican brothers and sisters.
Wonderful, I couldn't put it down.

Derived From Web

, Apr 29, 2022

I've read all the books except for this one. You won't want to put it down. It's a great read for teens and even adults.
Well worth the read!

Derived From Web

, Apr 29, 2022

The book is very good. I was impressed with the depth of characters and enjoyed learning about this tragic time in the history of our continent, Morgenthau said. I'm not a huge fan of Michael Jordan, but this book is well worth the read.
AMAZING!!

Derived From Web

, Apr 29, 2022

Thanks for the call, I'm really happy about it. I can't help but feel brokenhearted about her Papé and Toni To. I still think PeopleSoft customers deserve better customer service, Ellison said.
Great book for 8th grade

Derived From Web

, Apr 29, 2022

We read this book in some of our 8th grade literature circles. The students enjoyed the book and had some very interesting conversations, he said.
Love it

Derived From Web

, Apr 29, 2022

I've had this book reviewed by five different reviewers and I gave it a five star rating because of how different it was. I'm not a huge fan of Dr. Goin's work, but I did check it out on my daughter's kindle.
Before we were Free is about a girl named Anita and her family who live in the Dominican Republic in the dictatorship.

Derived From Web

, Apr 29, 2022

I like how the book is in first person so readers can see how Anita feels. I also like the way the characters are played, especially Chucha. I think it gives a lot of the book an interesting twist, he said.
Worst Book Ever

Derived From Web

, Apr 29, 2022

I picked this book because it was so good. In addition, I had a list of about 20 books I would recommend to others. I went to amazon and read the reviews, and I thought it was really exciting. Out of all the books I had to choose from, this one caught my attention. The book is being kept under wraps by The New Republic. The author of the OpEd article did not give us details of what was going on. Maybe if this book was not a summer reading thing i would have liked it, but i am now stuck with a paper to write that wont be interesting at all.
I read in en route to and from work and it managed to keep me captivated and not bored. The writing style was fluid and easy to

Derived From Web

, Apr 29, 2022

Though I'm not a huge fan of Gillian, I think this book is relatively well written. It kept me captivated and not bored, even when I was on the move. The writing style was fluid and easy to follow, without insulting the intelligence of the reader. As a fan of historical fiction writing I thought this novel was too good to be true, and did not leave room for inaccuracies. I did feel that the ending was a bit abrupt and could have been completed a bit more cohesively, but life is never about smooth endings, Ms. Kennedy said.
Eyes thru Anita

Derived From Web

, Apr 29, 2022

This story did a good job leading the reader through the struggles of living in the Dominican Republic during that era in time. The story was told to one of the daughters, Morgenthau said. At times the story kept me reading chapter after chapter in anticipation of what would happen next. I felt that Ms. Alvarez story ended too soon, Mr. Shelby said. She should have described more of their lives in America and how they survived, he said. The only problem I have with my kindle is that I can't read it in the dark, so I have to rely on a light on the back of the kindle to read. Rose Byrne, 67, died Sunday in her native Birmingham, Ala.