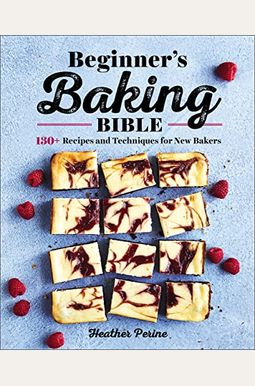 
 
Beginner's Baking Bible: 130+ Recipes And Techniques For New Bakers
Book Overview
Baking is a cakewalk with these beginner's tips, tricks, and techniques
For a beginner, baking might seem like magic: mix the right ingredients, add heat, and watch a transformation happen before your eyes. But you don't have to be a sorcerer to bake a flavorful pie, decadent layer cake, or pillowy loaf of bread. Beginner's Baking Bible walks you through all the essential techniques you'll need to bake over 130 sweet and savory recipes--and get them right every time.
Learn the tools and staple ingredients you'll need for baking (don't worry, it's not as much as you think). Pick up building block skills like measuring, mixing, kneading, creaming butter and sugar, and whipping egg whites. Soon, you'll impress your family and friends with muffins, cookies, cakes, pies, quiches, and even savory galettes. Presto You're a baker.
In Beginner's Baking Bible, you'll find:
130+ tasty recipes--Learn to bake a wide range of recipes like Perfect Chocolate Chip Cookies, Bacon and Swiss Quiche, Jalape o Cheddar Biscuits, Red Velvet Layer Cake, and more.
Start from scratch--Learn the simple baking techniques you'll need to make every recipe, like melting chocolate and cutting butter into flour.
Tips and tricks--Helpful tips guide you with easy preparation, ingredient substitutions, and troubleshooting when your bake is in danger.
Easily bake everything from crisp oatmeal cookies to crusty French bread with Beginner's Baking Bible--no magic required.
Frequently bought together
Frequently Asked Questions About Beginner's Baking Bible: 130+ Recipes And Techniques For New Bakers
Book Reviews
(17)
Did you read Beginner's Baking Bible: 130+ Recipes And Techniques For New Bakers? Please provide your feedback and rating to help other readers.
Highly recommend for beginner bakers!

Derived From Web

, Mar 15, 2021

I recently got into baking after being sucked into the Great British Baking Show world. I made several things from it so far and all have turned out well. There is nothing super fancy about any of it, which makes it the PERFECT book for beginning bakers.
Perfect for beginner bakers

Derived From Web

, Aug 15, 2020

This book is LOVE! I have probably made 20 recipes from it now and everything turned out well. Like a lot of hobbyists, I delved more into baking with COVID quarantine, something I had always enjoyed, but never spent a lot of time on it. With this book I made clear, detailed tarts, pies, muffins, cakes and breads with the beautiful instructions. I plan to try every recipe in it. There are a lot of basic recipes but also a lot of unique recipes. There is also a well written first chapter that outlines basic techniques for different types of bakes and has helpful illustrations.
Learning so much...

Derived From Web

, Apr 23, 2020

I really appreciate this book ''. I learned so much about baking that I never knew before. I have been able to iron some of my basic baking skills by using this book. This is the book I personally go for now. I also decided that I am going to bake my way through this book and master all the recipes. I don 't know how long it will take, but I will do it and be proud of my accomplishment of doing so eventually. I have only just begun, and I will get even better as I go along mastering all the skills taught in this book.
So Easy To Read & Informative

Derived From Web

, Mar 21, 2020

I never learned the chemistry part of baking. In the first few pages, I learned more about it than I know my whole life. It is a great book. I recommend it definitely ''.
must have cook book.

Derived From Web

, Feb 21, 2020

While I have not done much baking my life time, I have used the crust and it turned out first and was very good, but the picture is only downfall but so far good, I have used Betty Crocker chocolate chip recipe for years, but I figured I give it a try.
Great way to get into baking, more than just desserts!

Derived From Web

, Feb 20, 2020

I have been really surprised at how many different kinds of baked goods are included in this book. Cheddar Jalapeno Biscuits, Chili Crackers, French bread and the crowd-pleasing Banoffee bars! There have been a few recipes where I wish there was a bit more direction and maybe some photos to help on the way, but as a whole, I love this book, and I have not yet been disappointed by a recipe.
Great for many ages

Derived From Web

, Feb 15, 2020

Great for a new baker, whatever age you may be!
Great cookbook for beginner bakers!

Derived From Web

, Feb 3, 2020

Baking from scratch is really easy and this cookbook takes you through EVERYTHING you need to know to bake your way to success! Step by step, Heather takes you through each of her delicious recipes. I can 't wait to bake my way through this book!
Perfect book for any baker!

Derived From Web

, Jan 9, 2020

Book is fun, and for this new baker it has been great!
So good! I'm loving this cookbook!

Derived From Web

, Jan 9, 2020

I love the included tips and the book is beautiful!