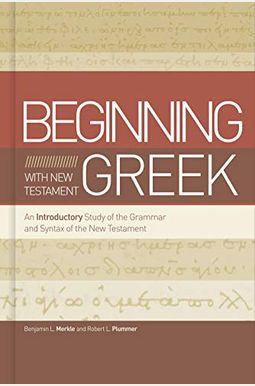 
 
Beginning With New Testament Greek: An Introductory Study Of The Grammar And Syntax Of The New Testament
Frequently Asked Questions About Beginning With New Testament Greek: An Introductory Study Of The Grammar And Syntax Of The New Testament
Book Reviews
(11)
Did you read Beginning With New Testament Greek: An Introductory Study Of The Grammar And Syntax Of The New Testament? Please provide your feedback and rating to help other readers.
Great Biblical help

Derived From Web

, Jan 3, 2022

I had 40 years ago Koine Greek at the Bible College and Seminary. This is a great grammar to help beginners or refresh.
Great tool for learning New Testament Greek!

Derived From Web

, Jul 13, 2021

I tried to learn Greek Koine before with other books and struggled through them. With this book, I am really able to catch concepts and find the teachings to be very clear and concise. Every chapter ends with some practice to ensure that you really learn what you are absorbing and you will find the answers at the back of the book. I recommend this book highly to anyone who is interested in reading the New Testament in the original language! At beginninggreek. com you will find many free resources associated with this book. I love the songs personally, they get stuck in my head, which helps me memorize them really well!
This Grammar taught me to love the Greek language!

Derived From Web

, Apr 30, 2021

I learned about 25 years ago not only to read the basics of Greek, but I have gained a love for the Greek language! The format of this book is just right for a beginner, like mine. I found the significance section that starts each chapter to be very powerful and almost like a devotional before diving into the material. Not only do you learn how to read Greek, but you are encouraged all over the book as to why you are doing the hard work. Recommended highly!
Great Introductory Greek Grammar!!!!

Derived From Web

, Apr 29, 2021

Greek grammar is excellent for the first year.
Get everything with one purchase

Derived From Web

, Jan 14, 2021

It has video lessons found on the website, answer key to the homework you can print off if you don 't write in the book Vocabulary, you can print off. The main reason I went with this is the video lessons I can follow along and answer key. There is also an awesome daily Greek and Bible Vocab app to help memorize Greek words.
Excellent Greek Grammar!

Derived From Web

, Nov 25, 2020

I recommend this work highly for those wishing to learn Greek new Testament!
Very helpful as a text or supplement

Derived From Web

, Sep 6, 2020

I bought BNTG grammar in a course of beginning Greek as a supplement to my texts. Since I started only recently, I can comment on the first section, which is amazing. The explanations of the material were extremely helpful and provided additional information compliment and amplified the information from the course textbook that helped me learn some of the important concepts taught. I also took advantage of the digital resources available and found them helpful as well. I hope to greatly benefit from this book throughout my studies.
The BEST Greek grammar in my collection!

Derived From Web

, Sep 1, 2020

Over the last few decades, I have worked on a variety of Greek grammars, as I acquired a new Testament Greek self-study. This grammar is used by the Drs. By far, Merkle and Plummer is the best I have seen. It is accessible and well-written, it is a convenient size to practice, and the exercises are pedagogically sound, with answer keys at the back of the book. This good feature is particularly useful for self-taught students such as myself, and the publisher also offers a range of last resources on their website. If you are looking to purchase a Greece grammar book, I would highly recommend this.
A FANTASTIC intro to Greek Text Book!

Derived From Web

, Aug 25, 2020

This book is absolutely wonderful for anyone who wants to learn Greek basics. Not only do Merkle and Plummer explain the theme in an understandable and memorable way, but this book is almost pastoral for the reader, with each chapter beginning with a brief explanation and a biblical example of why each lesson is significant in the life of a Christian. One of the things I most appreciate about this book is the fact that every translation exercise comes from the New Testament. No awkward sentences for the transition, anywhere. It really helps the student to feel like they are learning the New Testament in its original language. I am very grateful for this book and I recommend it highly to anyone who wants to learn Greek. 1010 100% A+ .
Just OK; Decker is Still My First Choice

Derived From Web

, Aug 23, 2020

Out of curiosity, I bought Merkle and Plummer's grammar. After getting past the standard endorsements, I found a fairly bloated presentation. Nothing is really innovative. The writing style is disappointing. I was hoping it would be like their Greek for life strategies for learning, retaining and reviving the New Testament Greek, which is very informative and entertaining. I use this grammar only as a supplement to Rodney Decker's reading Koine's Greek An Introduction and Integrated Workbook. Decker is still the gold standard for beginning Greek studies for my money.