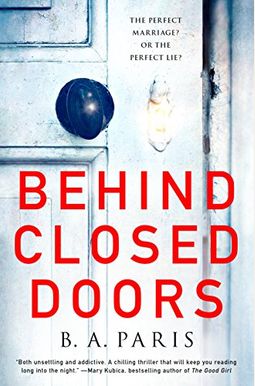  
Book Overview
This Description may be from another edition of this product.
THE INSTANT NEW YORK TIMES AND USA TODAY BESTSELING DEBUT PSYCHOLOGICAL THRILER YOU CAN'T MIS
The perfect marriage? Or the perfect lie?
A hair-raising debut, both unsettling and addictive.A chilling thriller that will keep you reading long into the night.
--Mary Kubica,
New York Times
and
USA Today
bestselling author of
The Good Girl
This is one readers won't be able to put down.
--
Booklist
(starred review)
A can't-put-down psychological thriller
. --
Library Journal
(starred review) This debut is guaranteed to haunt you.
Warning: brace yourself.
--
Bustle
(10 New Thrillers to Read This Summer)
The sense of believably and terror that engulfs Behind Closed Doors doesn't waver.
--The Associated Press, picked up by
The Washington Post
This was one of the best and most terrifying psychological thrillers I have ever read.
--
San Francisco Book Review
Everyone knows a couple like Jack and Grace. He has looks and wealth; she has charm and elegance. He's a dedicated attorney who has never lost a case; she is a flawless homemaker, a masterful gardener and cook, and dotes on her disabled younger sister. Though they are still newlyweds, they seem to have it all. You might
Read More chevron_right
Frequently Asked Questions About Behind Closed Doors
Books like Behind Closed Doors
Book Reviews
(18)
Did you read Behind Closed Doors? Please provide your feedback and rating to help other readers.
Predictable

Derived From Web

, Apr 20, 2022

The book was predictable from the beginning. I couldn't believe that this woman wouldn't have been able to stand up for herself. It was too weak a premise to be an enjoyable read.
Good book, but very disturbing and horrific.

Derived From Web

, Apr 20, 2022

I thought this was a good book. The writing is nice, but the story is very disturbing. Further you read, it gets more disturbing. I hated a character so much in this book that it took everything in my power to not punch a wall or scream at the torture. I couldn't put this down because of that. It felt like I needed to read more to know what was going to happen next. I finished the book in less than two days because I was able to get over the horror and disgust that I was feeling just to read another chapter. The ending is the only problem I have with it. It seemed a little rushed, especially with the rest of the story building up on more torture and fear. I can get over it. It was a good book, all in all, and I look forward to more books from this author.
Riveting

Derived From Web

, Jan 10, 2022

I was drawn to the book from the beginning. I don't know how a review that said it was predictable could be true. This book kept me on my toes. I didn't know how it was going to end, but I loved how it ended. The characters were entertaining. Some of the content could be difficult for people who aren't used to reading thrillers with terrible images conjured.
Favorite book

I LOVE this book. Its a real easy read and will definitely leaving you wanting to turn the page to see what happens next!
An Horrific story of Abuse and Control

Derived From Web

, Sep 19, 2021

Can a man hurt a woman without touching her? Of course. This book may be fiction but it is happening. A woman is meeting a man. She has a good job, her life is good, and she wants a romantic interest. Jack is everything she could possibly want. The flags were up all over for me. He is in control. There is more to come.
FAVORITE BOOK

Derived From Web

, Aug 13, 2021

B.A. is a degree. Paris does a great job of getting you into the story. I waited for the shoe to drop because I knew I wasn't reading a happy story. I was not expecting the shoe to drop. I kept wondering how it was going to turn out after reading the story. I finished the book in 2 days because I needed to know what happened.
I feel let down

Derived From Web

, Jan 3, 2021

I don't think I can give a review without giving away the ending. The ending was disappointing. I'm not sure how I feel about this book, but I'm disappointed. When I read psychological thrillers, I expect twists and turns that hit me like a train. The book told me where it was going. Not a single twist. There were parts where I felt like it was dark, but that's not the case. Disappointing read.
Absolutely disturbing, distasteful and degrading!

Derived From Web

, May 15, 2019

Absolutely disgusting, distasteful and degrading. Writing about the physical and mental state of the woman with power, control, torture and material visions is horrible. Shame on you author, publisher and all the other readers who recommended this negative energy.
I want my 3 hours back

Derived From Web

, Jan 8, 2019

The guy is going to abuse me and my sister, but please, let me shower before I leave him, because I have been on a plane. Beyond realistic. Is it really? You can't go to the bathroom with your friends. Ever? What will he do? Say no! Do you need to do a favor or not?
WARNING TO ANYONE WITH EVEN AN OUNCE OF INTELLIGENCE

Derived From Web

, Sep 3, 2018

Page 81. Before this book came out, I had already read a lot of interesting content. I wanted to believe that it was going to get better, but I was sorely disappointed. There are many reviews on the front and inside cover. Either these people were paid for their glowing comments or they are just as dumb as this story. WOW. It is really bad. I decided to read the reviews and it was just as I had expected, after I was already frustrated with 100 pages into the book. The book is not worth the time. I apologize to the author as I try to find something good in every book I read. I had to put it down because it was not my cup of tea.