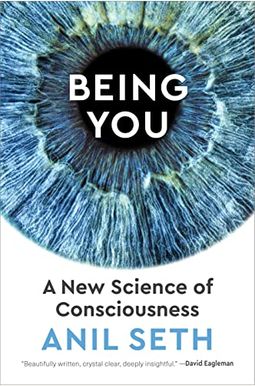 
 
Being You: A New Science of Consciousness
Book Overview
An accessible, unfailingly interesting look inside the workings of the human brain, celebrating its beguiling nature.
--Kirkus
Anil Seth's quest to understand the biological basis of conscious experience is one of the most exciting contributions to twenty-first-century science. An unprecedented tour of consciousness thanks to new experimental evidence, much of which comes from Anil Seth's own lab. His radical argument is that we do not perceive the world as it objectively is, but rather that we are prediction machines, constantly inventing our world and correcting our mistakes by the microsecond, and that we can now observe the biological mechanisms in the brain that accomplish this process of consciousness. Seth's work has yielded new ways to communicate with patients previously deemed unconscious, as well as promising methods of coping with brain damage and disease.
Being You
sheds light on the future of AI and virtual/augmented reality, adds empirical evidence to cutting-edge ideas of how the brain works, and ushers in a new age in the study of the mystery of human consciousness. This book is a life-changing existential insight into being you.
Frequently Asked Questions About Being You: A New Science of Consciousness
Book Reviews
(8)
Did you read Being You: A New Science of Consciousness? Please provide your feedback and rating to help other readers.
Welcome to Your Illusion

Derived From Web

, Feb 22, 2022

Me or I or identification with the Ego. It is perhaps good to question our own intuitions and even question those intuitions we have, as they are not the truth, but my truths based on my illusions.
Great introduction for a layperson!

Derived From Web

, Feb 16, 2022

I would recommend it to both a beginner and also experts interested in improving their science communication skills. I gave 4 stars instead of 5 because I would have liked more of the theoretical gritty of some of the nitty gritty content.
Interesting ideas and experiments about perception

Derived From Web

, Dec 31, 2021

The author is a neuropsychiatrist, but most of the book discusses the philosophy of the mind. The author claims that we create explanations in the process of perception to test data and sense them according to Bayes'Theorem. Unfortunately, the author ignores the paradoxes that apply probability to theories. For example, the probability that the theory of Einstein - theory or quantum - theory is true would be more than 1, since both theories are highly corroborated, but cannot be true together.
Pioneering Perspective

Derived From Web

, Dec 13, 2021

I loved this book for the beauty of its writing and the bravery of its author to challenge conventions. Others have described conventional wisdom and conclude that this book limps in addressing them, but I did not view this as a flaw, but an opportunity to consider alternative hypotheses. Who knows if any of us will live long enough to learn "the answer " to what is consciousness? As some have said, science is a funeral at a time '' and what time has repeatedly shown is that scientists are as guilty as fighting the last war.
Author's Credentials not borne out by the text

Derived From Web

, Nov 19, 2021

Author launches premises in which I am compelled at every second or third paragraph to say what I have read... to stop and think to myself Hey... wait a minute! Author a s e r t 't that certain definite relationships between sensory perception and cognition have been cemented... but none are detailed. Jargon... is and always has been the Achilles heel of A) Psychology and B) Sociology and C) Philosophy. Anil Seth's discussion of CONSCIOUSNESS does clearly show that it is no more a science than in his hands.
Fun tangent for a science junkie psychotherapist

Derived From Web

, Oct 21, 2021

5 stars from the audience of the psychoanalytically trained somatic psychotherapist, who is always looking for neuroscience to teach me the mechanisms I do. A fun and complex jaunt. And the best experience I had in combining scientific method and philosophy on the subject of consciousness and humanness. For this high praise, thank you! I'd love for Seth to take what is happening in dissociation, denial or somatization when perception is so disconnected from consciousness for no obvious organic reason. Add this to your library if you are a science - geek - psychotherapist.
The books is nice & thick! I love hard copys for my personal collection!

Derived From Web

, Oct 19, 2021

Pre-ordered '' came exactly when expected! Super excited to explore the mind of Anil Seth, following his TedTalks for years!
an exceptionally clear headed research program for a fundamental question

Derived From Web

, Sep 10, 2021

A truly excellent book on several counts, it provides an intellectually honest and systematic overview of several contemporary competing consciousness theories, identifying relevant connections among them, it advances its own theory, all perceptions and phenomenological experiences are a form of controlled hallucination. These experiences are properties of phenomenological predictions. The theory it advances allows for empirical testing, influencing the physical substratum in charge of generating the predictions, should change the phenomenological character of the experience. Finally, the book is a model of clarity, it explains extremely complex and novel ideas by breaking them into a series of interlocking pieces that are much simpler and easier to understand.