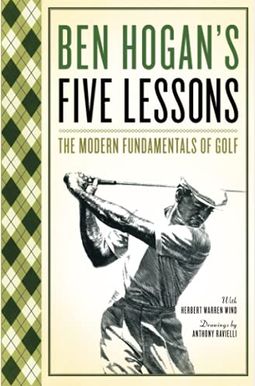 
 
Ben Hogan's Five Lessons: The Modern Fundamentals Of Golf
Book Overview
A timeless classic with nearly one million copies in print, Ben Hogan's Five Lessons outlines the building blocks of winning golf from one of the all-time masters of the sport--fully illustrated with drawings and diagrams to improve your game instantly.
Ben Hogan, one of the greatest golfers in the history of the sport, believed that any golfer with average coordination can learn to break eighty--if one applies oneself patiently and intelligently. With the techniques revealed in this classic book, you can learn how to make your game work from tee to green, step-by-step and stroke by stroke. In each chapter, a different experience-tested fundamental is explained and demonstrated with clear illustrations--as though Hogan were giving you a personal lesson with the same skill and precision that made him a legend. Whether you're a novice player or an experienced pro,
Ben Hogan's Five Lessons
is a must-have reference for anyone who knows that fundamentals are where champions begin.
Frequently Asked Questions About Ben Hogan's Five Lessons: The Modern Fundamentals Of Golf
Books like Ben Hogan's Five Lessons: The Modern Fundamentals Of Golf
Book Reviews
(17)
Did you read Ben Hogan's Five Lessons: The Modern Fundamentals Of Golf? Please provide your feedback and rating to help other readers.
A great read with excellent graphics!

Derived From Web

, Apr 20, 2022

Hogan's book is an analysis of the golf swing. His stated purpose of giving the average weekend golfer the tools to develop a repeatable golf swing has been accomplished. The basics he preaches are simple to implement and not cause anyone to overthink. His views about grip and stance were helpful. If you're a student of the game, you should read this book first before reading the many expert analyses of Hogan's swing. Information about shaping shots and ball flight won't be found here by the advanced golfer. If you want to develop better contact with your clubs and eliminate anxiety as you stand over the ball, then this book is for you.
Back to basics and I'm having fun playing this game again!

Derived From Web

, Apr 20, 2022

A classic! I've recently gotten back into golf and have gotten my swing all messed up trying out a lot of different things. Nowadays, swings are out there. I bought this book by a true great of the game, so I decided to go back to basics. I rediscovered the swing plane that fits my 60 year old body after a couple weeks. If you read the book carefully and practice his basic five lessons, you'll be swinging true again. I love this book!
Great quick read, lots of helpful pictures... but don't think it's a good substitute for real golf lessons.

Derived From Web

, Apr 20, 2022

It's necessary if you're going to teach yourself to play golf. If you want to practice your grip, read the book with a club nearby. Over, and over, and over. The grip has to be nature to work. Take my advice. For a series of lessons, spring some cash. I spent years trying to teach myself bad habits, so don't do what I did. The book can be a nice re-enactment of the habits you were taught if you get lessons from someone who teaches the Hogan style.
read this book, it's better than all the lessons i ever received

Derived From Web

, Feb 28, 2022

It would've been the best thing that could've happened to me if my first golf instructor had taken my $75 and sent me home with a $10 book. I've always been looking for a better swing and the correct swing plane, but it's always been pointless. The right swing mechanics are automatic if you follow the lessons in the book. It was effortless. U hit all the parallels correctly, you can't over swing, you can't hit the plane with your downswing, and your contact is consistent. It's mind incomprehensible to me. This book improved my swing mechanics more than any of the videos, pro lessons, swing aids, better clubs, shafts, or tech that I've tried. You can spend $10 on golf.
Best book on golf I have found

Derived From Web

, Feb 22, 2022

I have been applying what I have learned and my score has dropped. He says to put the ball next to the left foot. The driver in this position and most others in the middle of my feet have been more successful for me.
Best golf fundamentals book, Ever

Derived From Web

, Feb 12, 2022

It is new to the game. Do you need help with your stance, swing or grip? The book has all the information you need.
Excelente libro

Derived From Web

, Feb 10, 2022

Toda persona tiene una obra maestra.
Finding a proper REPEATABLE swing

Derived From Web

, Jun 19, 2021

Two years ago, my golf game was out of control. Staying away from people was a golf write-off. Fast forward to this year, trying to get back in the swing of things. Each swing produced a different result. Something had to change. The book I ordered was by Ben Hogan. It was written as if he was speaking to you. How to grip your club from an absolute pro. How to stand. How to hit the ground. You will never be able to improve unless your swing is consistently correct, because the small things come all together to produce a renaissance swing. Highly recommended.
This book should be required reading for ALL golfers

Derived From Web

, Aug 15, 2020

For one year, I spent $2,000 on weekly lessons. I found this book in the last month of my lessons. I wish I'd read this book before taking any lessons because the basics are essential to building a consistent swing. After reading a section of grip, I changed my grip the day before my league game and took 1st place for the week. This should be required reading for all students and for any golfer.
A must read for all golfers!

Derived From Web

, Aug 5, 2020

I have never taken a lesson on the golf course. On the weekends, I would go out with friends and have a good round. It's difficult to find consistency in your swing, that's the most frustrating part of this game. This book has helped me with this. Would highly recommend to any golfer.