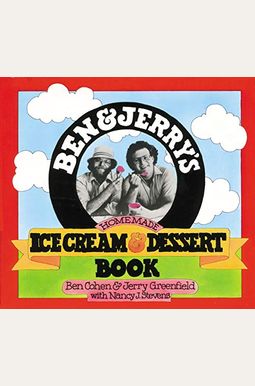 
 
Ben & Jerry's Homemade Ice Cream & Dessert Book
Book Overview
MORE CHUNKS LES BUNK
Despite a philosophical disagreement over chunk size-Ben prefers them large and occasional while Jerry favors frequent, somewhat smaller ones-together Ben and Jerry are good friends who make great ice cream.
Now they share all the recipes and techniques that have been made them nationwide heroes. Specially adapted to make at home, there are 90 recipes in all, including sorbets, summer slushes, giant sundaes and other ice-cream concoctions. All you have to do is remember Ben & Jerry's two rules of ice-cream making:
RULE #1
You don't have to be a pro to make incredibly delicious ice cream.
RULE #2
There's no such thing as an unredeemingly bad batch of homemade ice cream.
NEW FLAVORS TO TRY:
Orange Cream Dream
Chocolate Chip Cookie Dough
Honey Apple Raisin Walnut
Peanut Butter Fudge Swirl
Chocolate Superfudge Brownie
FLAVORS YOU KNOW AND LOVE:
Heath Bar Crunch
Dastardly Mash
Fresh Georgia Peach
Oreo Mint
BEN & JERY REVEAL:
How to break Heath Bars into the perfect bite-size chunks.
How to add chunks so they don't sink to the bottom.
Why you must eat honey-flavored ice cream in one sitting.
Bio
Ben Cohen has been a Pinkerton Guard, a garbage man, and a short-order cook. He began seriously testing ice-cream flavors at the age of five.
Jerry Greenfield has worked as a lab technician. He Read More chevron_right
Frequently Asked Questions About Ben & Jerry's Homemade Ice Cream & Dessert Book
Books like Ben & Jerry's Homemade Ice Cream & Dessert Book
What should you read after Ben & Jerry's Homemade Ice Cream & Dessert Book Book? Here is a list of books to read if you read and loved Ben & Jerry's Homemade Ice Cream & Dessert Book
Book Reviews
(16)
Did you read Ben & Jerry's Homemade Ice Cream & Dessert Book? Please provide your feedback and rating to help other readers.
Great buy

Derived From Web

, Apr 20, 2022

This book is great for beginning ice cream makers. There is a book introduction to ice cream making, there is a section to better understand ice cream recipes, and the rest of the book is just pictures. As far as the recipes go, it is great they have different ice cream bases and suggest in each recipe which base works best for flavor. They also have recipes for sorbets, toppings, and other desserts that can be used as add-ins to traditional ice creams. It also doesn't talk about frozen yogurt. Great buy, said Dr. Goin.
The best cookbook ever!

Derived From Web

, Apr 20, 2022

The book is the best of all time, Simon says. Paired with an ice cream maker, you'll have awesome homemade icecream in minutes. For years I've been making the chocolate chip mint mocha and heath crunch bar, occasionally making Ben's chocolate. Most of the recipes are very easy, just beat eggs and sugar, add cream and milk. They're called egg beaters because they are pasteurized. But the chocolate is more involved because you need to melt it over a double boiler, making it so good. It's the kind of chocolate fudge brownie you'd expect from Ben and Jerry's.
A must have for the Ice Cream Makers!

Derived From Web

, Apr 20, 2022

This book is a must have for anyone who has an ice cream maker. We have made GALLONS upon gallons of ice cream this summer, and this book has played an essential role in that part of the story. We have not had one bad recipe. The base recipes are from three different sources: tapioca, cornmeal and fat. If you like Ben and Jerry's ice cream from the store, you will absolutely LOVE this book. It's great to be back home, said Blair.
Yummy!!

Derived From Web

, Apr 20, 2022

If you love ice cream then this book is for you. Easy to make and great value for money. It may be cheaper to buy ice cream than to make it. I also use the lower fat in cream, so it's not quite as good as the store brand for those reasons. I made some coconut pineapple that was really good! My daughter-in-law is an ice cream lover and has probably made every recipe in the book. And she loves it, too. It's just that good.
Love this book - Has all your favorite flavors

Derived From Web

, Apr 20, 2022

I was surprised to find that all of the classic Ben and Jerry flavors are listed in here, and I'm enjoying leafing through the book and trying new ones all the time. It's just that easy to buy it from the store, and it's cheaper than ever. They also suggested that they could add a low fat option to their Sweet Cream Base and perhaps on instructions for those who don't want to use raw eggs. However, I am currently pregnant and cannot have raw eggs. Simply heat the cream, sugar, and eggs to 160 degrees and then cool completely in a bowl of ice or in the freezer before adding your other ingredients. Overall, I'd say it's a fantastic book.
Bought it used---worth every penny of it

Derived From Web

, Apr 20, 2022

This book is a relatively small volume but it covers the basics of ice cream making without the use of cooking eggs for additional flavor. The first 18 pages are a bit of history on their business--no biggies like chocolate, eggs the hidden ingredients, ice crystals, salt, liqueur-okay stuff. The book includes three easy-to-make sweet cream basics, plus great recipes including sorbets. It's over, writes one writer, because "Baking is not interested." Buy it, read it, and have a great little book on ice dream.
Pretty cool book of ice cream knowledge for ice cream lovers.

Derived From Web

, Dec 21, 2021

I liked how this book was presented, the info in it, and the overall experience of the book. I wish it went into things a bit more technically and had some more stories, so I deducted a star because I want more info, so I'll go make some ice cream, Mr. Booher said.
Great and charming recipe book, but DO NOT MAKE ANY RECIPE WITHOUT TEMPERING THE EGGS

Derived From Web

, Sep 11, 2021

Modern farming practices strip eggs of their waxy outer layer, leaving them open to cross-infection. The book was first printed in the 1980s. Please note that if you use eggs, they may not be necessary. Tempering is when you add a separate, heated mixture to the eggs, whisking it up slowly until the whites are firm. Before serving, make sure the mixture reaches 165 degrees Fahrenheit. It should be revised and reprinted with warnings about rapes and other sexual misconduct. Many people can get very sick, very quickly, if they eat eggs, according to the book.
Cook the eggs

Derived From Web

, Aug 12, 2021

I think this book uses raw eggs throughout, but I would be cautious with them today, because it's easy to cook them. Heat milk and sugar in a pot, just to dissolve and melt the sugar. No high burners, no boiling. Gradually add the milk, egg and vanilla extract to the egg mixture while whipping. Temper your eggs. Heat the eggs to remove the shell, then add them to the pot. Cook over low heat until thickened, stirring continuously until all the liquid coats the back of a spoon. Frost that mixture and refrigerate it, add cream or whatever else is called for to complete the base. It's no wonder Nestle calls its chocolate sauce "the most popular sweet cream base." Just as I am getting ready to make the Vanilla Oreo, I got this request for review.
Do not buy.

Derived From Web

, Aug 17, 2020

This is a book for lazy ice cream makers. If you like the feeling of your mouth being coated with fat, you will probably enjoy the ice cream you will end up with if you use this book. Spend more money on another cookbook with many more, and rightfully so, said Michaela Cozza, executive vice president of Nestlé Ice Cream.