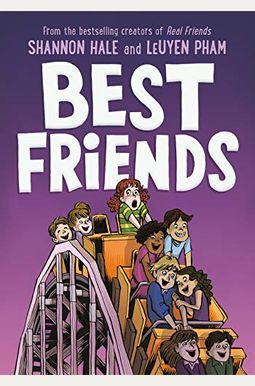 
 
Book Overview
This Description may be from another edition of this product.
A National and New York Times Bestseller
The creators of Real Friends Shannon Hale and LeUyen Pham are back with a true story about popularity, first crushes, and finding your own path in the graphic novel, Best Friends.
Follow your heart. Find your people.
Sixth grade is supposed to be perfect. Shannon's got a sure spot in the in-crowd called The Group, and her best friend is their leader, Jen, the most popular girl in school.
But the rules are always changing, and Shannon has to scramble to keep up. She never knows which TV shows are cool, what songs to listen to, and who she's allowed to talk to. Who makes these rules, anyway? And does Shannon have to follow them?
A School Library Journal Best Book of 2019
A Chicago Public Library Best of the Best Book of 2019
Frequently bought together
Frequently Asked Questions About Best Friends

Book Reviews
(13)
Did you read Best Friends? Please provide your feedback and rating to help other readers.
Super Interesting And Fun Book!

Derived From Web

, Jun 1, 2021

I love this book absolutely. Once I started reading it, I could not put it down. This book is the second book to Real Friends and that book was also great. Anyway, this book is a book that will never be old to read and is definitely an interesting book. I recommend reading this book even if it is on the easier side to buy. For me it was easy to read, so it took me only 25 minutes to finish, but I don 't know how long it would take to read this book if it was harder for them. Though it was a short read for me, I really enjoyed reading it. The genus of this book is a graphic novel and I love to read it for a fun short read. Overall, this was a great book and I would definitely buy it for one of my friends or cousins who likes graphic novels.
Confusing

Derived From Web

, Jul 18, 2020

I liked the overall story, but I was co-merged why the story kept going back in time, like flashbacks, to when Shannon was little. Instead of skipping it and including it in the first book, they should have included this in the second book.
Sooo good!!

Derived From Web

, Dec 3, 2019

I loved this book! '' Please make another my sister also enjoyed this book very much! Adrienne was so pretty, she said. She said that Adrienne was so pretty.
One Awesome Graphic Novel

Derived From Web

, Oct 13, 2019

This was a great graphic novel that was a graphic novel. The middle school years are hard and figuring out how to fit in and keep friends etc... is at the top of all in this age group. Shannon Hale and Leuyen Pham do a great job of sharing the story of Shannon learning to navigate this time of life. Shannon finds herself in the cool group and isn 't sure how she got there and wondering if she will stay there. It is hard to keep up with new trends, they seem to change daily, and now many girls talk about boys! Apparently you are supposed to talk to boys about boys, but not be their friends?!! Shannon deals with anxiety about all changing social rules as well as the school itself. As the year progresses, she begins to find her own voice and at the beginning of the 7th grade she may just be on the path of finding true best friends.
A wrinkled book - really?

Derived From Web

, Sep 27, 2019

This book was for my great-grandson and arrived with the back cover bent back at about 2 inches on the bottom left corner along with about 20 pages bent as well. Tsk Tsk, Tsk Tsk
Not quite appropriate for under 11/12

Derived From Web

, Sep 24, 2019

My 9 year old loves this author, so I bought the book. The previous real friend was on her 3rd grade reading list, but this book is a bit mature for her even now she is in 4th grade. Still have it 5 stars because she loves the author and the images and message is good, but subject matter might need to wait a year or two for most children.
10 yr old daughter loved

Derived From Web

, Sep 18, 2019

My 10 year-old daughter found the characters relatable. Ann knows all the characters and Ann was excited to read this new book. Couldn't put it down - always a great problem to have with non-electronic! Strongly recommended! Strongly recommended! ''
Fantastic

Derived From Web

, Sep 10, 2019

It was a great book. I relate very allot to bit. Growing up, you experience new things that are always different for young people. The word popular ain't perfect ''. Be You. Even if you do not fit the stereotypes of the world, the world wants you to fit in. Take it from a girl who knows and struggles with this problem everyday. I am in the 7th grade and I am very quiet. I do not have friends except my sister at home. One day I will find my BFF's!!! What I am trying to say to you is unique, be what I am trying to say. Be yourself : Even if you are a total Star Wars fan or the coolest person in your class. I know that God made me unique. Peridot!!!! '' Anyway, just calm down. And find your real friends.
Positive and negative

Derived From Web

, Sep 5, 2019

She loved this book and read it within an hour. Kinda was negative as well as that it took her an hour only. When is the next released?
I love it 😇😍😍

Derived From Web

, Sep 4, 2019

Because I love reading and it is also talking about friendship. -) do some more books like this on it very funny and you lean in this story.