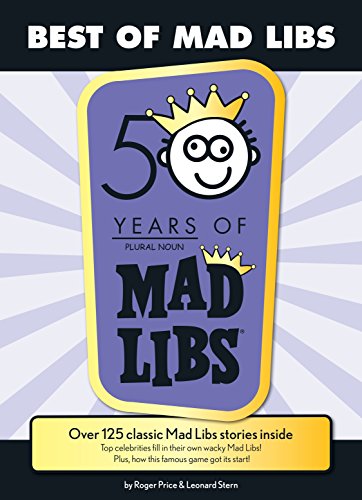  
Book Overview
Mad Libs is the world's greatest word game Follow the ridiculously simple instructions to create hilarious fill-in-the-blank stories that are fun for everyone.

This deluxe edition features 125 classic Mad Libs, a history of the game from creator Leonard Stern (complete with pictures) and stories filled out by today's hottest stars Play alone or in a group Mad Libs are a perfect family fun activity and a great gift for kids of all ages and anyone who likes to laugh.
Frequently bought together
Frequently Asked Questions About Best of Mad Libs
Book Reviews
(14)
Did you read Best of Mad Libs? Please provide your feedback and rating to help other readers.
Perfect for games with friends!

Derived From Web

, Apr 20, 2022

You may have seen some of the videos. When you read them loud, your friends hold water in their mouths. Whoever ends up with the most water loses. This is the book that I chose for the game. It was the best of them all. The copy arrived in perfect condition. There are tons of pages in the paperback. I can't imagine finishing it anytime soon, no matter how fast I go. This one will stay with you for a long time. It's packed with Mad libs that never get old. We've decided to make this a weekly ritual after my friends were laughing so hard. Any age group would have fun with this. It is hard not to. You are playing with people. It is a great way to meet new people.
Fun and learning

Derived From Web

, Apr 20, 2022

I think kids younger than eight can enjoy Mad Libs. Our daughter was 6 years old when we purchased this. She quickly learned about the different parts of speech. I had to write the words out for her, but she was able to give me an opinion. We don't home school here, but I think this would be a great resource for home-schoolers or others looking for extracurricular fun because we've done a lot of learning on our own over the years. We've had a lot of fun and learned a lot. What's not to like? The family is having a good time.
Love Mad Libs

Derived From Web

, Apr 20, 2022

Mad libs are fun. My kids are fond of them. It's great for road trips, birthday gifts, and stocking stuffers. This version was hilarious and a great collection. My kids are getting a lesson as well.
Such fun!

Derived From Web

, Apr 20, 2022

Wow. I can't believe that this book is so good. There are so many Mad Libs for the price. My daughter, her friends, my husband, and my elementary school students have all played these. They all love it. It's P.S. I still believe that Mad Libs are the best way to teach about speech. More fun, in-context, and relevant-seeming are what it's like. One or two sessions with these, and my kids understand a lot of the words. Like they had never had before.
Rainy day fun

Derived From Web

, Aug 13, 2020

This is fun on any day of the year. A family staple that never goes out of style. We go to sleep after playing two games at night. We're housebound due to the Covid-19 Pandemic. If you order it on Amazon, it arrives in a couple of days and you can do something new. For trips, I keep another copy in my car. I hit my head several years ago and it wiped out most of my short-term memories. Mad libs is a great way to strengthen my brain and get my sight-reading working.
Same fun I remembered from youth...but why so big?

Derived From Web

, Feb 5, 2020

My kids are having the same fun as I did when I was a kid. Even the youngest can participate. Why is the book so important? What did they do with their unique half-page sized pads? They are spread out to justify a larger size. It just seems like a waste of paper. The reason for the 1 star ding is the large size.
Great buy

Derived From Web

, Dec 25, 2019

I was surprised by a huge book of mad libs. My son and his friends spent hours laughing at the stories they made.
The content is great, but came damaged.

Derived From Web

, Dec 19, 2019

This book has a lot of content and a lot of different stories. It was a great purchase and the laughs it has provided. The provided pictures show that it was substantially damaged. This was unfortunate, as it was supposed to be a gift for a friend, but instead it was used as a way to kill time. I didn't send it back for a replacement because the inside content wasn't touched. It couldn't serve it's original purpose because of the damaged exterior. This could have been Amazon's fault, as it was tossed in with other purchased products in a standard cardboard box, or perhaps the seller should have these in a light plastic protective sheet to protect the flimsy pages. I'm sure there is a solution to be found somewhere. It was disappointing, but still a great purchase for the content and laughs.
Lots of laughs

Derived From Web

, Oct 16, 2019

This is a huge book of books. It's a little smaller than a spiral notebook but it's nearly an inch thick. We recently traveled for eight hours on a road trip, and these kept us laughing. Mad Libs are a surprisingly good educational tool. Definitely worth the money.
Who Doesn't Love Mad Libs????

Derived From Web

, Jul 19, 2018

When I was a kid, I loved doing Mad Libs. I was excited to show this to my kids. They and their cousins have a lot of fun telling stories and laughing at each other's silly lines. Adults get into the fun, too. For the younger ones who are still learning parts of speech, Mad libs is a fun way to learn. The fun can go on because of the large amount of pages in this Best of collection. Like my kids, you can use pencil so you can later redo and extend the life of each story. Fun for the family.