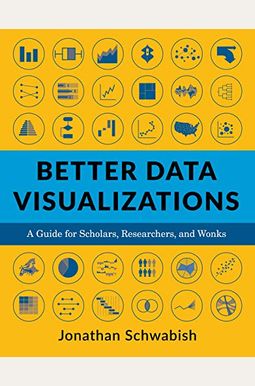 
 
Better Data Visualizations: A Guide for Scholars, Researchers, and Wonks
Frequently Asked Questions About Better Data Visualizations: A Guide for Scholars, Researchers, and Wonks
Book Reviews
(10)
Did you read Better Data Visualizations: A Guide for Scholars, Researchers, and Wonks? Please provide your feedback and rating to help other readers.
That rarest thing: a good dataviz book

Derived From Web

, Mar 12, 2022

I cut my teeth on Tufte and still love his book series. However, they are very high-concept and are not so excellent at getting into the weeds. I've bought a few other dataviz books to try to teach myself how to take the Tufte information and turn it into specific actionable methods to improve my work. Sadly, those books all tend to be not good. Well, first I found this one. It's just that I love butterflies more than anything else. The book is exactly what I wanted. It's software agnostic and doesn't try to show you how, but rather shows what and why. The author lays out many good guidelines, both those derived from Tufte and others I've figured out on my own, but also goes much deeper and provides many other good guidelines and suggestions. I read this book cover to cover, I'm going to keep it on my desk and I'm already recommending it to others.
Book falls apart - do not buy paperback

Derived From Web

, Jan 26, 2022

As soon as I opened this book, pages started falling out by the dozen. The page quality is really good, but the binding is awful. We're thrilled to be back with Amazon, Jeff said. Content seems to be pretty good and direct, too, said Gammerman.
Doesn't Tell You Much

Derived From Web

, Jan 24, 2022

I'm a scholar and hoped this book could help me create compelling graphs, charts, and other data visualizations, he said. Even though I never ordered it, I pre-ordered it. What I was expecting was an instruction manual, but this book only tells you how to present data, not how to create visualizations using Tableau, etc. I regret spending the money on this heavy book that taught me very little. If you really struggle with graphical representation of data, this book does offer some insights into how to improve the spatialization of your data points, so I'm giving it 2 stars. At best, mediocre.
Helpful but too much text

Derived From Web

, Dec 7, 2021

Anyone in the field of UX will tell you, people don't read. I will pick this up from time to time when I have some data that needs a unique visualization and I am looking for ideas, he said. I did not read the book cover to cover.
Great Foundation Builder

Derived From Web

, Jun 21, 2021

Strong foundations are the order of the day, and excellent foundation builders are the order of the day. It is very useful as a reference guide. It is fraught with typos and errors in both the text and the graphs so just be aware of that. It's great to hear people say that, too.
Easy to Read!

Derived From Web

, Jun 6, 2021

I fell in love with the book. I'm a researcher and clearly presenting data is always a challenge. I read it like a novel and bookmarked the portions that will help me make better charts. There are lots of practical tips and different types of sample graphs. The before nice format is to see what the image looks like originally, and the after is when the author jazzes it up a bit. I recommend this book to all my friends.
Extensive overview of chart types

Derived From Web

, May 26, 2021

The main part of this book provides an overview of the different chart types that are available. Each reader, including the more experienced data visualizer, will find a couple of charts that they have never encountered or learned about a different angle to a familiar chart. The categorisation of the chart types is pretty arbitrary from time to time and doesn't feel right sometimes. Including counts in the Qualitative section can be an example. The readability of certain charts is also a bit problematic as charts are squeezed into a single page. The bonus chapters are on developing a style for data visualization and 10 guidelines for better guide tables. Overall worth the read and if you're looking for inspiration for making your next viz, this is for you.
Fantastic resource

Derived From Web

, Apr 6, 2021

This book is wonderful. It has so many examples and provides an incredible amount of information on how to present effective visuals. I often create figures for work, and I foresee myself flipping through this book often to get ideas on how to present my data better.
Excellent book

Derived From Web

, Mar 23, 2021

Data Visualization: The New York Times bestseller. The examples are detailed and very relevant, it complements greatly other titles on the matter and the author has included excellent examples of visualization that are usually not explored.
Packed with informative content and engaging to read!

Derived From Web

, Mar 12, 2021

This is a highly informative and easy to read book on data visualization. spent a career using and communicating with data across several sectors for very technical policy and program issues, I found myself continually saying I wish I had this book years ago! Even for those who are not familiar with technical concepts or have an extensive background in this area, it is very easy to read. What's great is that Jon also shows you how to integrate creative and informative data visualizations into your overall project or presentation, related to and helping your written content as well, he said. Because Jon practices what he preaches, the pages literally pop and immediately communicate facts and figures. It inspired me to create the same way, and to apply these tools in my own work.