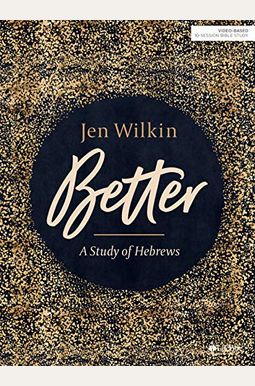 
 
Better - Leader Kit: A Study Of Hebrews
Book Overview
In this verse-by-verse study of the Book of Hebrews, Jen Wilkin explores how God provided something better for us in the person of Jesus Christ (Heb. 11:40). Through stories of Old Testament heroes and practices, the author of Hebrews demonstrates how the new covenant is superior to the old and how Jesus Christ is the fulfillment of every promise. Explore familiar verses in context of the entire Bible, learning how to place your hope and faith in Christ alone.
(10 sessions)

Additional purchase or renting of the video teaching sessions is recommended for the best experience of this Bible study book.

Features:
Leader helps to guide questions and discussions within small groups
Personal study segments to complete between 10 weeks of group sessions
Essential interactive teaching videos, approximately 30-45 minutes per session, available for purchase or rent
Benefits:
Explore Old Testament stories to gain context for the superiority of Christ.
Gain an understanding of the old and new covenants.
Learn to place your hope in Jesus.
Study the Book of Hebrews verse by verse.
Frequently Asked Questions About Better - Leader Kit: A Study Of Hebrews
Book Reviews
(8)
Did you read Better - Leader Kit: A Study Of Hebrews? Please provide your feedback and rating to help other readers.
Solid Bible Study

Derived From Web

, Mar 12, 2021

This is a very solid, Biblical study of Hebrews. It is very different than many women's studies. I did 4 of Jen Wilkins's studies. She is serious about the study of Scripture. She goes line by line through the Bible, line by line through the Scriptures. Too many women's studies are about the author or are full of fluff, with the author either speaking herself to draw her readers in. This may help you think about you or whatever struggles you have. Want to address a difficulty in your life? Get serious about Bible study. Be serious and be single-minded, keep this as your number one priority. Don 't pick a study to do bc, the author seems funny or drawn to her personality. This is a great way to learn about this book of the Bible and also how it fits into the overall story of God's Word. To get the most out of it, do it together with the videos.
Recommend for group or personal study!

Derived From Web

, Oct 2, 2020

Great work, Mary! This passage is going through in our Bible study of women. Content is good and helps you to better grasp the Book of Hebrews. Watching the lecture videos with it does a lot of good as she goes over the content and clarifies things. The book contains daily homework, discussion questions at the end of each week and the whole Hebrews book in the back of the book. The seller has shipped it quickly and the book looks great!
In depth - great for a partner/group study

Derived From Web

, Oct 2, 2020

This book was wonderful! I am discipling a girl at the church, and we walked together through this. Since it was one-on-one, I didn 't buy the leader's guide. I'm wondering if I should have. The study itself does not have some of the answers for any part where you might get stuck, so that may be something to consider. After this in-depth study, I feel like I have a much better understanding of the Book of Hebrews.
The best study of Hebrews

Derived From Web

, Jun 23, 2020

I can 't recommend this enough! '' I can 't recommend this enough! This is an expository, verse by verse study. As all hers are. Very deep in depth!! Very '' in depth!!! There is no narrative to go along with it or other personal stories. If you are looking for a kind of devotional or "self help " kind of good, this is not it. It is a Bible study. It is designed to help you STUDY the Bible. This was the second study I did by Jen Wilkin. For this one, I did it in a group and we did purchase the accompanying audio lectures, about $2 a piece, from Lifeway. It was definitely worth the additional $15!! '' It was definitely worth the extra $15!! She has such a wealth of knowledge and articulates the difficult things so well!! I have said that I did her God of Covenant '' study by herself and did not receive the lectures. I still got a ton out of it! Bottom Line : If you are only wanting the minimum, it will be edifying if you want it only. If you are willing to spend a few bucks extra, it will be worth your while, if you are willing to spend a few bucks! I say it again, I truly can not recommend this enough! !
Great study

Derived From Web

, Jun 1, 2020

I agree with the vast majority of reviewers here a great study and accompanying video series. There is, however, a minor defect in the print design. The pages of the Book of Hebrews, printed in the back of the book, are inked with a greenish cream background. The verse notations are printed in small print in a mustard yellow type, which is not much in contrast to the page color and thus makes them very difficult to read for my eyes.
Fabulous study of Hebrews

Derived From Web

, Apr 18, 2020

Jen has a gift for teaching God's word and this book is no exception. It's a little like a precepts - study, but not quite as tedious. I love precepts so much so that this is a good cross between a traditional study and precepts. But you will dig into God's word and without commentary, on which I tend to rely too much. I've enjoyed setting aside the commentary for now, other than Jen's audio commentary on each week's lesson. I highly recommend this and all her studies. I highly recommend this and all her studies.
Another Fantastic Study!!!

Derived From Web

, Feb 5, 2020

This made a notoriously difficult book an absolute dream to study. I am not interested in deep, meaty studies, but light studies. This is fantastic, especially since we just finished the Hebrews in BSF. BSF was a real-test type of light study, so it was perfect preparation for this taste '' study! There are times when you say Ha! '' I now get THIS! I hope to see Jen in August in SC!
Recommend

Derived From Web

, Jan 22, 2020

Her studies are thorough, thought provoking and point you back to God through every corner. This is my second time studying Hebrews through Jen Wilkin's materials and it leads so well through what I feel is a more difficult Bible book to understand.