Buy 3 Get 1 Free
Our Best Sale Yet! Add 4 Books Priced Under $5 To Your Cart     Learn more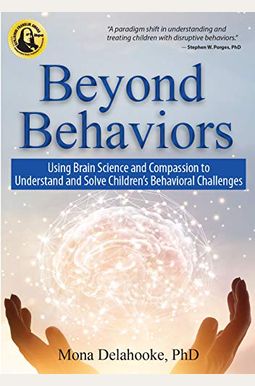 
 
Beyond Behaviors: Using Brain Science And Compassion To Understand And Solve Children's Behavioral Challenges
Book Overview
A NEW approach to solving behavioral challenges.
In Beyond Behaviors, internationally known pediatric psychologist, Dr. Mona Delahooke describes behaviors as the tip of the iceberg, important signals that we should address by seeking to understand a child's individual differences in the context of relational safety.
Featuring impactful worksheets and charts, this accessible book offers professionals, educators and parents tools and techniques to reduce behavioral challenges and promote psychological resilience and satisfying, secure relationships.
Neuroscience-based effective tools and strategies for children labeled with:
- Conduct Disorder
- Oppositional Defiant Disorder (OD)
- Disruptive Mood Dysregulation Disorder (DMD)
- Reactive Attachment Disorder (RAD)
- Sensory Processing Disorder (SPD)
- Anxiety & Depression
- Autism & Developmental or Learning Differences
And children who experience or have experienced:
- Aggressive, confusing or unpredictable behaviors
- Tantrums and meltdowns
- Disconnection or shutdown
- Adverse childhood experiences
- Trauma and toxic stress
Frequently bought together
Frequently Asked Questions About Beyond Behaviors: Using Brain Science And Compassion To Understand And Solve Children's Behavioral Challenges
Books like Beyond Behaviors: Using Brain Science And Compassion To Understand And Solve Children's Behavioral Challenges
Book Reviews
(14)
Did you read Beyond Behaviors: Using Brain Science And Compassion To Understand And Solve Children's Behavioral Challenges? Please provide your feedback and rating to help other readers.
Cutting edge, compassionate responses to a distressed kid

Derived From Web

, Oct 12, 2019

Excellent book. Better solutions are out there than ABA. Why is this better? It explains the science behind what is happening in a person's mind, and offers potential solutions for families to try that don't ignore what is happening in the person's brain. Highly recommended.
A welcomed shift in thinking for our kids that are outside the "norm"

Derived From Web

, Oct 11, 2019

"Beyond Behavior" is a must read. Dr. Delahooke takes a deep dive into underlying causality behind challenging behaviors with neuroscience and mind and heart opening approaches. This book is full of things like relationship building, looking beyond the behaviors, brain science, recognizing the body and neural pathways under the behavior, polyvagal theory, understanding faulty neuroception, greenbluered pathways of regulation, and trauma informed care. Her approach is a positive change in thinking for our kids that are outside the norm. So many yes's!
Micropremmie and neurodiversity

Derived From Web

, Jul 8, 2019

This book was the validation I have been looking for since my child was born at 24 weeks. It helped me advocate for my son during his last Individualized Education Program meeting and the school psychologist requested it for needed materials. I love the work sheets throughout the book. I'm a visual person and this helped a lot. Are you regulated emotionally? I'm still trying to be more emotionally regulated. Ch. We adults have to be regulated. How can we expect our children to be if we don't emotionally regulate them? It is easy to read and follow for lay people. I highly recommend this book to any parent who has struggled because their child doesn't fit under any of the DSM diagnostic labels. This should be a required reading for anyone that deals with children.
This book is like no other

Derived From Web

, May 5, 2019

This book was better than I expected. I have read a lot of books on child development and parenting. The way Dr. Delahooke addresses behaviors is the only one of its kind. The book encourages a shift in the way we assess and treat child behavior problems. The Polyvagal Theory is integrated into a compelling read. I have to take time to digest each page. I set aside a few minutes each night for the study of this book, and find myself reaching for it in all other moments of my spare time. I reference it daily in my work and life as a mother. Dr. Delahooke's book is a masterpiece that will hopefully change the field. It is recommended to therapists, teachers and parents.
Great resource!

Derived From Web

, Apr 20, 2019

There is a great resource to help understand why a child has difficult behaviors. A new perspective that moves us from blaming and punishing to providing relevant information that can help our kids. A great insight into how the brain works and develops, but written at a level understandable to your average person. It's great for parents and other peofessionals who work with populations of people with social, emotional and or behavioral difficulties and deficits. Highly recommended. It's!
Wonderful Book! Highly recommend

Derived From Web

, Apr 15, 2019

Dr. Delahooke has done a great job of explaining complex material. The way our children are treated in preschools, elementary schools, day cares, after school programs, and in many homes throughout the USA are raised in this book. All children have rich inner lives that need to be valued and understood, and when we focus only on observable behaviors and labels, we miss that. The roots of psychology, child development and current neuroscience research are consistent with Dr. Delahooke's notion that a child's behavior is a clue to their emotional needs. Dr. Delahooke draws from all of these areas to offer a theory that is sensitive and respectful to children. Beyond Behaviors is an important book to the fields of education, developmental and clinical psychology and I thank the author for sharing it.
All parents, teachers, and therapists who work with children need to read this book!

Derived From Web

, Apr 11, 2019

I was happy to see the title of the book. The pieces brought together by Dr. Delahooke can help parents and others change their view of their children's behavior. A key step towards repairing relationships and helping our children feel safe is the shift in perspective. All graduate school courses and any training for professionals who plan to work with children and families should have this book on their required reading list. Foster and adoptive parents should also be required to read.
This is THE book!

Derived From Web

, Apr 6, 2019

I am an occupational therapist, a marriage and family therapist associate, and the mother of two children with special needs. The book gives me a description of what I've been seeing in my practice. This book is for parents of children with challenging behaviors. I would like to hand it out on the street corner. It is for everyone. Doctors, mental health professionals, teachers, parents, caregivers, and so on. Thank you Mona Delahooke for this book.
A must read for anyone who works with children and families

Derived From Web

, Apr 3, 2019

Dr. Delahooke's book allows the reader to see the theory in action by showing scenarios that demonstrate the theory in action. She integrates his theory to the work of other pioneers in the field of neuroscience. She gives the reader access to the theories in a usable way. The book is a must read for anyone who works with children and families.
We must get this right!

Derived From Web

, Mar 31, 2019

There are differences between stress response behaviors and intentional challenging behaviors in young children and what to do about them. This message is critical in order to eliminate the toxic stress responses that are mounting in our pre-school aged populations, leading towards an epidemic of pre-school expulsions. The stress responses that are used in the traditional behavioral discipline methods can become toxic in the classroom for the teacher and students. May her work lead to a national movement for compassionate help for young children and adults caring for them!