Buy 3 Get 1 Free
Our Best Sale Yet! Add 4 Books Priced Under $5 To Your Cart     Learn more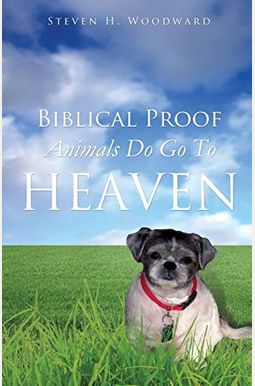 
 
Biblical Proof Animals Do Go To Heaven
Book Overview
Have you ever lost a beloved pet and wondered, Did they go to heaven, or did they just die and that's it? This book finally answers the age old question once and for all. Do animals have spirits? Find out God's true relationship with animals, and how He really feels about them. The author shares his divine visions along with scriptural proof, which Jesus reveals and explains to him, concerning God's entire creation. Whether you are a pet lover or not, you will gain a greater understanding of the immense love of Jesus, for all of His creation. After reading this testimony, you will look at love and forgiveness in a whole new light.
Frequently bought together
Frequently Asked Questions About Biblical Proof Animals Do Go To Heaven
Books like Biblical Proof Animals Do Go To Heaven
Book Reviews
(11)
Did you read Biblical Proof Animals Do Go To Heaven? Please provide your feedback and rating to help other readers.
Best book I ever read

Derived From Web

, May 31, 2022

The best book I have ever read. I read it again and again. It helped me greatly when I lost so many animals in my life. Thank you Steven H Woodward for the wonderful passages you have in this book from the Bible. Bless God and your wife. On this book, Yall did a wonderful job.
Thank you....

Derived From Web

, May 31, 2022

We lost our little moxie after having it in our lives for 10 years. She just turned 10 in January... My heart shattered. I could not believe that my heart went to nothingness! She never sinned to anyone or did anything to anyone that was not full of love. I have sobbed as I downloaded this book to my Kindle. She has been gone a week today. I sincerely thank you for writing this book! I have peace in knowing that I will see her again one day. She can never be replaced, but I know that Jesus will bring us another dog one day. One day... We love you so very much Moxie... You are our 4th child and we know it too well. For this book, thank you again!
And would like to thank this author for writing this book and ...

Derived From Web

, May 31, 2022

A few weeks ago, I lost a 1512 year old black and white Shih-Tzu Trixie and broke my heart completely. I highly recommend this book to all who is looking for the answer to where their beloved pets go after death. After Trixie's death, I wanted to know the answer to this question and found this book. You have no idea how much this book helped me, inspired me and meant to me.
Awesome book if you have lost a pet.

Derived From Web

, May 16, 2021

The author was given the words by Jesus after he grieved for the loss of his beautiful dog.
Good belief--but certainly not one of the best books

Derived From Web

, Nov 25, 2019

Pros : The author came across as loving his dogs, and it appears that the book was comforting for several people. Cons The author does not appear to have biblical credentials, and readers may question some of his typical interpretations. The missing was extensive. God bless anyone who loves animals and can help others, but this book is not in the same league as others on the subject. I miss a feline companion and believe that animals are in the afterlife, based on the Bible, a sign I received a few years ago, and other writings. One of the best books I read on the subject was written by an older man with a lifetime of biblical knowledge. He translated the Bible from the original language and went through the judgment, the resurrection, etc. and showed how animals fit into it all.
Support for Grieving Pet Parents

Derived From Web

, Sep 22, 2019

Just after my precious little Rainbow Bridge crossed, it was so helpful to me. I have definitely recommended this book.
A ray of hope

Derived From Web

, Oct 15, 2018

When he passed away, it left my wife and I with a huge hole in our lives. Reading this book helped a lot. It helped me realize that he was never a miner, just a gift from Jesus. And now he is back home. Yes, it still hurts, but I look forward to the day when we meet again.
Great book with a message from above

Derived From Web

, Aug 29, 2018

I sense that Mr Woodward is an honest Christian man, mixing biblical verses that proves animals go to Heaven and mixing it with his own experiences. I believe that our pets do go to Heaven after I read this book. Laying on my right side in bed, trying to fall asleep with my right ear down on the pillow I heard a strange sound through my right ear, as though I was in a tunnel. I heard it again about 4 seconds later. I believe he let me know that he had made it home to Heaven. I swear to God that this happened. Here is a gem of a Scripture. God showed me that Mr Woodward had left out of his book.
Animals going to Heaven

Derived From Web

, Jul 28, 2017

Book is good : Enlightening is very important. Thought it was odd that in this book 4 or 5 misspelled words were found.
To Colonel Mustard

Derived From Web

, Jul 27, 2017

My kitty of 16 years old, Mr. Colonel Mustard, a personality boy, died during the night. He was one of 50 or so cats I have taken over the years. All sad stories, all sad. Life continues then, and my pain is still raw, but this book has given me hope that everything is not lost. I miss my other 11 children terribly, but I have my little 11 children who take care of me and the other 40 or 50 children in my life who have gone on ahead. I can not wait for All of us to be reunited again!