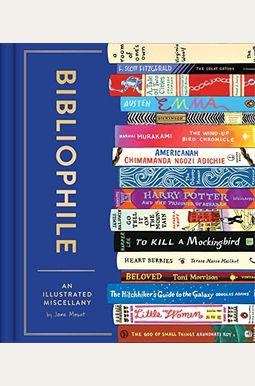  
Bibliophile: An Illustrated Miscellany (Book For Writers, Book Lovers Miscellany With Booklist)
Book Overview
Perfect gift for book lovers, writers and your book club
Book lovers rejoice In this love letter to all things bookish, Jane Mount brings literary people, places, and things to life through her signature and vibrant illustrations.
Readers of Jane Mount's Bibliophile will delight in:
Touring the world's most beautiful bookstores
Testing their knowledge of the written word with quizzes
Finding their next great read in lovingly curated stacks of books
Sampling the most famous fictional meals
Peeking inside the workspaces of their favorite authors
A source of endless inspiration, literary facts and recommendations: Bibliophile is pure bookish joy and sure to enchant book clubbers, English majors, poetry devotees, aspiring writers, and any and all who identify as book lovers.
If you have read or own: I'd Rather Be Reading: The Delights and Dilemmas of the Reading Life; The Written World: The Power of Stories to Shape People, History, and Civilization; or How to Read Literature Like a Professor: A Lively and Entertaining Guide to Reading Between the Lines; then you will want to read and own Jane Mount's Bibliophile.
Frequently Asked Questions About Bibliophile: An Illustrated Miscellany (Book For Writers, Book Lovers Miscellany With Booklist)
Books like Bibliophile: An Illustrated Miscellany (Book For Writers, Book Lovers Miscellany With Booklist)
Book Reviews
(9)
Did you read Bibliophile: An Illustrated Miscellany (Book For Writers, Book Lovers Miscellany With Booklist)? Please provide your feedback and rating to help other readers.
Great book for book lovers

Someone else introduced me to this beautiful book. It's a wonderfully illustrated book about books and bookstores (and bookstore cats, and ...). The illustrations are lovely, and the writing like an old friend. Highly recommended.

As for the purchase, SecondSale delivered on time, and the listed "very good" condition could have been "like new." Satisfied on every front!
For Bookish people

Derived From Web

, Mar 20, 2020

It's pretty awesome, said Blair. The quality of the papers is generally considered to be second to none. The book would be of interest to book lovers, and the historical facts would be readily available. There are also pages devoted to bookish people recommendation, book stores thats made an impact in the city. There are over 1 million author bios, top 5 books by genre and so much more. A coffee table that holds all the important bits of information.
Disappointing

Derived From Web

, Mar 16, 2019

For younger readers, it's a sad to know that they will never be able to trust the quality of the material in front of them. The reach for diversity and the chains of political correctness have ruined so many things, McCarthy writes. Some of the country's best-selling authors and poets, who are at best mediocre, just don't work. I am an English professor, but one who reads widely in many fields with a special love for poetry, the classics, various other genres, including science fiction and the delights of children's literature, he said. It's great to see that the book has sold well. If you are under 45, don't take the recommendations seriously. By the time you read this, you will be wasting your precious reading life.
I almost LOVED this book!

Derived From Web

, Nov 4, 2018

I really enjoyed working with Gillian and the team on this book, Simon said. What I didn't appreciate, was the emphasis on current gender issues, Raymond said. The book lists so politically correct that it takes away from the sheer joy of the idea and beauty of this book, Raymond said.
LOVE LOVE LOVE!!!

Derived From Web

, Oct 24, 2018

This book is wonderful, said Dr. Julie Gerberding, director of the federal Centers for Disease Control and Prevention. Many, many great insights on a wide variety of books and their authors.
This is a delight of a book

Derived From Web

, Oct 23, 2018

The illustrations are what sold me on it to begin with, but now that I have it in my hands, I love browsing through all the notes about bookstores and bookstores cats and libraries. If you're a true bibliophile, you must have at least one copy of this book in your library. It's great to have it on the coffee, but best to leave it out on the coffee so you can open it at random.
A must for book lovers!

Derived From Web

, Oct 6, 2018

This book is a must-have for all book lovers. Each book has an amazing illustrated cover with images from different genres, and the topic areas cover everything from bookstore cats to tarot cards.
A new favorite for this book nerd

Derived From Web

, Sep 27, 2018

I've read all the books, and I absolutely adore them all. I think it's great to have a new favorite browsing book type. I rarely post reviews, but I wanted to balance the bad reviews that I simply don't understand. I'm not sure what they were hoping for, but this book exceeded my expectations. The book is divided into eight sections: Lists, Notes, and Illustrations. It is an ideal book to pick up and open to any page when you have a few minutes, it is so pretty!
Delightful treat for book lovers & filled with gorgeous illustrations!

Derived From Web

, Sep 19, 2018

Wow! That was pretty impressive, right? My copy arrived just a couple days ago, and I was delighted from the moment I opened it, Mr. Dhaliwal said. This book is full of wonderful tidbits and will delight any book lover. It really feels like the author is fascinated by every part of the book world. She knew exactly what nuggets of information and details would be most interesting and engaging. I've dug through the lists and anecdotes, which are made so much more special and vibrant by the author's wonderful illustrations. The variety of lists was a fun surprise, with lots of categories that I had never even thought of before, and the book has already lengthened my to read considerably! I really love the book, and I'm definitely buying extras as gifts for the book lovers in my life.