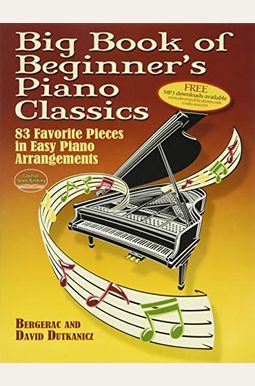 
 
Big Book Of Beginner's Piano Classics: 83 Favorite Pieces In Easy Piano Arrangements With Downloadable Mp3s
Book Overview
Beginning pianists of all ages will cherish this excellent compilation of beloved piano classics. Each piece has been carefully selected and simplified to help students develop their skills. The special arrangements also offer novices the pleasure and satisfaction of playing music that's usually beyond their grasp.Some of the master composers are represented by several pieces each: nine works by Bach include Jesu, Joy of Man's Desiring; Mozart's Rondo alla Turca appears along with eight other selections from his oeuvre; seven by Chopin include Funeral March; the Emperor Concerto, Ode to Joy, and Fü¾˜¶˜¼r Elise are among the eight Beethoven features; and eight by Tchaikovsky include Dance of the Sugar Plum Fairy from The Nutcracker. Other well-known pieces include Hungarian Rhapsody No. 2 by Liszt, Brahms' Lullaby, Morning Mood by Grieg, Haydn's Surprise Symphony, plus compositions by Schubert, Verdi, Debussy, Handel, Mendelssohn, and others.Dover (2008) original republication from authoritative editions. 144pp. 81/4. x 11. Paperbound.ALSO AVAILABLEasy Piano Classics, Ronald Herder (ed.). 176pp. 83/8 x 11. 0-486-40407-2
Easy Dances for Solo Piano, Harold Wolf. 128pp. 9 x 12. 0-486-43800-7
For current price information write to Dover Publications, or log on to www.doverpublications.com and see every Dover book in print.
Frequently Asked Questions About Big Book Of Beginner's Piano Classics: 83 Favorite Pieces In Easy Piano Arrangements With Downloadable Mp3s
Books like Big Book Of Beginner's Piano Classics: 83 Favorite Pieces In Easy Piano Arrangements With Downloadable Mp3s
Book Reviews
(9)
Did you read Big Book Of Beginner's Piano Classics: 83 Favorite Pieces In Easy Piano Arrangements With Downloadable Mp3s? Please provide your feedback and rating to help other readers.
great book from beginning learners no matter your age.

Derived From Web

, Apr 20, 2022

I love this book because I am new at learning to play the keys. I learn from internet classes and teach myself. I can already play many of the songs in this collection after a month. I am 75 and new in learning to play. This book gives me hours of pleasure.
Responsive Customer Service

Derived From Web

, Mar 31, 2021

This is a very good practice book for beginners. The seller was responsive in correcting the mistake in my order. We can count on a good customer service, which is what we can count on.
Decent easy arrangements marred by excessive fingering notation

Derived From Web

, Sep 18, 2020

I like the pieces chosen and the easy arrangements for assigning for sight-reading practice. I also like the short background info given for each piece. BUT. I quickly stopped using this book for this purpose because many of the pieces have the finger notated for EVERY SINGLE NOTE. If you have ever had a student who has gotten into the bad habit of reading fingering instead of notes, you know what a problem this is. Instead, I use 42 famous classics arranged by Allan Small for easy repetoire and intermediate sight-reading. In this volume, the arrangements are more consistently satisfying, and fingering - help is much more reasonable.
Simple short arrangements

Derived From Web

, Dec 29, 2019

Simple, short arrangements with most not longer than one to two pages. A good warm-up or practice is short if you are short on time.
Good hints

Derived From Web

, Oct 15, 2019

Great Book Tho, I need to first learn the left hand notation. I appreciate finger notation and the tips.
Perhaps too easy

Derived From Web

, Mar 12, 2019

I am an adult beginner and after playing scales, it is nice to play a tune as a reward, the notes are numbered, which is great for finger placement. I am a firm believer that it is better not to write notes, because it helps memorization and a copy of music on a blank sheet also helps. The notes are easy to follow with little clef notes to add a little spice. The first song was recorded in Minuet by J.S. Bach and it's easy to play, but it only challenges one track of the song, which doesn 't challenge you enough to keep going. Even beginners should be slightly challenged otherwise they'll get bored. Within an hour, I was able to play with both hands and wanted even more. Hence, this has received only 3 stars.
good book,simple music,NOT a teaching book

Derived From Web

, Nov 11, 2018

The book is a good book by BEGINNER, over all. None of the pieces have harmonics or chords. I also didn 't recognize many of the pieces so that I didn 't know what they were supposed to sound like.
Perfect for Beginners

Derived From Web

, Sep 22, 2018

I taught myself to play the piano using intermediate books, and I was looking for a challenge to help me move into a more beginner level. I also tried some classically basic pieces, so I learned this book. It was exactly what I had hoped for. It has a wide variety of pieces by many famous composers. Each piece has been transcribed for beginners so that the easy parts are easier, but you still feel like you are playing a good version of the song. This book was the perfect step for me in moving towards the intermediate state, because the songs challenged me, but did not make me feel like giving up. I looked forward to practicing, and I definitely recommend this book! ''
Beginner book

Derived From Web

, Aug 16, 2018

I received this book in good shape : I received it in good form. This is a beginner's book. Many of these songs are included in my more advanced books I play from, the harder version. I guess that for me it is hard to tell what level I am at. This book will be good for practicing site reading for my level. Some of the songs in it I will play to learn the feel of the song and then play them in my more advanced music book. But I am still happy with the purchase. A bit of advice for any music book purchase. I have had four books cut off the edge and put a spiral binder on it so that you do not have to fight the book open. I have had four books done and they were each less than $5.