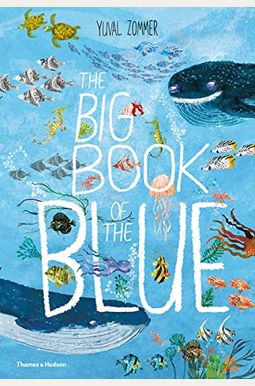 
 
Book Overview
Following the wild success of The Big Book of Bugs and The Big Book of Beasts, The Big Book of the Blue is the third installment in Yuval Zommer's beloved series. Alongside everything the young oceanographer needs to know, Zommer's charming illustrations bring to life some of the slipperiest, scaliest, strangest, and most monstrous underwater animals.
The book opens by explaining how different types of animals are able to breathe and survive underwater, and the different families to which they belong. Subsequent pages are dedicated to specific creatures, including sea turtles, whales, sharks, stingrays, and seahorses, and show varied life in specific habitats, such as a coral reef or deep sea bed. The Big Book of the Blue also explores the underwater world thematically, looking at animals in danger, learning how to spot creatures at the beach, and discovering how to do our part to save sea life. Beautiful and filled with fascinating facts, young, curious readers won't be able to tear their eyes away from the page.
Frequently Asked Questions About Big Book Of The Blue
Books like Big Book Of The Blue
Book Reviews
(8)
Did you read Big Book Of The Blue? Please provide your feedback and rating to help other readers.
Beautiful Illustrations

Derived From Web

, Jun 8, 2021

Purchased the book by a 3 1/2 year old and he absolutely loves it. The book is one of a set of four by this author. I have just purchased the Big Book of Bugs for summer reading and insect-themed crafts. Just sit there and your kids will have a book to read. Life is beautiful and all, said the artist.
Love this set of books!

Derived From Web

, Dec 4, 2020

I first bought the book for my nephew. He loved it, and he quoted extensively from it. I followed it up with this, too, because it seemed to me like a good deal. I work in Early education and bought a new set of toys for my classroom. All the teachers I work with really enjoyed the fact and illustrations in this book, Mrs. Dhaliwal said. It's great to have such a resource at your disposal. I plan to buy them all, Mr. Rule told the judge.
Great Reference Book for Kids!

Derived From Web

, Aug 8, 2020

I had seen this book all over social media in homeschooling circles, and I bought it on a whim. I was a little hesitant because I'm not cheap and I didn't want to spend this much on a book, he said. Yes, I'm glad I did. It's a huge volume of beautiful, well-researched and well-illustrated pictures of marine life. My kids and I have been really enjoying it during our ocean theme homeschool unit.
Ok

Derived From Web

, Dec 3, 2019

My son has a lot of ocean books, and this one is probably his least favorite. The information is fine, and my son does enjoy looking at it, but the artist's work is truly bizarre. When I saw it online, I thought it looked fun, but it seems to me that it's just too complicated a book. On the crab page, it talks about decorator crabs, but they look pretty much the same as the others. Some of the fish are so unrecognizable, it's almost like the entire body is made up of bits of meat. What bothered me most about the illustrations was the page on rays, which is a common complaint. The book distinguishes between manta rays and sting rays but they all look the same, and they all have the flaps only manta rays have." And if you don't care about having an educational book, I'm sure you could find something more fun.
Favorite

Derived From Web

, Jul 22, 2019

I absolutely love this book. I'm actually terrified of ocean animals so I love this book because I can read it and share it with my kids because the pictures are so fun! Each page is colorful and has just enough information to start conversations with your kids but also learn something. I have the book, and I will probably be adding the others soon.
Absolutely amazing

Derived From Web

, Feb 27, 2019

This book is just perfect it's beautifully and colorfully illustrated, it contains useful and well-structured information about sea creatures without an overload of numbers and scientific facts, Raymond said. It's great to see people still talking about it.
It's definitely big, with good info

Derived From Web

, Feb 25, 2019

This is the first and only time I have ever bought a 3 year old a kayak. Thanks for the tip, Dave. The only thing I can think of is that the artist kind of puts me off, with all the fish having 2 eyes that look like Picasso's. However, this book is requested by a lot of kids for reading time, so the kid likes it. I'm not so sure about the second one, with two eyes on one side of their heads.
LOVE, LOVE, LOVE!! — I was so pleased when I got it!

Derived From Web

, Nov 12, 2018

LOVE, LOVE, LOVE! The size is amazing, I was so pleased when I got it, Melissa. I accidentally put two of the same book in my cart not paying attention, I should have put 10 because EVERYONE LOVES this book, it's amazing! I love the way the artist's work is presented. This holiday they will be loved.