Buy 3 Get 1 Free
Our Best Sale Yet! Add 4 Books Priced Under $5 To Your Cart     Learn more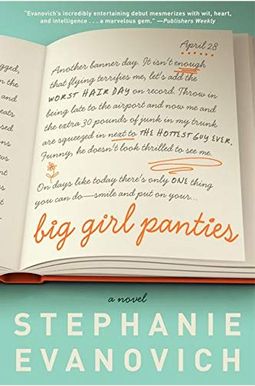 
 
Book Overview
A rollicking, sensuous, feel-good romantic comedy about a grieving young widow who decides to get in shape . . . and winds up getting her groove back--and a whole lot more!
Holly didn't expect to be a widow at thirty-two. She also didn't expect to be so big. After her husband's death, food was the one thing she could always count on. Now, those extra pounds make flying coach feel like medieval torture--especially when she's squished next to Logan Montgomery. A personal trainer to famous pro athletes, her seatmate is so hot that he makes Holly sweat in all the right (and so embarrassingly wrong!) places.
Though Holly doesn't make the grade on Logan's first-impression meter, he finds himself intrigued by her sharp wit and keen insights--a welcome change from the high-maintenance models he dates--so he impulsively offers to get her back in shape. A little skeptical but ready to make at least one positive change in her life, Holly agrees.
To Logan's (and her own) surprise, Holly turns out to be a natural in the gym, slimming down into a bona fide looker with killer curves--and a new kind of hunger. Before either of them can stop it, the easy intimacy of their training sessions leads to even more steamy workouts away from the gym.
Logan's best friends, professional baseball player Chase Walker and his wife, Amanda, see that this is more than a fling, even if Logan and Holly don't. But can a man whose whole life depends on looks commit himself to a woman who doesn't fit his ideal? Now that Holly's turning other men's heads, does she even need Logan anymore? Are they a couple built to last . . . or destined to fizzle?
Frequently bought together
Frequently Asked Questions About Big Girl Panties
Books like Big Girl Panties
Book Reviews
(10)
Did you read Big Girl Panties? Please provide your feedback and rating to help other readers.
Review

First time reading this author. Very interesting & amusing. Really enjoyed it.
Terrible, the blurb read well so I bought it

Derived From Web

, Feb 8, 2022

I bought it because the blurb read well, but it became very long winded, and had no sense of humor. There was forced chemistry between the two main characters, a really un- likeable love interest, and a weird married couple as the sub characters. I would punch my husband in the face if he tried to discipline me for having an opinion. ?
Skip it

Derived From Web

, Jul 23, 2021

This book wasn't good. Even in a loving relationship, who wants to hear about a spanking fetish. The condescending way in which the men spoke to the women was ridiculous. I thought it was by a different author. A disappointment.
Not my favorite

Derived From Web

, Feb 22, 2021

I am a huge fan of theStephanie Plum series so I decided to try another book by this author. It was not my favorite. There was no mystery, little humor or predictable. I would love to give it a better review. A sexy personal trainer helps an overweight widow get in shape. He learns to look beyond the surface of his appearance when he befriends them. The boy and girl meet and the boy loses the girl. Maybe it should be made into a film. I am not sure if I will watch it.
Not My Cup of Tea

Derived From Web

, Oct 17, 2020

I can see where some readers would enjoy this book. It isn't my type of story. It felt like the H was not very strong. There were issues with the h's body type. The h's emotional reactions seemed to be like she was still in junior high school. The spanking was a bit off- putting, in that nothing led up to it. It came out of the blue, as if it were average. It's not The author had a sense of humor that was fun at times and not always in line with the scene. I'm sure there are many people who love this story. I'm not a part of that group.
It was fine...

Derived From Web

, Aug 13, 2020

To comment on another reviewer concern with spanking as sex play. It wasn't a big deal and wasn't a big part of the book. This is a common practice among people who know about sexuality. There were more explicit sex scenes that are not offensive to me. The majority of the book dealt with her weight and her hard work to get in shape in relation to their relationship, and was completely unbelievable from my POV. It's a nice fantasy but really? A hunk of a personal trainer is in love with a girl who is overweight. It's too big of a stretch for me. It was written well but I couldn't get into the whole premise. It shouldn't be true, but appearance does matter. You can read the research.
Dont waste your time

Derived From Web

, Feb 18, 2019

I thought I would enjoy the book. A few pages were deleted. Don't read the garbage. I was disappointed. Good authors don't have to include sex scenes to get readers.
Stop

Derived From Web

, Feb 5, 2018

When the girl is naughty, it's time to stop the spanking. The book would have been much better if the author had left the spanking out.
I'm pretty much a live and let live kind of gal

Derived From Web

, Dec 21, 2017

This book left me so confused that I couldn't finish it. I understand that people have different types of sexual interests. I like to live and let live. There was a scene that turned my stomach and I couldn't finish the book. Two of the characters are into spanking. In one scene the husband spanks his wife as punishment and then holds her down and closes the argument. It wasn't a game. She moves to the edge of the bed with her back turned when he releases her. He kisses her and says they don't go to bed angry. The story continues even after all is forgiven. It is one of the worst scenes I have ever read. I don't like reading stories about abuse.
Don't waste your time or money

Derived From Web

, Jan 11, 2017

One of the worst books I have read is this one. From the moment a fat girl sits down on a plane next to a trainer that she is going to end up in bed, we have to read about their angst. I skimmed a lot of the paragraphs and pages to find them boring. He spent a lot of time explaining everything to her. The story was predictable and high school- like.